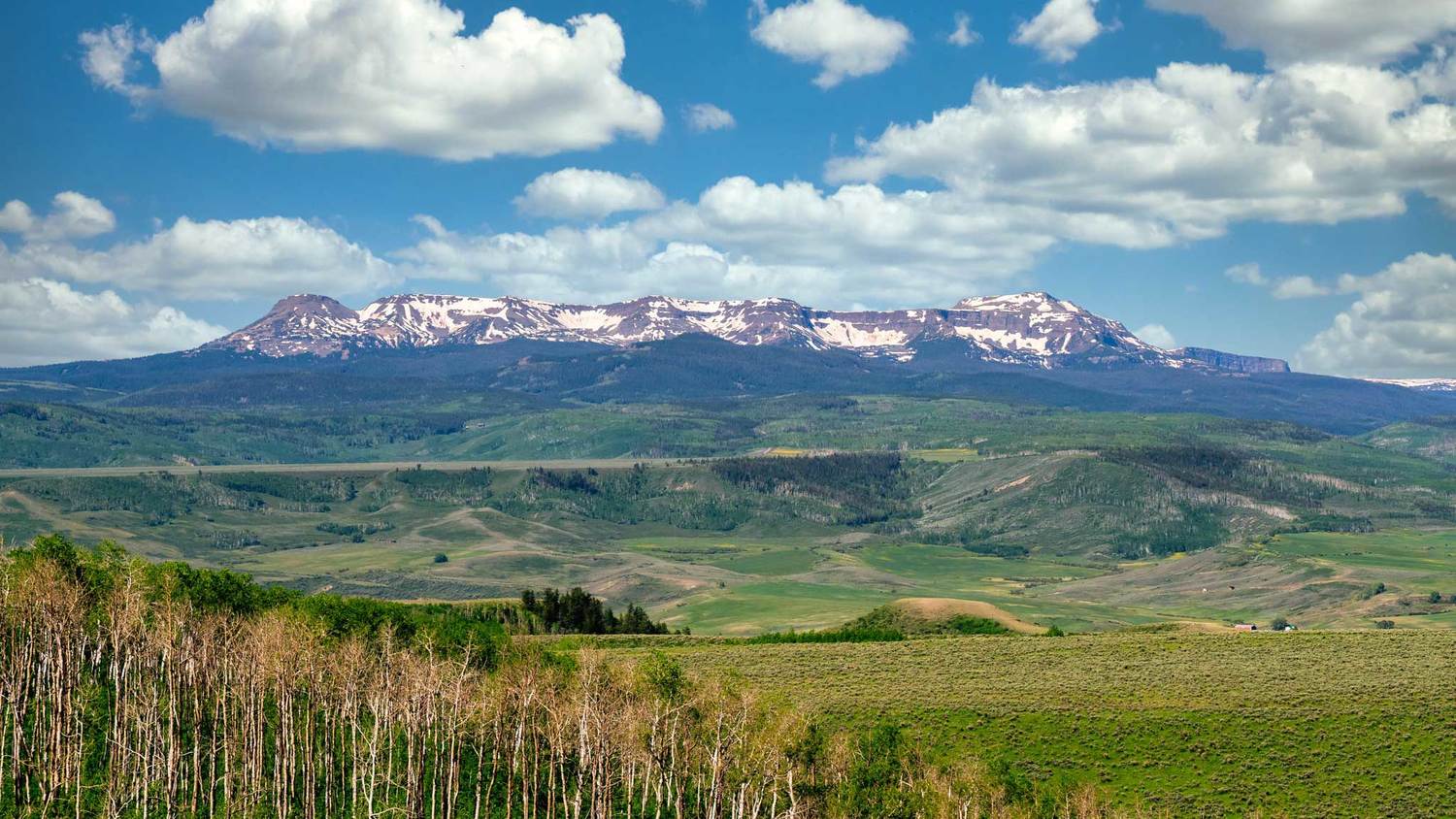 Property Information
Phillips Creek Ranch is a diverse and beautiful mountain ranch offering land and improvements for a year-round cattle operation, plus year-round recreational benefits highlighted by excellent hunting and fishing. With many strong points, the highlights include live-water fishery in Phillips Creek; adjacent to Routt National Forest and over 10,000 acres of BLM; excellent water rights, including the No. 2 water right in the Upper Yampa Basin; and a solid cattle operation. The ranch is comprised of 2,691 acres, divided by two parcels with Phillips Creek Yampa Ranch totaling 2,131 acres and Phillips Creek Toponas Ranch totaling 560 acres.
Phillips Creek Ranch has an array of landscapes and amenities difficult to find in a single land holding.  From 1.5 miles of high-country hunting territory bordering Routt National Forest, to "fishable" Phillips Creek, to lush grass covered grazing pastures and irrigated hay meadows, the ranch emerges as a hidden gem. The year-round recreational opportunities are complemented by a quality cattle ranch that offers the opportunity to scale carrying capacity. The quality of the water rights for irrigation, livestock capacity and presence of wildlife help to insure appreciation of the resource.
Close Details
LOCATION
The Phillips Creek Yampa Ranch is located just south of Yampa, CO along both sides of the State Highway 131 corridor, with year-round access via Routt CR 6D and State Highway 131. Yampa is centrally located to the resort community of Steamboat Springs, 25 miles north, and to the Interstate 70 corridor, 50 miles south.
The Phillips Creek Toponas Ranch is located just south of Toponas and accessed by Routt CR 5 west of State Highway 131. The properties are approximately 10 miles apart and easily managed as one operation.
LOCALE
In addition to easy access to Steamboat and Vail, the valley has air service from Yampa Valley Regional Airport. YVRA offers daily flights to Denver, non-stop flights to major US cities, and is only 35 miles northwest in the Town of Hayden. Yampa is noted as the Gateway to the Flattops, an area rich with outdoor recreational opportunities – hiking, biking, climbing, fishing, back country skiing, hunting - along with all the nearby amenities of Steamboat Springs and the Steamboat Springs Ski Area. Also, Yampa and nearby Oak Creek offer small town hospitality, with grocery, shopping, and restaurant amenities.
ACREAGE & WATER DESCRIPTION
Phillips Creek Ranch consists of 2,691 deeded acres, with an additional BLM Permit of 120 acres, and is comprised of two, non-contiguous parcels – Phillips Creek Yampa Ranch and Phillips Creek Toponas Ranch.
Phillips Creek Yampa Ranch includes 2,131 acres of deeded land and the small BLM tract. There are approximately 241 acres irrigated meadow plus additional bottomland pasture. The upland grades easterly with sage brush hills transitioning into aspen and pine trees as the property heads east and joins the Routt National Forest boundary.
Irrigated lands have numerous irrigation rights and several that have early priority. A water right highlight is "All of the Pennsylvania Ditch from the Roaring Fork of the Yampa River, adjudicated by Decree as Priority No. 2, with an appropriation date of June 6, 1883, for 5.3 cfs." This right is #2 in the Upper Yampa Basin and No. 6 on the entire Yampa River. A 1903 Supplemental Pennsylvania Ditch right is for another 5.3 cfs. Additional water rights from 3 other ditches provide 5.02 cfs early priority water and another 10 cfs of supplemental water rights. These surface rights are backed up by 520 AF of valuable storage rights in the Yamcolo Reservoir. In addition to existing irrigated acreage, the ranch has the capability to develop another 150 acres on the east side of Phillips Creek.
Phillips Creek Toponas Ranch consists of 560 acres with water rights from three ditches from King Creek tributaries. The irrigated lands total approximately 330 acres and include 4.75 cfs absolute with appropriation dates prior to or equal to 1913. Water right highlights of Phillips Creek Toponas Ranch are two reservoirs with a total storage capacity of 236.3 AF.
Combined, the ranch offers over 45 cfs of decreed water rights together with 520 AF (roughly 18%) of storage rights in the Yamcolo Reservoir. Phillips Creek Ranch has, arguably, the best water rights in the basin and operates essentially "drought proof." Fully developed, the water rights can be used to irrigate 721+/- acres. Phillips Creek Ranch has a carrying capacity of 400 animal units on a year-round basis, thereby adding to its economic viability.
A complete list of water rights is available.
Elevations on the ranch range from a base elevation of 8,000 feet climbing to 8,800 feet above sea level at the eastern ranch boundary which connects with Routt National Forest. Elevations allow for dramatic views of the Flattops and surrounding countryside. Topography and vegetation range from level grazing and hay meadows to undulating sagebrush covered hillsides to mountainous terrain of dark timber and aspen groves. The upland is cross fenced for rotational grazing practices.
IMPROVEMENTS
Agricultural improvements on Phillips Creek Yampa Ranch consist of functional barns, corrals, well-maintained perimeter and cross fencing, and hay sheds. Residential improvements include two modest modular homes and a newer hunting cabin, with potential to create an updated recreational ranch headquarters specific to your needs.
Improvements on Phillips Creek Toponas Ranch consist of a vintage set of buildings offering insight into the area's rich history. The current owner recently purchased this property and has begun a long-term process of stabilizing and restoring the buildings to preserve this heritage. The historic improvements would lend themselves to eco-tourism, hunting and recreation facilities, while still being useful to the ranch operation.
A complete list of buildings is available.
RECREATON ATTRIBUTES
Topography and vegetation range from level grazing and hay meadows to undulating sagebrush covered hillsides to mountainous terrain of dark timber and aspen groves. The recreational offerings are year-round, and the 1.5 miles of border with Routt National Forest creates hunting opportunities which are excellent and private. Elk, deer, bear, and other wild game are plentiful. The perfect mix of habitat and natural drainage of the National Forest lands provides the ideal setup for archery and muzzle loader hunting seasons. Combining those attributes with public land hunting pressure makes this property a 'hunting dream' for rifle season.
The ranch includes the fishable live water amenity of Phillips Creek which traverses the ranch near the base of Eagle Rock offering a rock-bottom, slow-moving fishery with deep holes and great fish habitat. This year-round stream meanders through willow lined grass meadows and provides a surprisingly delightful fishing experience.
Phillips Creek Toponas Ranch is adjacent to over 10,000 acres of BLM. This BLM tract is designated for non-vehicular access only, affording the ranch a more secluded, nature-oriented, public land experience.
Other recreation opportunities include ATV touring, mountain biking, snowmobiling, cross country skiing and simply enjoying the mountain lifestyle.
CONSERVATION EASEMENT
A 1,600-acre portion of Phillips Creek Yampa Ranch is under the protection of a conservation easement, ensuring the recreational and agricultural landscape remains pristine in perpetuity. This protection allows for two, unrestricted building envelopes, and potentially others, if successfully negotiated with the CE holder. There are portions of the ranch which are not encumbered by a CE and include all of Phillips Creek Toponas Ranch and the southern 480 acres of Phillips Creek Yampa Ranch.
SUMMARY
Phillips Creek Ranch has an array of landscapes and amenities difficult to find in a single land holding. From 1.5 miles of high-country hunting territory bordering Routt National Forest, to "fishable" Phillips Creek, to lush grass covered grazing pastures and irrigated hay meadows, the ranch emerges as a hidden gem. The year-round recreational opportunities are complemented by a quality cattle ranch that offers the opportunity to scale carrying capacity. The quality of the water rights for irrigation, livestock capacity and presence of wildlife help to insure appreciation of the resource. Considering the variety of landscapes and its Yampa/Toponas, CO location, an area rich with outdoor recreation, ranching heritage, and central proximity to both Steamboat Springs and the I-70 corridor, Phillips Creek Ranch is an exceptional ownership opportunity.

Co-listed with Amy Williams, The Group
---