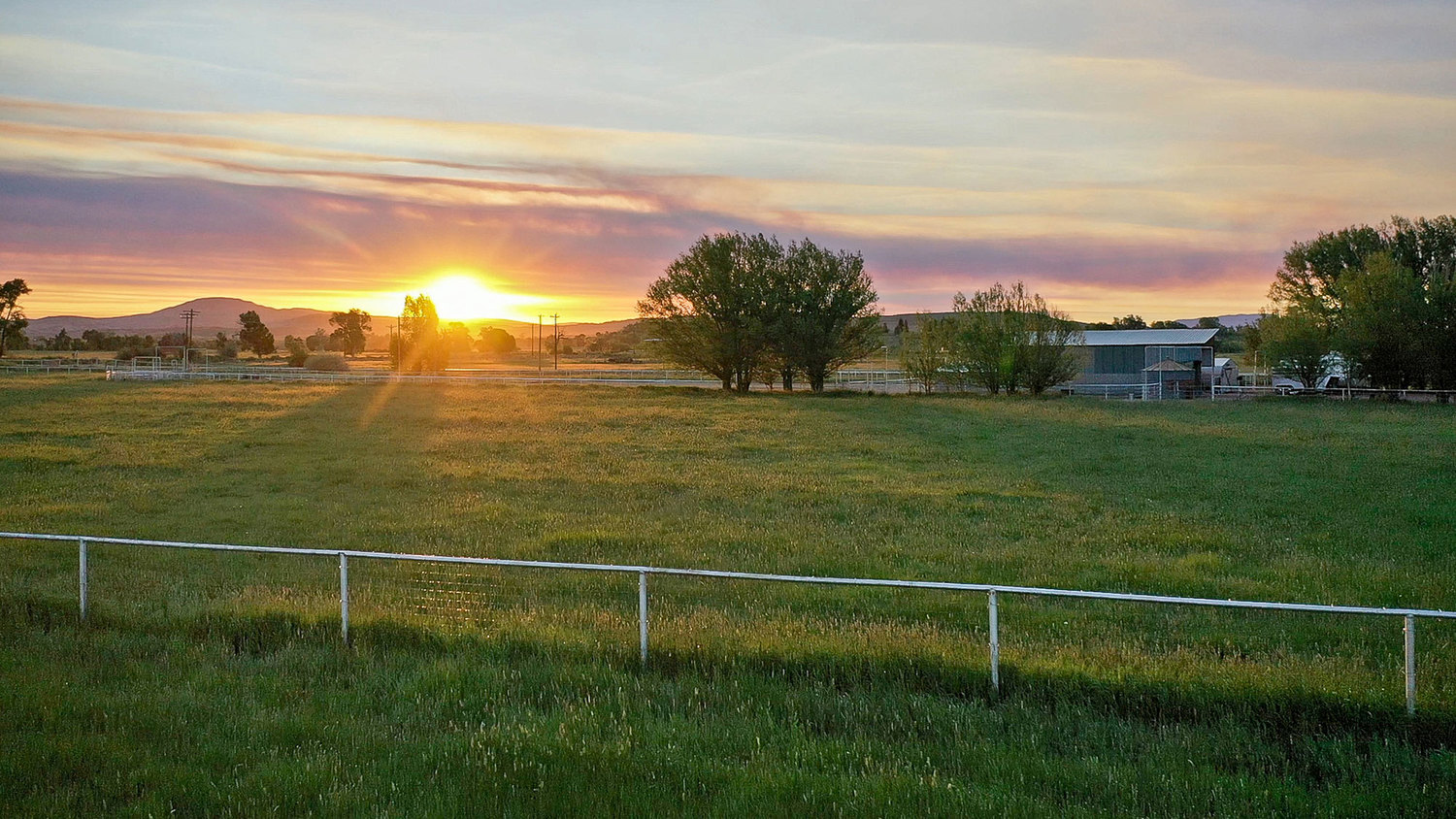 Cowpoke Road Ranch
Baggs, Wyoming | County: Carbon | 10 Acres
Property Information
Cowpoke Road Ranch is a rural equestrian property with a linked log home and building improvements situated on 10 acres of irrigated hayland/pasture. Well improved with a comfortable western style linked log home, outdoor roping arena, stall barn, metal feed/storage shed pipe corrals and arena.
Cowpoke Road Ranch is an ideal equestrian property in a low population locale.
See More Details
LOCATION

Located in the 44 Subdivision just north Baggs, Wyoming, which is along the Little Snake River in southern Wyoming being 75 miles south of Rawlins, WY and 40 miles north of Craig, CO. Baggs is a very small town, pop. 418, in a very large recreational area dotted with rural ranch property and large blocks of public lands. Baggs has an elevation of 6,250' and the climate is mild and dry with lots of sunshine.

The neighborhood is served by Cowpoke Road, a loop road for this established small acreage community of similar residential/equestrian properties just on the north side or Baggs. The area is characterized by large Cottonwood trees throughout the neighborhood which generally benefit from irrigation from the Baggs Ditch. The area offers tremendous outdoor opportunities for trail riding, ATV trails, hunting and fishing with close proximity to large areas of National Forest.

ACREAGE

The 10 acres of land includes the improvements, outdoor riding/roping arena as well as about seven acres of hay land. Water is delivered from the Baggs Ditch to the irrigation fields by direct diversion. The fields lay level and irrigate easily from gravity flow ditches. The irrigation water sourced from the Baggs Ditch is a reliable water right. The property consistently produces 18 to 19 tons of hay per season, which handles hay and pasture needs for a number of animals.

IMPROVEMENTS

The home is a well-cared for linked log ranch style one-level three bedrooms, two baths comprising 2,046 square feet and built in 1982. The home has an attached two-car garage covered wood deck porches along the front of the home for enjoyment of the treed yard. Domestic water is provided by a Town of Baggs municipal water system.

Other improvements include:
A metal barn with 1,440 square feet is set up with three stalls and with alley, tack and feed room.
An 800 sq. ft. loafing shed is shared with two turnout pens with water.
A 1,100 sq. ft. overhead utility building is used for hay and equipment storage.
A small tool shed and grain bin round out the buildings.
Highlighting the improvements is a full-size roping arena with roping chute, boxes, stripping chute and runback alley and additional corrals all which are of pipe construction.
The property is entirely fenced with high fences to keep out wildlife.

AREA & RECREATION

River/Fishing - The Little Snake River is an excellent fishery for Brown, Rainbow, Cutthroat and Brook Trout.

Hunting/Wildlife - Game Species in the locale include Elk, Moose, Whitetail Deer, Mule Deer, Black Bear, Coyote, Bobcat, Mountain Lion, Beaver and Mink. The Snake River valley offers excellent waterfowl habitat to compliment the upland game birds in the region as well.

Nearby Dixon, Wyoming offers a 7,000-foot airport runway.

In addition, a variety of documented history exists in the area including the Snake River Museum located in Savery, Wyoming, which was the home of the "legendary " Mountain Man Jim Baker.

SUMMARY

This rural equestrian property is well designed with a great location off a paved highway and in an established community. The benefits of a Wyoming residency are many with its favorable tax structure backed up the State's budget surplus. The home, outbuildings and irrigated grass meadow and pastures are all in good condition with the owners completing numerous upgrades over the years. This is an ideal equestrian property in a low population locale.

---