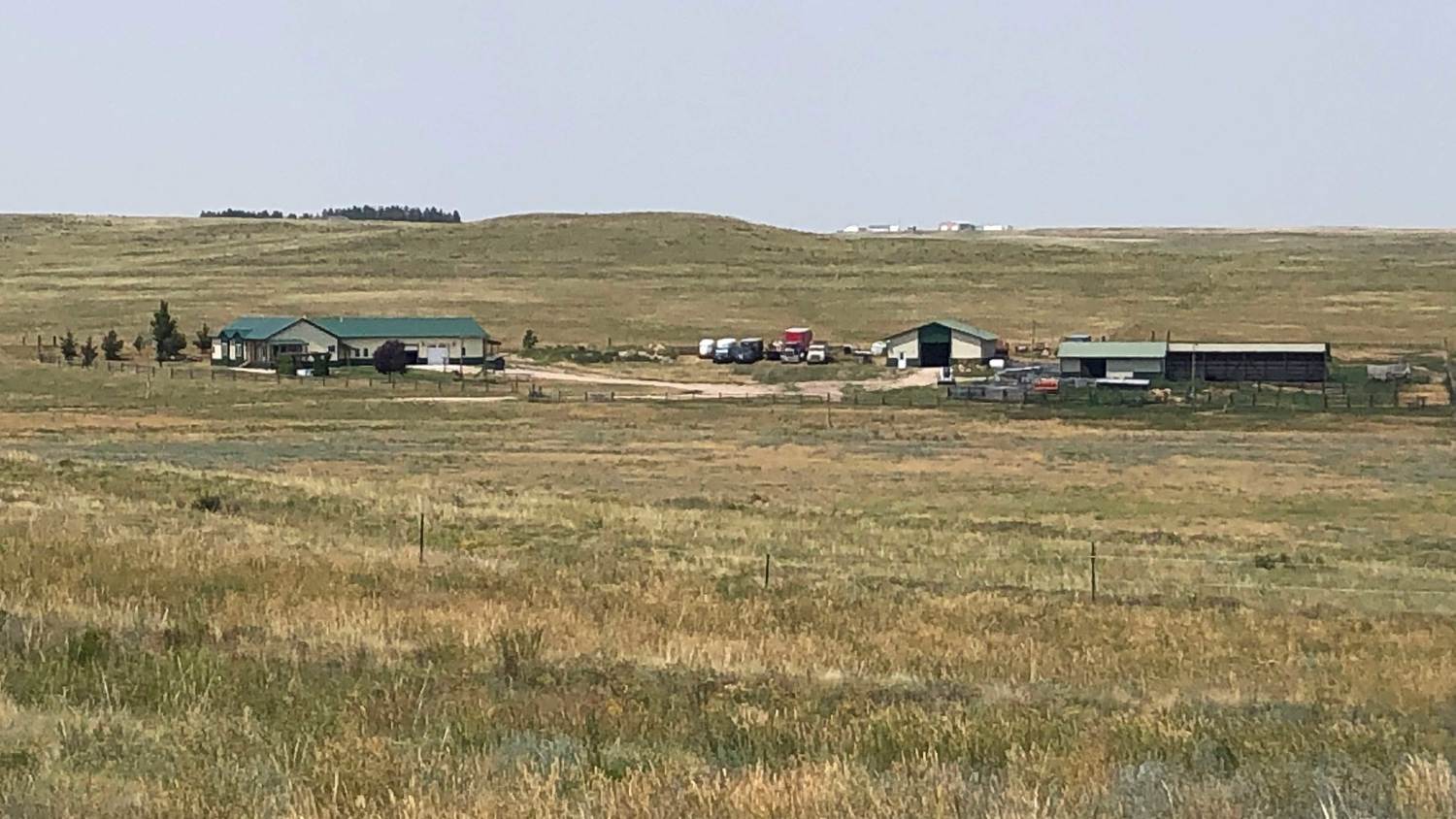 Prairie Oasis Ranch
Kimball , Nebraska | County: Kimball | 100 Acres
Property Information
Prairie Oasis Ranch is one-of-a-kind epically in today's market! Containing 100+/- acres of grassland with a beautiful home, outbuildings and corrals; the property is one-half mile off the county road and only 10 miles from town, where you are tucked away and can look out any window and see nothing but the prairie dancing in the breeze, livestock grazing and kids playing.
Prairie Oasis Ranch features a great open concept that is a combination of new construction and newly remolded along with 100+ acres of grassland.
See More Details
IMPROVEMENTS
The home features a great open concept that is a combination of new construction and newly remolded. An addition started in 2018 and completed in 2021, and new remodel also completed in 2021. The original home was new in 2004. This home is perfect for entertaining and family time spent around meals and in the kitchen. There is a beautiful new alder wood kitchen, with new soft close drawers and cabinets complete with pullouts, organization, an island and spacious pantry that any cook will love. Its open concept connects the kitchen to the living room with a 6 seat breakfast bar, but it does not lack a formal dining area. It features plenty of room for everyone to have their own space with 5 traditional bedrooms with large closets and 1 nontraditional with enough room for complete home gym. This home includes a master suite with walk in closet, 5-piece bath, with double vanity, soaker tub, separate shower and private toilet not to mention a separate laundry. It has two living rooms and two additional full bathrooms. One as nice as the master bath with another set of double sinks, private toilet and walk in shower with 2 shower heads. A half bath right off the mudroom that is well thought out as it and the second washer and dryer are off the spacious 3 car garage's exterior entrance. Working from home is a breeze with a 12x20 office with exterior entrance also off the garage. Not to mention the unheard-of High-Speed Internet capabilities with this rural property!!! This home leaves little that was not thought of. It is well insulated with new 2 new furnaces and 2 new air conditioning units, new windows through out and all lighting has been converted to LED. There is a great storm shelter in the garage as well as ample storage and work area. When you move into the yard this property features several outdoor spaces with new sidewalks, a nice porch, firepit and pergola allowing for play and relaxation. There are 2 matching outbuildings a 52x42 ft shop and 42x32 barn with attached 70x20 ft open front shed. There are heated waters in corral and several small stall type pens. There is a single well on the property that supplies both the house and the corrals. In the yard there is plenty of space to park trailers and equipment, build an arena and plant a garden. You can ride in the arena OR on your property which can be seen from all angles of the house. When driving home, you won't have to open a gate with two cattle guards one entering the property and the other entering the yard.
LOCAL AMENITIES
Kimball, Nebraska is the county seat, this is the address for the property. There is a small grocery store and small hospital with emergency room. Municipal Airport located three miles south of Kimball and 4 miles west of the property. A Dollar General, great public library, great K-12 school with an FFA program and concurrent enrollment for high school students allowing them to earn college credit while still in high school. The school has 403 students preK-12 with a 10-1 student- teacher ratio. There are 2 parks, an outdoor swimming pool, a really nice 18 hole golf course, Subway, Dairy Queen, Pizza Hut and other local restaurants and several hotels and gas stations. A local coop and 2 parts stores and hardware store, multiple banks, a gym and a pharmacy as well as many other amenities, so you don't have to go far for the necessities. There are local rec leagues for sports opportunities for young and old and as well as 4-H clubs for involvement for the youth. In the event of needing a larger town you are 30 minutes to an hour from most things and only 2.5 hours to Denver International Airport. Main roadways that make this ranch convenient and hardly rural are interstate 80, highway 30 and highway 71 in this tri-state area.
• 34 miles from Sidney NE "Home of Cabela's"
• 55 miles from Scottsbluff/Gering NW
• 64 miles from Cheyenne, WY
• 63 miles from Sterling, CO
• 76 miles from Fort Morgan, CO
• 108 miles from Ft. Collins, CO
• 162 miles from Denver, CO
• 273 miles from Rapid City, SD
Recreation
• Kimball Community Walking Path on the south edge of town
• Oliver Reservoir 9 miles west of Kimball.
• Wildcat Hills State Recreation Area and Visitor Center 35 miles north on HWY 71
• Local fair grounds and rodeo arena
• Local RSNC Ranch Sorting events as well as team penning, roping clubs, barrel races and youth saddle clubs all within a short haul.
• Four Winds Golf Course is an eighteen-hole grass green golf course. It is one of the best in the state. A driving range, practice putting green, plus carts and clubs are available.
Utilities
• Propane: stove, furnace and hot water heater- the current tank is Peetz Farmer's Coop out of Peetz Colorado, they run a keep full route if you so choose. The contracted gallons for the year can be transferred to the new owner if desired. Frenchman Valley Coop out of Kimball, NE is also an option.
• Electric: High West Energy out of Pine Bluffs, WY- 105 gallon hot water heater is on peak hours and provides a discounted rate for doing so.
• Internet: Action Internet out of Scottslbluff, NE is the current option, however Starlink is slated to come to the area mid to late 2021. A deposit has been made for the property. HughesNet is also an option.
• Phone: Viaero Wireless is the best cell phone provider. There is a location in Kimball, NE or Sidney NE
• Trash: Kimball County Dump- this can be set up in the city office. Trash can be hauled and/or dumpster services are available.
• Water: Private Well installed 2004 the well is attached to the meter for the house and there is no additional charge. If well work is ever needed Brown Pump and Septic or B & B well service are both options.
• Sewer- Private Sewer and leach field installed 2004
SUMMARY
In this little hunk of rural Nebraska, the sunrises, and sunsets are second to none and you'll be able to see more stars than you can count! You have all 4 seasons and there is not a portion of this property that won't allow you to enjoy each one. Spring flowers in the flower beds, grass greening and new life that surrounds you with a small herd of mule deer that pass through and several antelope that have calved just north of the house for the last hand full of years. The warmth of summer with amazing sunsets and sunrises enjoyed on the porch and the sweet smell of clover all around is perfect time to be in the saddle. Fall brings warms days and cool nights where you can cozy up by the fire pit and take in the changing of the season. With the chill of winter, when you don't want to be outside the fireplace is the perfect place to be with a cup of coffee from your adorable coffee bar or snuggling up with your favorite book in the reading nook loft area. Your winter décor can be just as fun as that in the spring & summer.
The reclaimed barn wood and tin throughout the house are a nod to days gone by coming from the original homestead that is seen near the driveway of the property and neighboring old buildings. The dirt hill behind the addition could easily be used to put in an arena in that area. We will be leaving the continuous fence that was purchased to redo the corrals. There is a water shut off out by the corrals for the corrals only and one in the house utility room that will shut off the house and the corrals from the well. The well is located just to the west of the house.
The home sells with 100 acres of grass in a fenced in pasture. That is currently receiving $15/ acre yearly income as it is enrolled in grassland CRP program.
ADDITIONAL ACREAGE
One can add 1,370 acres of grassland to this property for an additional $950,000. Please see the Carruthers Nebraska Ranch listing.
---