Sold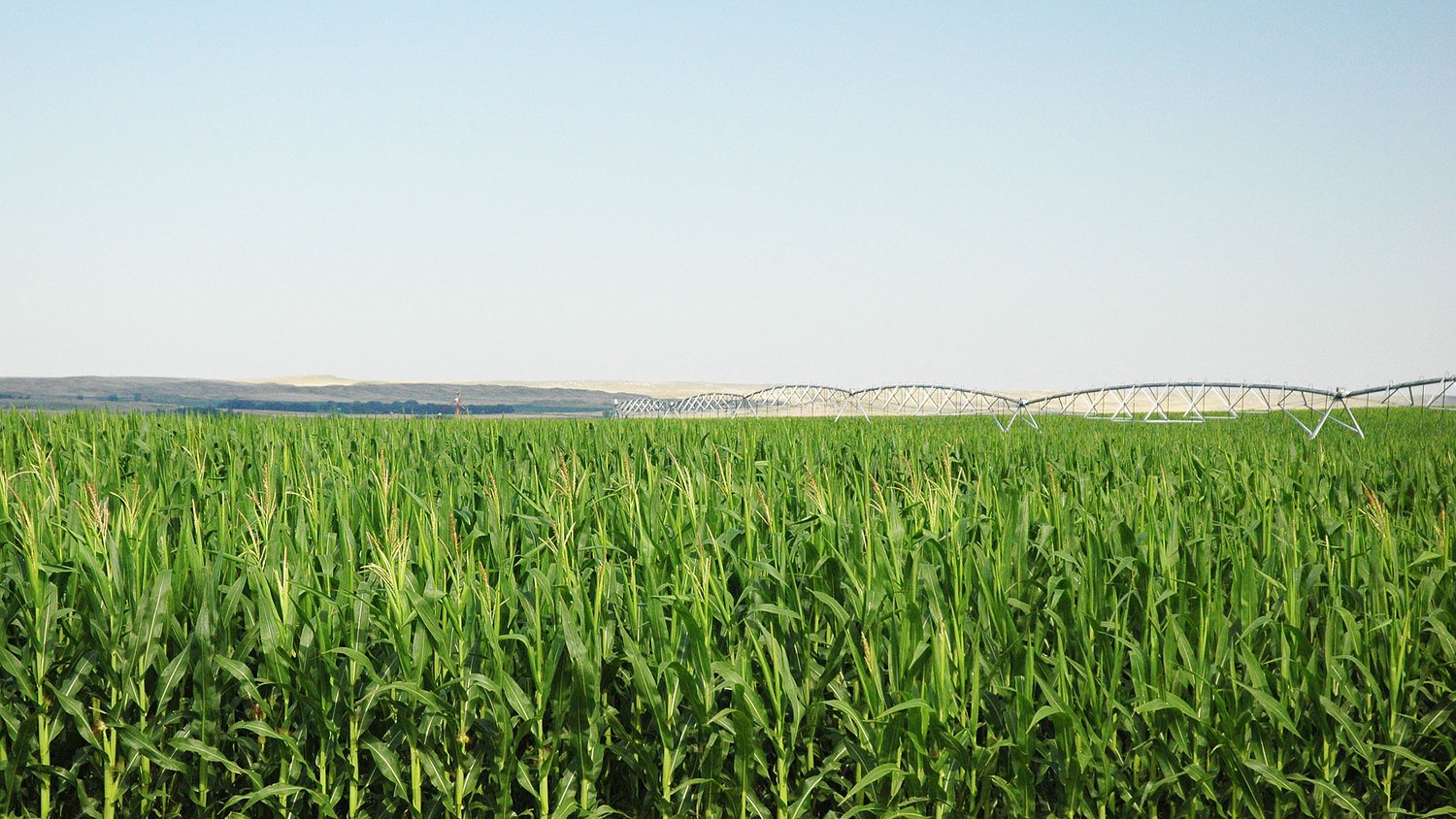 Lodgepole Creek Irrigated Farm
Kimball, Nebraska | County: Kimball | 895 Acres
Property Information
This farm consists of six irrigated center pivots in the southwestern Panhandle of Nebraska. There are 895.92 total deeded acres per county assessor records. There are 773.1 acres of farmland with 723.8 acres of irrigated lands the difference being several dryland corners. The farm has good soil conditions and is capable of producing a variety of crops including sugar beets, potatoes, edible beans, corn, or wheat. Water levels are relatively shallow due to the location along a river valley bottom. The farm is readily accessible from Highway 30 and nearby to Interstate 80 which run parallel to the Lodgepole Creek drainage. Lodgepole Creek has its headwaters west of Cheyenne, Wyoming in the Medicine Bow Mountains and runs east until it drains into the South Platte River near Ogallala, Nebraska. The area is predominantly agriculturally driven with influences from energy, recreation and tourism. Kimball is the county seat town and provides local services. Other major services are available in Sidney, Scottsbluff or Cheyenne, Wyoming.
See More Details
LOCATION
The property lies in two tracts, Tract 1 is three miles west and Tract 2 is five miles west of Kimball, NE. Both are along the north side of Highway 30. Tract 1 is served by County Roads 33 and 35 while Tract 2 is served by County Roads 27 and 29. The physical address is 3420 Rd 29 West, Kimball, NE 69145.
ACREAGE
There are 895.92 total deeded acres per county assessor records. There are 773.1 acres of farmland with 723.8 acres of irrigated lands the difference being several dryland corners. There is ten acres of flood ground on Tract 1 with the balance irrigated by center pivot irrigation systems. The breakdown of the acreage is as follows:
Tract 1:
463.65 acres total
410.68 acres cropland
375.2 acres irrigated
Tract 2
432.27 acres total
362.4 acres cropland
348.6 acres irrigated
SOILS
Soils are primarily fine sandy loam and loams. Approximately one-half of the soils are comprised of Irrigated Capability Class 1 & 2 Soils. A soil map is available from the listing brokers.
IRRIGATION EQUIPMENT
The irrigation system is in good condition and of various ages. The older model pivots have been retrofitted and are in good useable condition.


Pivot #1 (Sec 31, T.15N, R56W) 1999 Reinke 8 Tower – Hollow shaft 50 hp

Pivot #2 (SW Sec30, T15N, R56W) 1982 Lockwood 9 Tower –Hollow shaft 75 hp

Pivot #3 (SE Sec 30, T15N, R56W)1973 Lockwood 9 Tower - Hollow shaft 60 hp

Pivot #4 (SW Sec 27, T15N, R56W)1979 Zimmatic 9 Tower – Submersible motor

Pivot #5 (NW Sec 27, T15N, R56W) 1995 Zimmatic 6 Tower – Submersible motor

Pivot #6 (NW Sec 27, T15N, R56W) 1979 Valley 9 Tower – Hollow shaft 75 hp

Flood well (SW Sec 27, T15N, R56W) – 30 hp submersible
WATER RIGHTS
Irrigation wells in Nebraska are required to be registered and permitted by the State of Nebraska. Currently, no new wells can be drilled. The wells usage is managed by Natural Resource Districts (NRDs). In 1972 the Nebraska Legislature enacted laws to combine 152 special purpose entities into 23 NRDs. Unique to Nebraska, the districts are local government entities with responsibility to protect natural resources. Major Nebraska river boundaries form the boundaries, enabling districts to respond best to local needs. Some NRD responsibilities:


erosion prevention and control

prevention of damages from flood water and sediment

flood prevention and control

soil conservation

development, management, utilization, and conservation of groundwater and surface water

drainage improvement and channel rectification

development and management of fish and wildlife habitat

development and management of recreational & park facilities

forestry and range management Learn more at www.nrdnet.org
There are seven irrigation wells on the farm that are permitted with the State of Nebraska, Dept of Natural Resources. Water usage is set at 54 inches per acre over 3 years.
SUMMARY
The Lodgepole Creek Irrigated Farm offers an tangible investment of irrigated agriculture farmland with good quality productive soils and shallow water. The farm is well located and there are a number of area farmers that would be prospective tenants for the property. The farm is currently rented to a large area farmer. The present rental arrangement should produce a financial return of 5% to 6% annually on the purchase price. The owner has experienced an annual increase in value of 6%.
MINERAL RIGHTS
These are negotiable with the seller.
TAXES
For 2009 the taxes paid were $6,733.64.
Information Disclaimer
The information contained on this page has been obtained from sources believed to be reliable and is believed to be correct, but the owners and brokers do not guarantee its accuracy. Offering is subject to errors, omissions, prior sale, change or withdrawal without notice. All information about the property should be independently verified by interested purchasers.