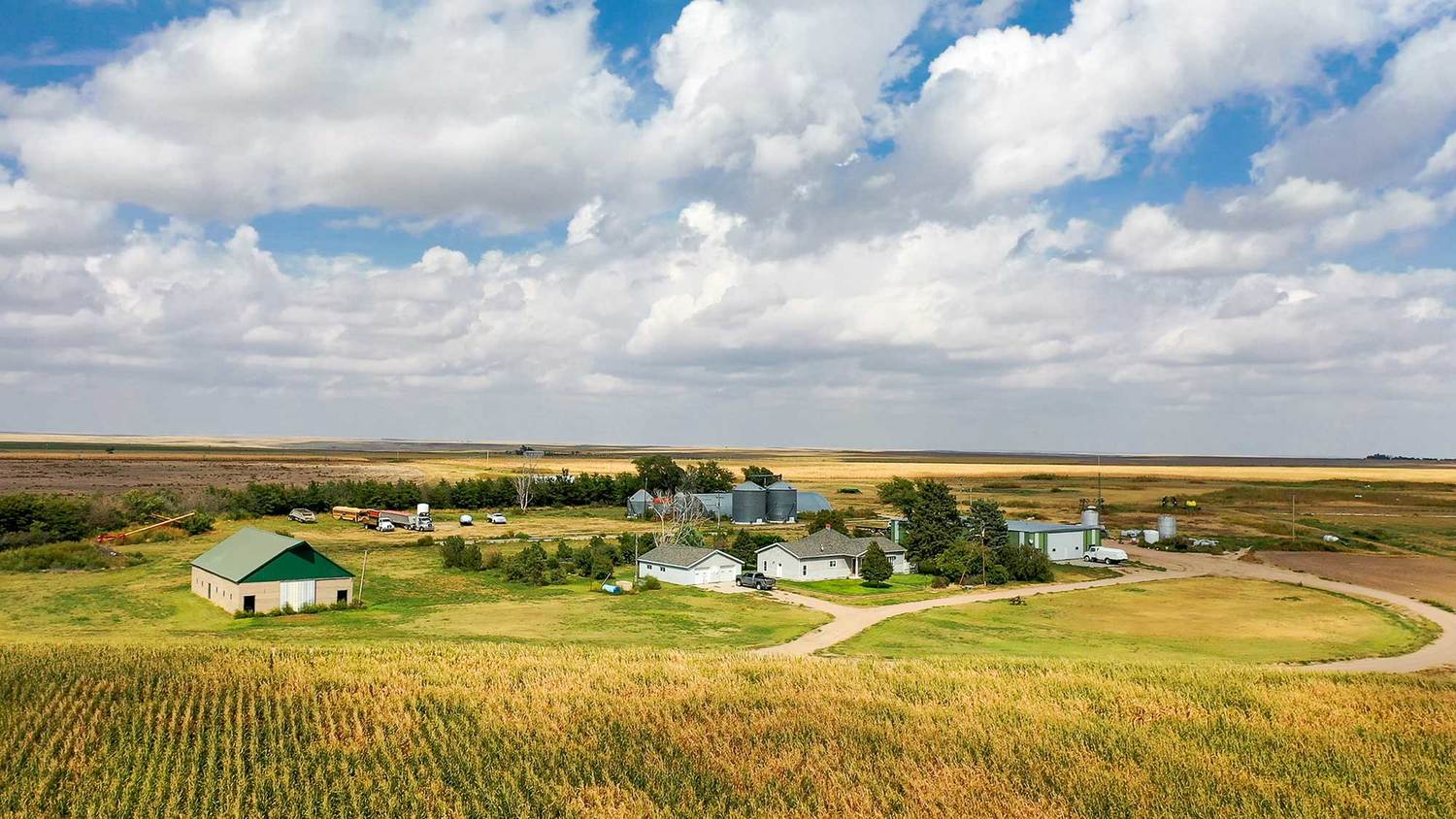 Wallace County Farm
Weskan , Kansas | Wallace County | 1273 Acres
Property Information
Being offered for the first time in 50 years, the Wallace County Farm, is a great opportunity to get in on an income producing investment, operational expansion or starter farm. The farm headquarters sits three miles from the Colorado border and one mile off of US Hwy 40. The 1,273 acres is spread across one whole section and two half sections (eight quarters total) and offers both irrigated and dryland crop ground. Two irrigation wells service the irrigated ground through four pivot sprinklers. The headquarters features a nice three-bedroom, two-bath home, detached garage, 6,000 square foot heated and insulated shop with an office, 6300 square foot quonset as well as additional grain storage and outbuildings.
Income producing property is harder and harder to come by this is the first time in fifty years some of this ground has been offered. Here is a real opportunity to be a passive investor, with interested parties in leasing the ground or for someone starting out to utilize the headquarters for their own farming operations.  Do not forget about the capitalizing on the 999 head feed yard permit to create an added layer of production to this great farm.
Close Details
LOCATION
Welcome to the "TOP" of Kansas! Wallace County, located along the Colorado border features Mount Sunflower, the highest point in Kansas. 10 miles south of this "peak", you will find the headquarters of this farm. One mile to the south is US Highway 40, Three miles to the east is Weskan, Kansas with a population of 150, offers a K-12 school. Sharon Springs, KS is 15 miles to the east and provides dining and grocery opportunities.
OPERATIONS
The operations on the three parcels are broken down as follows:
Section 32 – 4 Quarters and Headquarters – 631 acres
The section is broken into four quarters. The SW, NW and NE quarters all share the same irrigation well. The well is seller rated at 400 GPM and is connected to a 92' Reinke Sprinkler on the SW Quarter. The two norther quarters both have a '92 Valley 6000 Sprinkler on them. Traditionally the northern two quarters were planted at lower populations or planted to crops that afforded a lighter or off-season watering that complimented the well production. The SE quarter is farmed as dryland ground.
S2 Section 28 – 2 Quarters – 329 acres
The western quarter has a '92 Valley 6000 Sprinkler on it and is tied to the irrigation well on the ½ section. The well is seller rated at 125 GPM, which has led to a smaller irrigated footprint of 72 acres. There is a grass pasture in the northeast corner of approximately 35 acres. The remaining ground is dryland with a rotation of crops.
S2 Section 17 – 321 acres
321 acres of dryland with an extensive terrace system in place. This is a good candidate for a depreciable asset with income production,
IMPROVEMENTS
The headquarters lies at the heart of Section 32 and features an all-encompassing suite of improvements that keep the farm running. Let's start with the roomy home which was renovated with an addition in the 1990's and offers 3 bedrooms 2 full baths, two family rooms, kitchen, office, laundry, and additional storage. The main floor has a large layout with the bedrooms set back from the kitchen, dining and living rooms. The fully finished basement offers an additional family room, bedroom and bathroom along with an additional storage room. Sitting next to the home is a large oversized two car garage. The main shop is 60x100, fully insulated and heated, 14' doors, mechanics pit, concrete floors, office and restroom. There is additional equipment or grain storage offered by the 51x124 round quonset with a full concrete floor and overhead grain handling system. Additional improvements include a fully contained 24,000-gallon fuel storage, 28,000-bushel grain bins, 2 – 40' shipping containers, 1940 dairy barn and a mature cedar windrow to the west and north. The farm will also come with an approved permit for 999 head livestock feed yard, anticipated to be located east of the shop on 15 acres.
INVESTMENT CONSIDERATIONS
Great opportunity to expand your existing farming operations or placing some cash during an inflationary period into an income producing property. Looking to get a farm started or expand your current operations, this will serve both purposes nicely.
SUMMARY
Income producing property is harder and harder to come by this is the first time in fifty years some of this ground has been offered. Here is a real opportunity to be a passive investor, with interested parties in leasing the ground or for someone starting out to utilize the headquarters for their own farming operations. Do not forget about the capitalizing on the 999 head feed yard permit to create an added layer of production to this great farm.

PRICING
Full Property – 1,273 acres: $3,975,000
Section 32 – 631 acres: $2,250,000
S2 Section 28 – 329 acres: $925,000
S2 Section 17 – 321 acres: $800,000
---