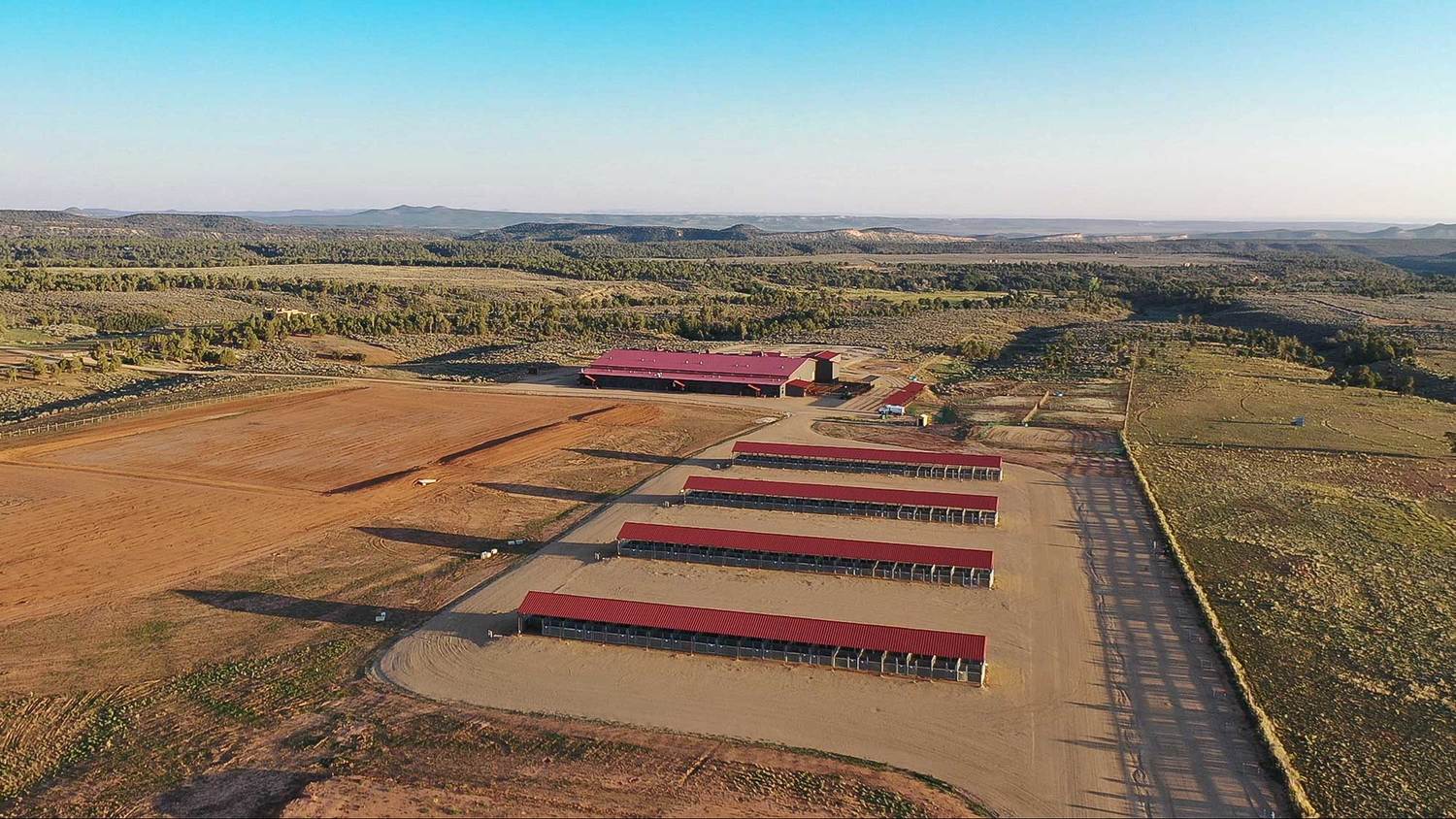 Spring Hollow Equestrian Park
Hesperus, Colorado | County: La Plata | 74 Acres
Property Information
Spring Hollow Ranch and Equestrian Park is the premier event center in the Four Corners Region, situated 30 minutes southwest of Durango, Colorado or 40 minutes north of Farmington, New Mexico. Consisting of 74± acres, the Ranch offers a 135' x 230' indoor riding arena that is set up for Western as well as English disciplines and is outfitted with nine indoor stalls, heated wash bay, veterinarian office with birthing window, and 7,000+ square feet of finished space including two upscale 2 bedroom/ 2 bath condos and 2 studios, hospitality suite, bathrooms and offices. Additional improvements include a, 200 Horse stalls, 58 RV/Trailer Hookups and a forthcoming 150' x 250' outdoor rodeo arena area (under construction). Numerous opportunities exist to continue to grow the facility and its clientele or establish your own training/breeding facility.
This top of the line equestrian event center has hosted many exclusive events including but is not limited to cutting, show jumping, dressage, team roping, barrel racing, dog agility, and the USA Vaulting National Championships.
See More Details
LOCATION
Spring Hollow Ranch and Equestrian Park is located in southwest Colorado, 30 minutes from Durango, 45 minutes from the Durango-La Plata County Airport (DRO) with service from four major airlines and is 40 minutes north of Farmington, New Mexico. Located two miles to the east of State Highway 140 and the unincorporated town of Kline, Colorado, the ranch is easily accessible and visible as you approach from the west.
ACREAGE AND DESCRIPTION
Spring Hollow Ranch and Equestrian Park consists of 74± acres, at an elevation of just under 7,000' with vegetation common in high desert climates. The topography is mainly flat with a gentle slope falling to the east and south, before dropping off into the Spring Hollow to the south, from which the ranch draws its name. The Hollow adds to the varying topography of the Ranch, which is nicely incorporated into the ranches riding and hiking trail system. The scenery across the ranch is encased by the majestic La Plata Mountains and San Juan National Forest to the north, Bridge Timber Mountain to the east, stunning views across the Red Mesa and La Plata River Basin to the west and looking down into the red hills and mesas of northern New Mexico. As the seasons change, so do the incredible views from the Ranch.
OPERATIONS
The heart of the ranch is its 135' x 230' indoor riding arena, with current focus on hosting events from local and national organizations. Events held here recently include cutting, show jumping, dressage, team roping, barrel racing, dog agility, and the USA Vaulting National Championships Operations are spearheaded by full-time General Manager, overseeing all staff, working with clientele to book events, directing marketing, attracting sponsors and coordinating all construction activities.
Additionally, two 2-bedroom apartments and two studios generate rental income when not occupied by event coordinators and contestants. With the addition of the 58 RV/Trailer hook-up sites, the facilities also serve as a boarding facility for those traveling with their horses.
The heated indoor arena is capable of hosting catered dinners for up to 1,500 and is the only venue capable of seating more than 200 people in the Durango area.
Looking to impact your local community? The venue has also served the community and its kids by hosting 4-H events and activities.
The forthcoming outdoor rodeo arena area with a size of 150' x 250', will only add to the vast array of events and clientele the Park can accommodate with plenty of room to park it all.
WILDLIFE AND RECREATION
While not the primary focus of Spring Hollow Ranch and Equestrian Park, you may expect to see local wildlife pass through the ranch throughout the year. The Spring Hollow and its topography create a natural corridor for animal use. Examples of animals that may be found passing through the area include: Antelope, mule deer, black bear, mountain lion, coyotes, bobcats, fox and raptors.
WATER RIGHTS AND RESOURCES
Activities at Spring Hollow Ranch and Equestrian Park are serviced by two commercial water wells, providing ample water to the arena and its activities. Additionally, there is rural water available at the road, with a 4in. service line less than an 1/8th of a mile from the ranch, which could be an option for future use. Water is stored in 5 underground cisterns and distributed across the Arena, horse stalls and RV hook-ups.
IMPROVEMENTS
With over 49,000± square feet of covered space, the arena is one-of-a-kind! At the heart is the 135' x 230' arena, serving as host to an array of events throughout the year. The arena is outfitted with infrared radiant tube heaters, exhaust fans, metal pipe barriers and return runs. A hospitality suite with wet bar, restrooms, TV and an AV system streaming the live action from the arena will ensure no one misses out on the action. There are three offices attached to the hospitality suite, one serving as the GM's office, a spare office and a secretary's office with door and window access to the arena. In addition, there are two, two-bedroom apartments and two studios all nicely appointed with solid wood cabinets, stone countertops, air conditioning and high ceilings. The apartments are highly praised and serve as great amenities for event coordinators that require on-site staff. Furthermore, the arena is complemented by nine horse stalls with outdoor runs, a veterinarian office with birthing window/bay, an additional area for a hay storage/tack, heated wash bay and a matted rubber floor covering the corridor.
Additional improvements include, four covered and lighted 40-stall outbuildings (160 total stalls), with water hydrants and electricity available. For those events with contestants traveling with trailers or RVs, the Ranch features 58 spots with electric and water hookups. A covered outdoor hospitality area serves as an outdoor BBQ/seating area. More outbuildings serve as additional horse boarding and ranch shop.

INVESTMENT CONSIDERATIONS
With the Ranch capable of hosting the largest events in the area, the growing number of events held and positive feedback from some of the top equestrian names in the Country, Spring Hollow Ranch and Equestrian Park will continue to position itself as the premier event center of the Four Corners Region. Its prime location in relation to the historic town of Durango and all the associated outdoor recreation opportunities, Spring Hollow Ranch and Equestrian Park is like no other, with the ability to host large events only adding to the attraction of this facility. Further growth will only continue, as ownership and management work to add the Rodeo Arena and begin to bring those events and clientele into the fold of an already busy schedule.
Purchase together with the adjacent 117± acre Silver Mountain Ranch with its luxurious, adobe-style executive and additional horse facilities for a complete turnkey package. Total acreage: 191± acres priced at $9.45M.

TAXES: $7,925/year (2022)

SUMMARY
Only a handful of properties like this exist across the country, this is the opportunity to own the only one in the Four Corners Region (CO, NM, AZ,UT). Located just outside of Durango, CO, one of Colorado's premier outdoor recreation hubs offering hiking, biking, rafting, skiing, hunting and fishing that only adds to the "draw" of Spring Hollow Ranch and Equestrian Park. The premier destination for all Agricultural and Equestrian Events, and with the forthcoming brand new 150' x 250' rodeo outdoor area additional opportunities are just around the corner.
---