Sold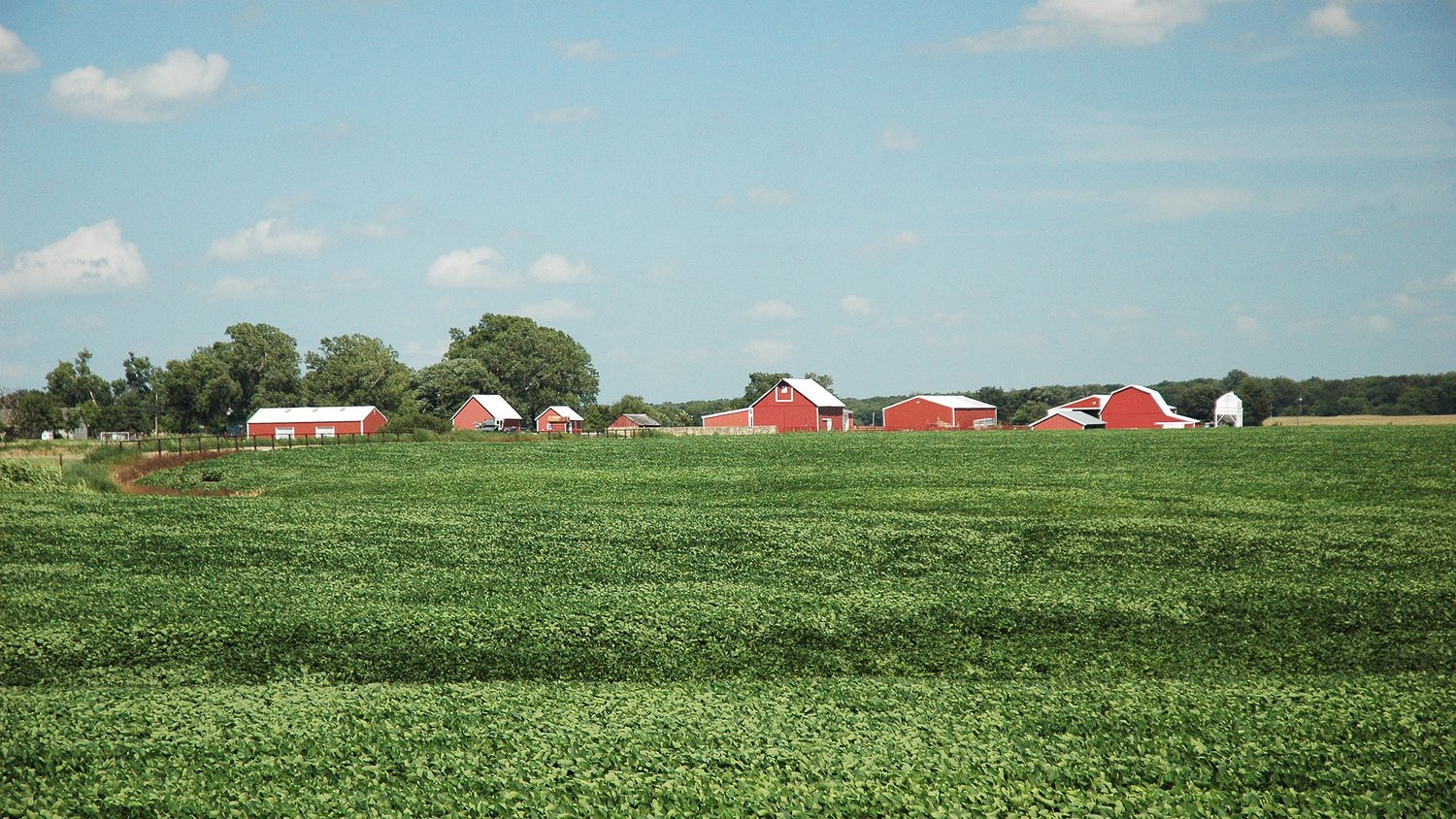 Rock Creek Ranch Grassland
Douglass , Kansas | Butler County | 7870 Acres
Property Information
Rock Creek Ranch is one of the finest Flint Hills ranches on the market. Located in south central Kansas near Wichita, Rock Creek Ranch is a productive ranch with the benefit of hunting, fishing and lodging. Rock Creek Ranch is the culmination of an assemblage of two historic ranches, the Brown Ranch and the Santa Laura Ranch along with other additional purchases. The property consists of 7,870 of native bluestem grassland and hayland together with cultivated lands for feed production. The ranch has extensive improvements for cattle handling, feed storage and employee housing. The main home/lodge is a 1930's vintage estate in a very private setting and located along a 30+/- acre lake. The home is adorned with a natural limestone exterior and is the focal point of the improvements. The property is in a high state of cultivation with an intensive replacement female production program in operation.
Close Details
LOCATION
Rock Creek Ranch is located in southern Butler County and northern Cowley County, near the small town of Douglass, Kansas and approximately 35 miles southeast of Wichita. Specifically, the property is located approximately nine miles east of Douglass, Kansas and accessed by traveling east on 210th (1st Street in Douglass, KS) to Pickrell Road.
The property is readily accessible to Interstate 35. The property is an easy drive from a broad section of the country. Distances from Wichita to major cities are as follows:, Tulsa (140), Kansas City (200 miles), Salina (80 miles), Omaha (300 miles), Denver (520 miles) and Dallas (370 miles).
The main address is 23752 SE Pickrell Road, Douglass, KS 67039. The address for the Santa Laura Ranch main home is 100 SW 230th, Douglass, KS 67039.
ACREAGE
The property consists of approximately 7,840 acres. The grasslands are predominately native bluestem pastures that have been well maintained to minimize tree and weed infestations. There are 562+/- acres in tillable farmland. The property is boundary and cross fenced with excellent fences. There are a number of county roads along the boundaries which give excellent access. The surrounding acreage is largely farm and ranch lands.
The property is very productive and generally considered to carry one steer on two acres for the 90-day season. It is estimated that the ranch will carry one animal unit on seven acres on grassland. Primary grasses include Indiangrass, Big Bluestem, Little Bluestem and Switchgrass along with a number of forbs including lead plant (native prairie legume), Prairie Rosin Weed and coneflowers. The ranch could be operated as a stocker operation taking in a large number of stockers for the grazing season with the farmland cash leased to area farmers. Typically gains on stockers are 2.5 – 3.0 lbs per day. The ranch could be run as a year round cow-calf operation or something as diverse as the present operation which involves raising spring and fall calving first calf cow-calf pairs for replacement into commercial herds.
The property has 77 ponds and lakes that serve for livestock and recreation use in addition to live water sources from Rock Creek and springs in tributaries.
There is approximately two + miles of the main stem of Rock Creek and a number of side tributaries that lead into Rock Creek that provide tree covered wildlife habitat. The area has excellent deer, quail and turkey hunting.
IMPROVEMENTS
The property has excellent improvements and briefly described as follows:
Main residence/lodge
– limestone rock home, built in 1938, consisting of 6,105 square feet of living area, three bedrooms, three bathrooms, office, attached garage, guest cottage and boat house.
The residence was extensively remodeled by the current owner. The residence overlooks a 30 acre lake which is very private and surrounded by trees and shrubs.
The property contains six other homes as follows


Santa Laura Ranch main home is a limestone structure built in 1957 and comprised of 4,234 square feet with four bedrooms and four bathrooms. The home has an apartment on one end and a finished basement. Address:100 SW 230th St.

Ranch home section 23: Built in 1900 consisting of 1,652 square feet with three bedrooms and two bathrooms. Address: 21898 SW Walnut Valley Road.

The following four homes are located at the ranch headquarters area:
Ranch house – 493 SW 230th – 2,154 square foot. Two story, with 888 square foot basement.

Ranch house – 477 SW 230th – 2,755 square foot with 1,271 square foot basement, garage.

Ranch house – 279 SW 230th – 1,324 square foot with 1,079 square foot basement, garage.

Ranch house – 509 SW 230th – 902 square foot with 852 square foot basement, garage.
The Ranch also includes the following agricultural buildings
Ranch Headquarters


Shop – 5,184 square foot

Machine building – 5,292 square foot

Machine building – 7,128 square foot

Stock barn – 2,880 square foot

Horse barn – 2,160 square foot

Frame building – 480 square foot

Frame garage – 1,078 square foot

Machinery building – 2,688 square foot

Feed mill – 2,430 square foot

Stock sheds - 2 – 5,760 square foot

Working shed – 2,295 square foot

Harvestor silos - three

Office/calving barn – 7,200 square foot

Calving sheds - two – 5,760 square foot

Show barn – 7,600 square foot

Pole shed – 3,240 square foot

Pole shed – 1,215 square foot

Commodity shed – 5,760 square foot

Concrete feed bunker - two

Feedyard – 2000' of bunkspace in 10 pens, currently permitted with KDHE for 999 head
Outlying Improvements


21898 SW Walnut Valley Rd. – Frame barn & two pole sheds

Section 27: Pole shed – 3,240 square foot, pole shed – 1,215 square foot

Section 25: Pole shed – 1,215 square foot, pole shed – 720 square foot
AREA AND CLIMATE
Rock Creek Ranch is located in the south eastern portion of a geologic formation know as the Flint Hills. The Flint Hills, historically known as Bluestem Pastures or Blue Stem Hills, are a band of hills in eastern Kansas stretching into north-central Oklahoma, extending from Marshall County in the north to Cowley County, Kansas and Osage County, Oklahoma in the south. Oklahomans generally refer to the same geologic formation as the Osage Hills. The Flint Hills represents the last expanse of tall grass prairie in United States. The original tall grass prairie covered much of the Midwest where the deep loess soil and moderate rainfall were ideal growing conditions. Today most of that prairie is farmland. The Flint Hills is made up of a loose limestone rock referred to as chert which made it undesirable to the homestead period farmers, so they skipped over the region leaving it to cattle ranchers for grazing land as it remains today. The Flint Hills rely on fire to maintain native plants and keep trees from taking over. The tall grass prairie produces some spectacular plant nutrition during its growing stage (about 90 days) and, therefore, has become a popular summer grazing region.
Douglass, Kansas (pop. 1,800) offers small town living with excellent schools yet close to big town amenities of Wichita and Tulsa.
www.cityofdouglassks.com
Wichita, known as the "Air Capital of the World" has been the home to Cessna, Beech and Lear aircraft companies. Wichita is located along the historic Chisolm Trail. Wichita has a population of 366,000 (est. 2008) with 476,000 in Sedgwick County and 630,000 in the three county area. The non-agricultural workforce is estimated at 282,000. The economy in Wichita is lead by manufacturing (due to its aircraft industry) and followed by health care with many number of specialty practices and five hospitals.
The climate of south central Kansas is characterized by hot humid summer temperatures and cold dry winters. Average low temperature is 20 degrees in January and the average high is 90 degrees in July. Precipitation is about 30 inches per year with the largest share in May and June. The area receives lots of sunny days.
The elevation of Wichita is 1,300 feet. The prevailing wind is from the south.
Wichita has three Universities; Wichita State, Friends and Newman plus several community and technical colleges.
Wichita is served by a regional airport, Wichita Mid-Continent Airport which serves many US hubs with nine commercial carriers.
RECREATION
Hunting is the primary activity for this property with quail, whitetail deer, turkey, dove and ducks prevalent.
Other forms of recreation on the property include activities such as fishing, wildlife viewing and photography, skeet shooting, hiking, horseback riding, four wheeling and so forth.
Recreation opportunities such as boating and fishing exist at nearby State lakes and parks.
Hunting seasons vary and a list of seasons is available on the Kansas Department of Wildlife and Parks website
www.kdwp.state.ks.us
Generally, deer seasons include archery, muzzleloader and rifle season and begin October 1 and end December 15. Pheasant and Bobwhite Quail seasons open in early November and run until January 31. Respective bag limits per day and possession for pheasant and quail are 4/16 and 8/32. Spring turkey season runs April 9 to May 18. Fall turkey season runs October 1 to December 3 and December 16 to December 31.
Extended upland game bird seasons for preserve hunting run from September 1 to April 1 providing seven months of hunting. The preserve hunting concept is an excellent way to enhance populations, as one of the requirements of the extended season is to release additional birds at the end of the season.
SUMMARY
The Rock Creek Ranch is a large tract of productive agricultural land with excellent improvements allowing diverse operating scenarios. The property has excellent hunting of several wildlife species as well as lake fishing. This property offers the opportunity to own a great ranch property with significant improvements. The ranch is very accessible, and can be used for a number of different scenarios ranging from a private residence to an executive retreat or hunting lodge headquarters. Onsite management is available from existing personnel or a tenant leaseback arrangement is also possible.
Real Estate Taxes 2009
$47,577
---