Sold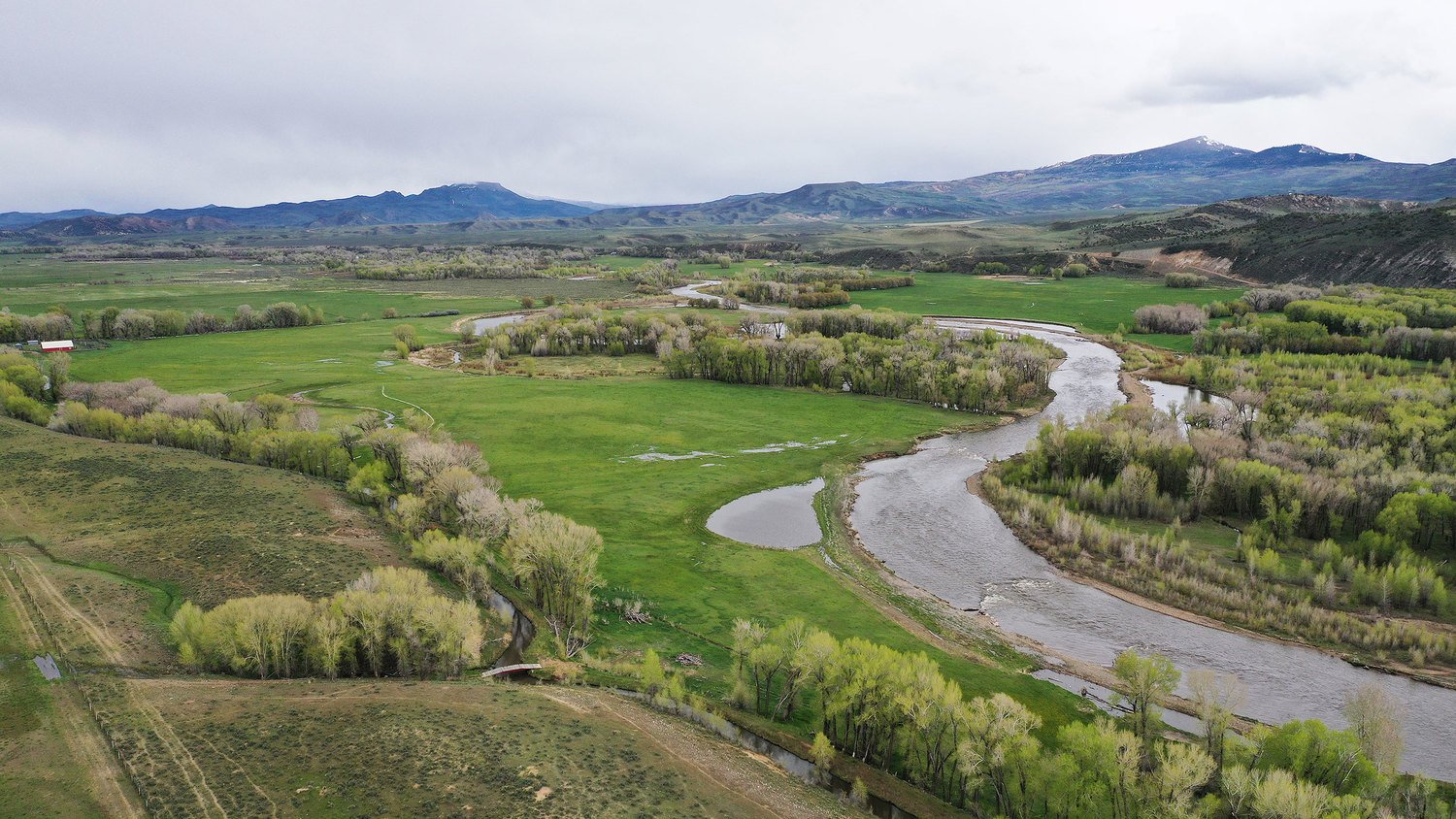 Anglers Envy Ranch
Dixon , Wyoming | Carbon County | 317 Acres
Property Information
Curving along the banks of the Little Snake River lies the 317-acre ultimate outdoorsman ranch with spectacular fishing opportunity with approximately a mile of riverfront access along the Little Snake River, abundant wildlife and lush hay meadows. Enjoy iconic views overlooking the river, hills and mountains. The ranch includes two homes, metal shop and equipment building. Nearby amenities include the Russell Community Arena, a 50,000 SF indoor riding arena and the Dixon Airport with a 7,000' runway.
Anglers Envy Ranch offers the most in mountain living with a reasonable elevation, beautiful meadows, exceptional fishing, tremendous hunting, spectacular views and excellent improvements.
Close Details
LOCATION

Anglers Envy Ranch is located just west of Dixon, Wyoming along the Little Snake River and just 9 miles west of Baggs, WY. Access is by State Highway 13 between Craig, Colorado and Rawlins, Wyoming. Seasonal summertime access is by Wyoming Highway 70 from Encampment, Wyoming or via Routt County Rd 129 from Steamboat Springs, Colorado. Located only 90 miles from Steamboat Springs, Colorado, 48 miles from Craig, Colorado and 70 miles from Saratoga, Wyoming the property lies in the heart of some of the best mountain ranching and recreation in the west. Anglers Envy lies below the confluences of Slater Creek, Battle Creek and Savery Creek as they feed the Little Snake River, the headwaters of which originate off the west slope of the Continental Divide and the Sierra Madre Mountains. The ranch viewshed is southerly looking into the Baker Peak country in Colorado.

ACREAGE

Comprising 317 acres, the property is bounded by paved Wyoming Highway 70 on the north and the Little Snake River on the south. Due to the nature of the terrain, the property is very private and largely hidden from the highway by a large ridge.

Water is delivered from the ditch to gated pipe as the irrigation fields lay level and irrigate well without moving pipes. There is approximately 175 acres in hay meadows with the balance being upland grazing and cottonwood and willow lined bottomland along the Little Snake River. Hay production has the capability to reach 3 to 4 tons per acre for mature stands of alfalfa and 2 tons for native grass hay. The gross revenue potential for the ranch is very strong with hay and pasture income, building rental income and fishing and hunting trespass fees as sources of revenue.

WATER RIGHTS

Irrigation/Water Rights are comprised of 100 shares of some of the most senior water rights on First Mesa Ditch/Wren Ditch, with a 1882 decree for 1.50 Cubic feet per second and another 100 shares of enlargement on First Mesa Ditch with a 1955 decree for 1.09 CFS. Additionally, there are 50 shares of dam water from High Savery Reservoir.

IMPROVEMENTS

Home - The main home is over 3300 square feet of updated and finished living space boasting 4 spacious bedrooms and 3 full baths. The home includes two living areas and an updated open kitchen. It is meticulously maintained and move-in ready.

Cabin - The second home is a newly built (2016) hand crafted log home with 1256 square feet of living area with 2 bedrooms, a great room, modern well equipped kitchen, full bathroom and a large loft.

Outbuildings/Improvements - The property includes a beautiful old red barn with a hay loft and corrals and working facilities for livestock. Also included are a 1500 square foot detached heated shop/garage with power and concrete floor, a great place to work on your car collection or toys. Additionally, there is a new (2014) 4200+ square foot metal sided wood framed equipment shed.

Overall, the buildings are in very good to excellent condition and have been well cared for by the owners.

RECREATION

River/Fishing - The Little Snake River borders the property's whole south side making an excellent fishery for Brown, Rainbow, Cutthroat and Brook Trout. Recently, a major restoration was completed of a stretch of the river mitigating some stream bank degradation. As a part of the restoration a series of rock structures were placed in the river for habitat enhancement. Additionally, a large live water oxbow was constructed in an old river bend greatly enhancing the habitat in general but particularly for waterfowl. This freestone fishery offers consistent temperatures, a mild gradient, diverse insect population and self-supporting trout habitat.

Hunting/Wildlife - Game Species that make the property home include are Elk, Moose, Whitetail Deer, Mule Deer, Black Bear, Coyote, Bobcat, Mountain Lion, Beaver and Mink. The property is an excellent waterfowl property as well, with its slow water channels and ponds with Canadian Geese and a variety of Ducks. For wildlife watchers, there are resident Bald Eagles, Hawks, migrating Sandhill Crane and Whooping Crane.

In addition, a variety of documented history exists in the area including the Snake River Museum located in Savery, WY which was the home of the "legendary " mountain man Jim Baker.

SUMMARY

Anglers Envy Ranch offers the most in mountain living with a reasonable elevation, beautiful meadows, exceptional fishing, tremendous hunting, spectacular views and excellent improvements. Top all this off with a Wyoming address offering its favorable tax structure and you are going to love Anglers Envy. The quality and diversity of the property makes it value stand out in today's ranch inventory.

---