Sold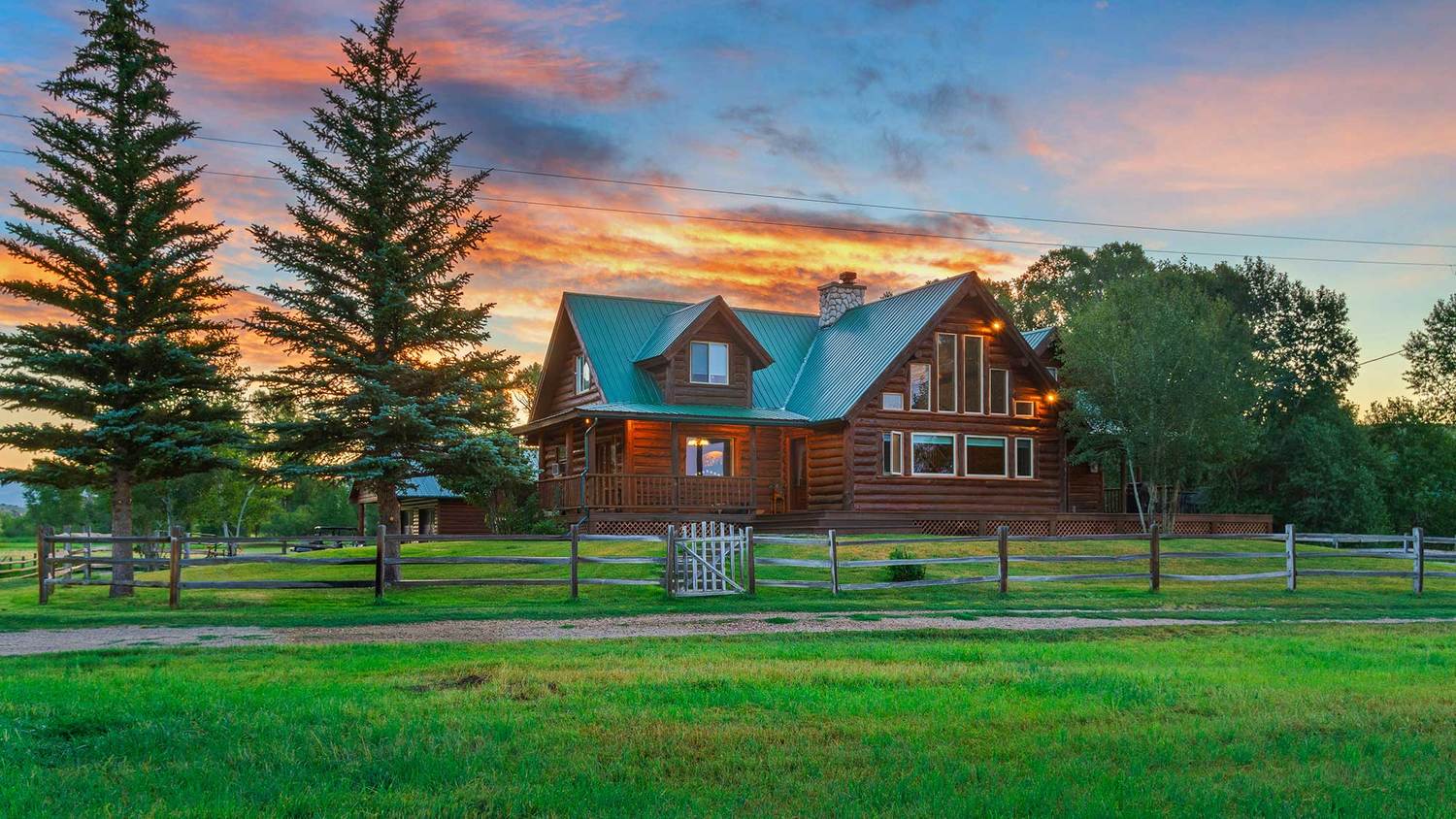 The Waters on Savery Creek
Savery , Wyoming | Carbon County | 200 Acres
Property Information
The beautiful thing about nature is its way of healing and providing a sense of grounding and peace. Let's get you reconnected to that beauty at The Waters on Savery Creek. Nature's stunning beauty is prevalent across this 200 +/- acre property with nearly one mile of private fishing water on Savery Creek, featuring extensive improvements to enhance the fishery. The valley stands still in time, iconic, embracing its historic ranching roots with hay meadows, cattle and sheep production, and decades old cottonwoods that tower above the creek. All this peaceful, nostalgic, beauty seems to be bottled up and delivered to the doorsteps of the stunning, newly renovated 4,300 square foot, six-bedroom, three full and two half bath log home headquarters being offered turnkey. Truly a hard-to-find property of this quality and attributes in today's market.
The Waters on Savery Creek is an excellent fishery located downstream from High Savery Reservoir.  The property offers one-mile of private fishing water, plus a newly renovated 4,300 square foot log home, being offered turnkey.
Close Details
LOCATION
An easily accessible ranch located in the historic Little Snake River Valley. The ranch is sitting along the Savery Creek, four miles north of the Savery, Wyoming on a lightly traveled, tree lined, gravel road that in county-maintained all year long.
Offering exceptional privacy and just the right touch of remoteness, the ranch lies between Baggs and Saratoga, Wyoming and is about 65 miles north of Steamboat Springs, Colorado - only 8 miles from the jet-capable Dixon airport.
The ranch is serviced by high-speed fiber optic internet with speeds up to 1gigabite - perfect for the remote work lifestyle while providing both the safety and tranquility of being miles away from large population centers -- and just a short drive to the Three Forks Ranch & Luxury Spa!
Savery, Wyoming, is 6,500 feet in elevation. Summer weather is spectacularly sunny and warm. Fall is mild and as the evenings cool down, you'll see the magnificent autumn colors change. Winters offer snow cover to the area for most of the season until the longer days of spring usher in warmer temperatures. Annual precipitation falls partially in the form of snowfall and averages about 10". The warmest month is July with temperatures in the mid to upper 80s. January is normally the coldest month with average lows just above zero. The cool, dry Wyoming air and the abundant sunshine produce ideal weather, making time spent outdoors in any season almost irresistible.
ACREAGE AND DESCRIPTION
Comprising two parcels that total 200+/- acres, the ranch is a scene out of your favorite western movie - a beautiful river valley with towering Cottonwood trees aligning the riverbanks, lush, green irrigated hay fields, with wild animals abounding the meadows and wetlands.
At the base of the beautiful hay field lies the picturesque ranch
headquarters, featuring a stunning, completely remodeled, 4,300 square foot log home, oversized two-car garage, a separate caretaker unit and several outbuildings that dot the grounds. The Savery Creek has both sides meandering through the property for almost a mile of private water and features over half a million dollars' worth of new river improvements completed in the Fall of 2022. A Stock Growers conservation easement protects the 140 acres of meadow lands and river area while the 40 acres the buildings are located on remain separate.
OPERATIONS
Is your dream ranching, fishing, hunting, horses, cattle? This ranch has it all - fertile ground, facilities for horses, cattle, or your other four-legged friends. In addition, irrigated hay fields produce approximately 225 tons on average of hay per year. The daily ranching operations are currently managed by a neighbor with a long history of ranching in the valley. You may choose to continue to operate by renewing the lease or run your own ranching operation.

A conservation easement is in place and held by the Wyoming Stock Growers Land Trust, the 9th largest regional easement holder in the nation. The 40+/- acre parcel with all improvements is held outside of the conservation easement.
WILDLIFE AND RECREATION
Wildlife and recreation are some of the best to be had. Moose, elk, mule deer, whitetail deer, bald eagles, waterfowl and whooping cranes all can be found on the grounds through the seasons. Wildlife and bird watchers will find plenty of opportunities daily to enjoy this iconic property.
The fishery at the Waters on Savery Creek is also greatly improved. With over half a million dollars in improvements made to the river in 2022. The fishing will be meaningfully enhanced with deeper channels, stabilized banks with large rocks for shelter and food.
WATER RIGHTS AND RESOURCES
Savery Creek provides good water flows through all seasons on the property. Two ponds on the property, one is year-round and spring fed, provide excellent habitat for attracting ducks, geese and other forms of migratory birds and wildlife. Several irrigation ditches on the ranch help fill these ponds and water the hay meadows.
Water rights include:
• Savery Creek Territorial: Kelsey & Reader Ditch, Spring 1886, 100 acres, 1.43 c.f.s. Permit #5018E
• Savery Creek Territorial: Enl Kelsey & Reader Ditch, 7/24/1935, 41 acres, 0.58 c.f.s.
• Savery Creek Territorial: Kaisler Enlargement of the Kelsey and Reader Ditch, 0.08 c.f.s.
• 100 Shares of the High Savery Reservoir
• Additional Wells and Reservoir Permits
IMPROVEMENTS
One of the main features is the stunning, 4,300 square foot turn-key log home, with six bedrooms, three full baths and two half baths. The home is offered fully furnished with recently completed extensive renovations to include, new kitchen, walls are Hawk & Trowel textured with new paint, trim and flooring throughout the home. The exterior logs of the home and all outbuildings were re-stained and chinked in July 2023, putting a "like new" shine on the entire home.
Upon entering the home, you instantly feel welcome and cozy. The furnishings, sourced from around the country, naturally blend into the home to create a warm hominess. The kitchen features custom white, Taj Mahal quartzite countertops, island with gas range, all new stainless appliances highlighted by the double side by side refrigerators, perfect for entertaining and sustaining your guests (as they will not want to leave!)
While dining, you and your guests will be spoiled with one of the best, and longest, views in the valley. The valley walls naturally draw our gaze past the lush hay meadows through miles of wide-open spaces all the way to Mt. Baker towering off in the distance - all of nature's splendor just a glance away. After dinner retire to the grand room, with its cathedral ceiling and stone fireplace that offers both gas and wood burning options. Again, become lost in nature as the window covered south wall beckons your eyes outside.
There is an office located off the kitchen along with the large pantry, laundry facilities and half bath. The owners on-suite is located on the main floor with private access to the covered porch on the east side of the home. Two additional bedrooms and a bath with a shower and soaking tub are located on the upper floor. The lower level features an additional on-suite bedroom, with two more bedrooms and full bath.

Finishing off the main home is a detached, oversized and finished two-car garage. WIth plenty of room for additional storage or workspace.
Another bonus is the separate, one-bedroom, one bath caretaker unit, atop a secondary oversized and finished two-car garage, workshop, and summer kitchen. The apartment above the garage on the upper level is newly remodeled with a bedroom, kitchen, living room and bath. A new 14 x 24-foot concrete patio with pergola is attached – sit awhile and enjoy, there is a great view of the arena, meadows, and tree lined fields.
The large equipment barn will keep all the toys and equipment protected and easily accessible with loafing sheds on both sides for additional storage. Enjoy the bonus shed with a little porch, perfect for a kid's playhouse or crafts cabin/reading retreat. Animal facilities include a roughly 200 x 80 riding arena, corral, stackyard, full set of working pens and cattle chute for cattle and a chicken coop.
The river has also undergone extensive work to enhance the fishery and stabilize the riverbanks. The river project, completed in the fall of 2022, is an improvement of a value of over $600,000. The work encompassed the entire stretch of river, deepening the river channel, adding heavy stone & boulders creating fish habitat such as pools and rapids. Cottonwood trees were harvested to utilize the logs and root balls for bank stabilization. This work will serve to greatly enhance/increase the Colorado Cut-Throat, rainbow and brown trout numbers as well as their health.
The ranch resides below the High Savery Reservoir which was created for late season irrigation and for providing ample cool flows of water during the warmer months of summer. The controlled flow of water out of the reservoir enhances the quality of the river which passes through Waters on Savery Creek.
INVESTMENT CONSIDERATIONS
Private fishing water in this area is very limited and this ranch has about a mile of improved river and water rights that will keep the ground productive for years to come. With historically low property turnover in the area, this ranch is a rare opportunity to get in on a high-quality production and recreational ranch. This is a turnkey opportunity, with the home being newly remodeled and exterior freshly preserved, this home is ready to be enjoyed from day one. Options are available for the continued operation of the ranch. The new owner can leave the current agreement in place or terminate and self- operate.
HISTORY
This area of Wyoming has a rich history of Indians, pioneers, miners, cattle and sheep ranchers and legendary outlaws - all of whom were attracted to the location and resources the area provided. Lush drainages intersect vast sagebrush flats that rise up to distinctive mountains creating the beauty Wyoming is known for. The scenic byway running from east to west along the southern boundary of the state bisects the 1,000,000-acre Medicine Bow National Forest. Recreational opportunities vary widely from hiking, riding, fossil hunting, shed antler hunting, snowmobiling and hunting and fishing.
The ranching roots run deep in the area and large, scenic working ranches flourish. Just 15 miles west is the small town of Baggs, with fuel, groceries, a medical center and fantastic K-12 schools. Craig, Colorado, less than an hour south of Baggs, has shopping and restaurants. Saratoga, a well-known, historic summer resort town in the southern part of the state is an hour east of the ranch. Steamboat Springs, Colorado, is a year-round destination for visitors from around the world.
TAXES: $3336.69 (2022)
SUMMARY
The Waters on Savery Creek is a 200+/-acre ranch with both sides of approximately one mile of Savery Creek meandering through it. The ranch features a stunning, newly renovated 4,300 square foot, 6-bedroom, three full and two half bath log home and a separate fully remodeled one-bed/one-bath caretaker unit.
The Waters on Savery Creek is an excellent fishery located downstream from High Savery Reservoir. The reservoir creates consistent late season flows, allowing Savery Creek to boast great Colorado River Cutthroat and Brown Trout. The Waters on Savery Creek has nearly a mile of private water with significant improvements from an extensive river project completed in the fall of 2022.
Additionally, upstream from the ranch property, over 18 miles of fishing in Savery Creek is available by either public fishing access or with professionally guided fishing opportunities on both public and private land.
Cottonwood trees, willow groves, ponds and meadows make great waterfowl and wildlife habitat. The wildlife includes moose, elk, antelope, mule and whitetail deer and whooping cranes. Come and experience how this amazing property will connect you with nature and provide the "grounding" we all long for in life. The Waters on Savery Creek, a ranch preserve, was designed for relaxing, refreshing, and renewing body, mind and spirit.
---