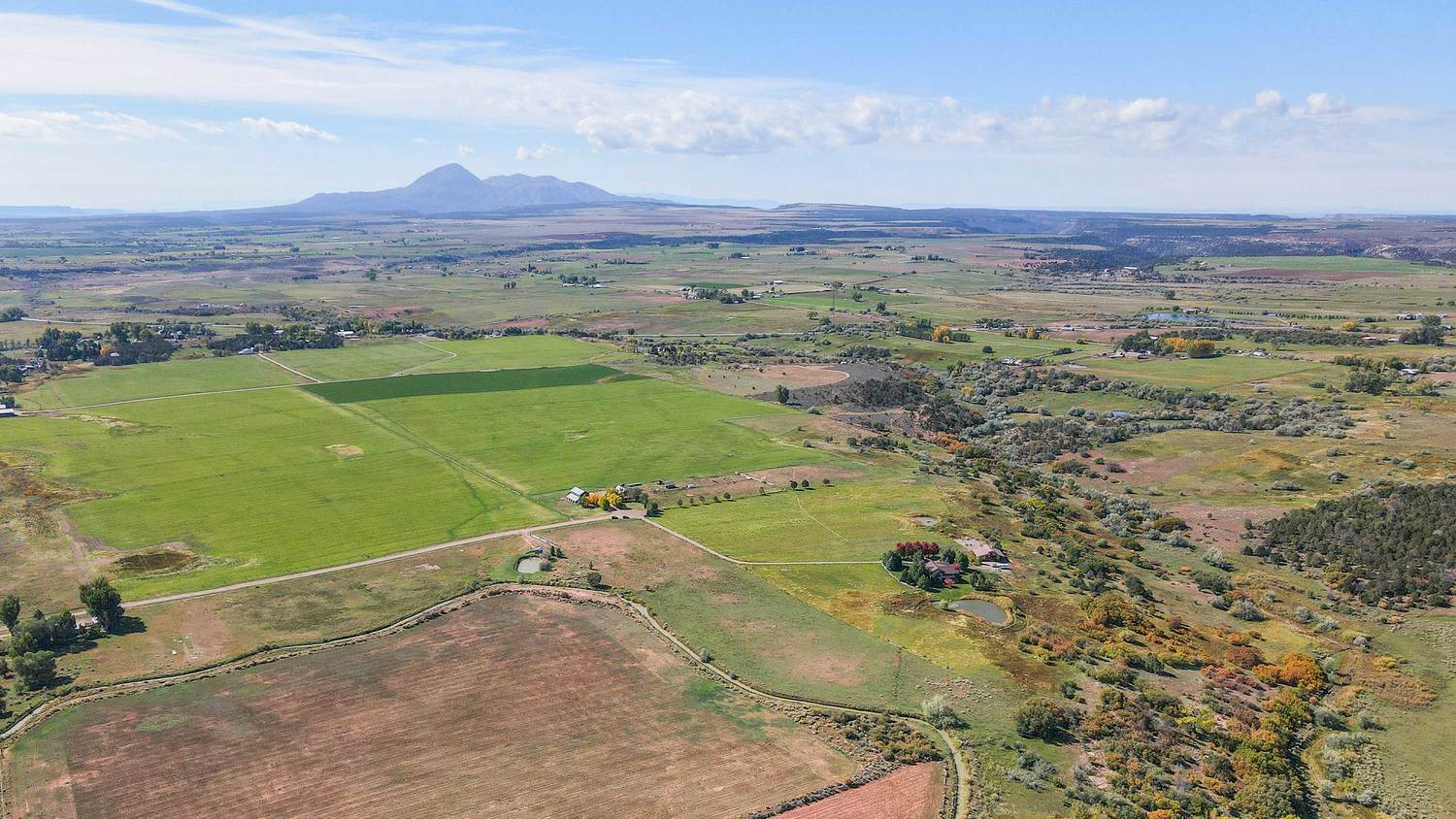 Grand View Farm
Lewis , Colorado | Montezuma County | 198 Acres
Property Information
Grand View Farm is a beautiful hay farm with valuable water rights and a residence all located on 198+ acres.  The property is located in southwest Colorado near the small village of Lewis, Colorado.  With spectacular views of the La Plata Mountain range to the northeast and Mesa Verde and the Sleeping Ute Mountain to the south, this profitable hay ranch lies in a beautiful open setting.  Known for its high-quality hay production driven by its elevation at 6,700 feet above sea level and over 300 days of sunshine each year, Grand View Farm is surrounded by 360 degrees of scenic mountain views.
Grand View Farm offers income and lifestyle located in a quiet and comfortable area that is rich in recreation opportunities.
Close Details
LOCATION
The property is located north of Cortez, in Lewis, Colorado and is approximately 55 miles from Durango, 60 miles from Telluride, 150 miles from Grand Junction, 200 miles from Albuquerque, New Mexico and 339 miles from Phoenix, Arizona.
ACREAGE
• 198.3 acres of beautiful meadows with 360-degree views of the La Plata Mountains, Sleeping Ute Mountain, Mount Wilson and Mesa Verde; 5 separate parcels of high-quality alfalfa and grass hay
• 140 Shares of owned Montezuma Valley Irrigation (MVI) water district
• Pump house and large pond – 15' deep; pumps MVI water from canal via a 12" line pumping 900-1000 GPM to irrigation system, variable flow pump operates on 3 phase electric, annual cost about $5,000
• 7 main side rolls each ¼ mile long; one smaller side roll
• In addition of cropland areas there are three large separate pastures, one smaller grass pasture for grazing; all cross fenced with separate automatic water location

RESIDENCE
This home is full of natural light and features two stories with breathtaking views of the La Plata Mountains, Sleeping Ute Mountain and Mesa Verde. The main living area (48' x 24') is on the upper level and includes the master bedroom and bath, guest room, laundry room and an open floor plan with the kitchen, living space and dining area. The views from each room are quite spectacular. The downstairs is 48' x 48' with half of the space devoted to an entrance, mud room, two offices and full bath (one office is large with built-in desk space). From the office space area, you enter through a central door into a large barn/storage area.
Upper Level:
Living room, dining room, kitchen
• Natural hardwood floors
• In-floor heat throughout
• Great views!
Master Bedroom and bath
• Tile in bathrooms
• Deep European soaking tub; huge window over bathtub looking out to La Plata Mountains; very private
• Walk-in shower with tile walls and floor
• Custom built cabinetry
• His and hers closet
Guest Bedroom and bath
• Very bright and charming room
• Pedestal sink and shower
• Linen storage
• Custom built cabinetry Kitchen
• Granite tile counters in kitchen
• Doubles stainless steel sinks
• Microwave, dishwasher, garbage disposal
Lower Level:
• Large mud room entrance; 48' x 24' heated interior
• Office with double French doors to outside patio, lots of sunlight; long built-in desk with keyboard pullouts and file drawers; wash sink
• Guest bedroom or second office
• Half bath with pedestal sink; wainscoting Lower Level – Heated Living Space
• Garage/barn space (48' x 24'), including equipment garage with 16' ceiling and double sliding wide doors; cement floor; running water; built-in shop area with pegboard
Separate Improvements:
• Hay Barn
• Two 12' x 12' horse stalls with own feeders; rubber padded floors.
• 3-car + garage; separate workout room and storage in back
• Large separate dog kennel; 12' x 12' with dog run from kennel
• Separate fenced dog run close to house
LOCALE
Comfortable summer temperatures reach the upper 80's, while the autumn days are clear, cool and full of vibrant foliage colors. The crisp and sunny winter days often feature abundant, light powdery snow. Lewis, Colorado is approximately 11.5 miles to Cortez, which sits at the base of Mesa Verde National Park, and as a small rural town, offers basic services to the surrounding community. Lewis is approximately 27 miles from Mancos and the charming town of Durango is located 55 miles to the west. It has many big city conveniences, including a state of-the-art new hospital, many fine restaurants, hotels, shopping, a four-year college, and numerous cultural activities. The four-corners area provides endless activities for the outdoor sports enthusiast.
The Montezuma County area, which includes Mancos, Cortez and Dolores is the most southwestern of the 64 counties in the state of Colorado. Mesa Verde National Park, Canyon of the Ancients National Monument, Yucca House National Monument, and Hovenweep National Monument preserve hundreds of ancient American Indian structures, including the famous cliff dwellings, found in the county.
The La Plata County area, including Durango and Bayfield, provides other major services. La Plata County Airport runs daily commercial air service to Denver, Albuquerque, Salt Lake City and Phoenix, with seasonal service to Houston and Dallas, and includes facilities for full service general aviation. Also, Cortez has an airport with commercial services to Denver.
The local area also provides a myriad of opportunities for all types of recreation. Narraguinnep and McPhee Reservoirs are only 3 miles and 6 miles, respectively, from the farm and offer recreational opportunities for boating and fishing. For downhill skiing, Durango Mountain Resort is a 60-minute drive from the ranch, while Wolf Creek and Silverton Mountain Ski Areas are an hour-and-a-half away. Cross-country skiing, snowshoeing and snowmobiling are also available on the ranch and throughout the area. Trail riding possibilities are virtually endless in the area. Summertime is also filled with opportunities in the area for hiking, fishing, boating, golfing and visiting the local Durango to Silverton Narrow Gauge Railroad, Mesa Verde National Park and the Four Corners National Monument. The Cortez parks offer a wide range of recreational opportunities, including picnic spots and sports fields. The Conquistador Golf Course in Cortez is a championship 18-hole golf course with sand traps, water hazards, practice driving range and putting green. Excellent golf can be found at Pinion Hills in Farmington, NM and in Durango, CO at Dalton Ranch Golf Club, Hillcrest Community Club, and the private Glacier Club (memberships available). The Cortez Municipal Aquatics Complex is open to the public seven days a week during the summer months, with a pool, climbing walls, and numerous amenities.
SUMMARY
Grand View Farm offers income and lifestyle. The comfortable combination residence/office/shop with separate garage, hay barn and livestock facilities to back up an excellent hay farm with outstanding water right shares from Montezuma Valley Irrigation (MVI) water district. This property is located in a quiet and comfortable area that is rich in recreation opportunities.

---