Sold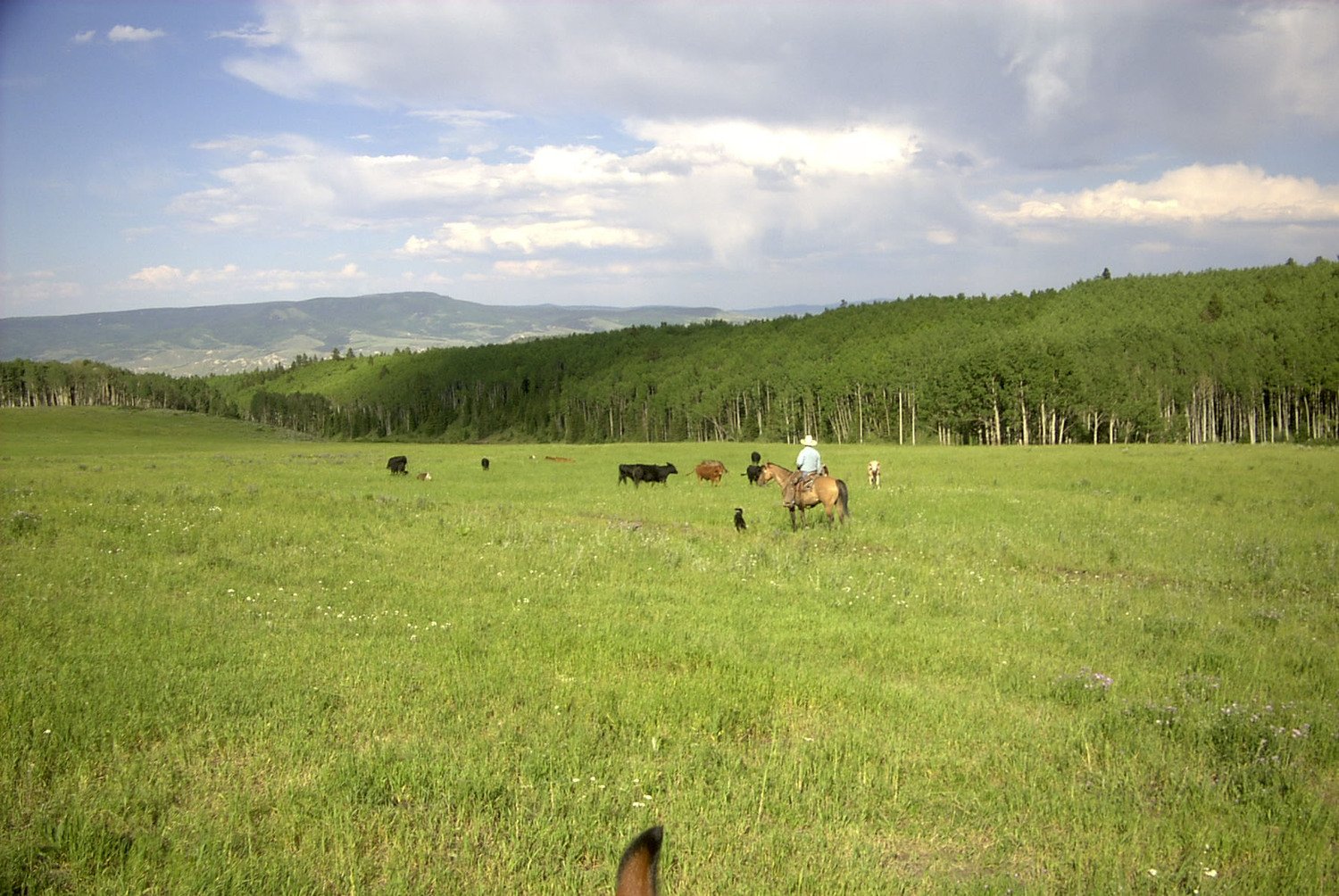 Lazy E H Ranch
Yampa, Colorado | County: Routt | 4000 Acres
Property Information
Located in the upper Yampa Valley forty minutes south of Steamboat Springs and one hour from Vail, Colorado. The ranch is one of the finest examples of a Colorado, trophy, high-mountain ranch on the market today. Consisting of over 4,000 deeded acres including 700 acres of irrigated meadow, the ranch offers a tremendous resource capable of running 1,300 head of yearling cattle on deeded and leased lands. The ranch borders more than one million acres of the Routt National Forest and the Flattops Wilderness area making it a haven for Rocky Mountain wildlife including elk, deer and bear.
See More Details
LOCATION

The Lazy EH Ranch is located four miles from Yampa, Colorado, approximately 61 miles from Vail, 30 miles from Steamboat and 186 miles from Denver International Airport. The ranch is approximately 55 miles from the Yampa Valley and Vail airports. Both airports are served by commuter airlines as well direct flights from many major U.S. cities.

The Lazy EH Ranch lies along Watson Creek and Moody Creek to their headwaters in the Flattops Mountains and Routt National Forest. The elevation of the ranch ranges from 7,750 to 9,500 feet. The ranch borders the Routt National Forest for eight miles allowing easy access to the Flattops Wilderness and thousands of acres of public lands.

AREA AND CLIMATE

Steamboat Springs is steeped in the history of early day trappers and miners. Remnants of the old days are found at places like Yampa and Toponas that made the transition from glory day mining towns to year-round ranching and recreation towns.This area has thrived due in large part to the fascinating beauty and skiing of Steamboat Springs and the Eagle-Vail area which also provides a host of recreation activity including skiing, packing, rafting, sail-boarding, fishing and hunting, golfing, and jeep tours among others.

Steamboat Springs is served by six banks, three libraries, one hospital with 24-hour emergency service, 18 churches, four newspapers and four radio stations not to mention excellent retail shopping, lodging and restaurants. The 2000 census indicated the population of Routt County at 20,255 with 9815 people in the city of Steamboat Springs and 443 inhabitants in the town of Yampa. Yampa offers limited services including restaurants, stores, fuel stations and churches. Yampa has an elementary school. Junior and senior high school are located nine miles north at Oak Creek, Colorado.

The climate boasts four-season living with the average high temperature in winter (January) at 30 degrees F and in summer (July) at 76 degrees F. Precipitation in the area is approximately 24 inches annually with an average snowfall of 167 inches.

ACREAGE

The Lazy EH Ranch consists of approximately 4,014 acres of deeded land. The lower portion of the ranch consists of beautiful and productive native meadows, which produce timothy and clover hay and pastures. Irrigated acreage is estimated at 700 acres. The irrigated land has a capacity to produce 1300 tons of hay. Watson Creek and Moody Creek meander through the property for about seven miles. The land rises out of the valley floor into upland grass and sage pastures. The sage pastures are a blessing of nature in that they provide early grazing for livestock as well as an abundance of habitat that support a host of wild plants and animals including deer, elk, grouse and nearly all other Rocky Mountain flora and fauna. The land grades higher to the southwest into aspen and pine forests where the ranch borders the Routt National Forest. The Lazy EH Ranch will carry 1300 yearlings during the grazing season with limited hay production. The pastures are cross-fenced for rotational grazing.

GRAZING LEASES

The ranch has numerous grazing leases on bordering lands. The State of Colorado lease encompasses 1280 acres. The federal leases include 289 animal units with the Bureau of Land Management, and Three Routt National Forest permits—the Bear River allotment, the Watson Creek allotment and the Moore Park allotment. The Bear River allotment allows 300 yearlings from July 1st to August 31st each year. The Watson Creek allotment allows for 385 yearling cattle from July 1st to August 31st and 200 yearling cattle for June 15 to June 30 each year. The Moore Park allows for 200 yearling cattle from July 1 to Aug 31.

The ranch borders the Routt National Forest. Access control is significant and has allowed the owner to provide a game preserve for wildlife. The owner has only allowed limited hunting and fishing for many years.

WATER

The Lazy EH Ranch has plentiful water and valuable water rights. The irrigated lands are supplied by 11 ditch rights with 80.23 cubic feet per second of direct flow water rights and 758 acre-feet of storage water rights. The water is sourced from Watson Creek, Moody Creek, Spring Branch and Bear River (also referred to as the Yampa River). Additionally, the ranch has artesian wells that are adjudicated for irrigation, industrial and commercial use. A detailed list of water rights is available in our office. In addition, the ranch has numerous springs and ponds on the property.

A spring provides water to the improvements.

IMPROVEMENTS

The main buildings are located at the headquarters four miles southwest from Yampa. Three mountain cabins and other older buildings are located away from the ranch headquarters.

The main dwelling is a 2,550 square foot main level, frame construction, home with log exterior siding and a concrete foundation. The home, built in 1948, is in good condition and has nine rooms including four bedrooms, and two and three-quarters baths with a walkout basement (recreation room) and an attached garage and carport. The heating system is propane hot water.

The second dwelling, built in 1981, is a one-story frame construction (1,612 square feet) with a finished walkout basement (1,536 square feet), a large deck and attached garage. The home has four bedrooms and two and three-quarters baths, a concrete foundation, log siding and a metal roof. The heating system is electric baseboard.

A one-story log structure, built in 1931, and in fair condition, has four rooms including two bedrooms and one bathroom, and is heated with a propane stove.

The ranch has a metal frame shop with concrete foundation and floor. It has a metal exterior siding and roof with insulation on the interior walls and ceiling. Built in the late 1970s, the shop contains 2,240 square feet and is in good condition.

The historic barn is 1,782 square feet with a concrete foundation, wood floor and metal roof.

The main building site also has equipment storage, a livestock shed, scales and corrals.

The three small, one-room cabins are located in the mountainous areas of the ranch. They are used for summer camping and hunting and are heated with wood stoves, but have no running water. They are about 400 square feet each. Electric service is provided by the Yampa Valley Electric Association and telephone service is provided by Qwest.

RECREATION

The surrounding area offers recreational opportunities ranging from downhill skiing at the nearby Vail/Beaver Creek and Steamboat Springs resorts, to cross-country skiing, snow-shoeing, hiking, and horseback riding in the privacy of the ranch boundaries. The adjoining Flattops Wilderness Area allows for access to hunting and unlimited possibilities to experience the outdoors. Exceptional fishing can be found in the lakes that are located in the wilderness area as well as along the Yampa River as it winds its way to the Southwest.

SUMMARY

The Lazy EH Ranch offers a unique, well-maintained working ranch located in one of the most splendid mountain settings in Colorado. The property has everything that a trophy mountain ranch should offer; good improvements and access, live water with fishery, valuable water rights, alpine scenery, contiguous acreage, National Forest access, abundant wildlife and an area that has plentiful recreation opportunity and is easily accessible from anywhere in the country. The ranch is a prize for personal enjoyment, western lifestyle, privacy and conservation potential.