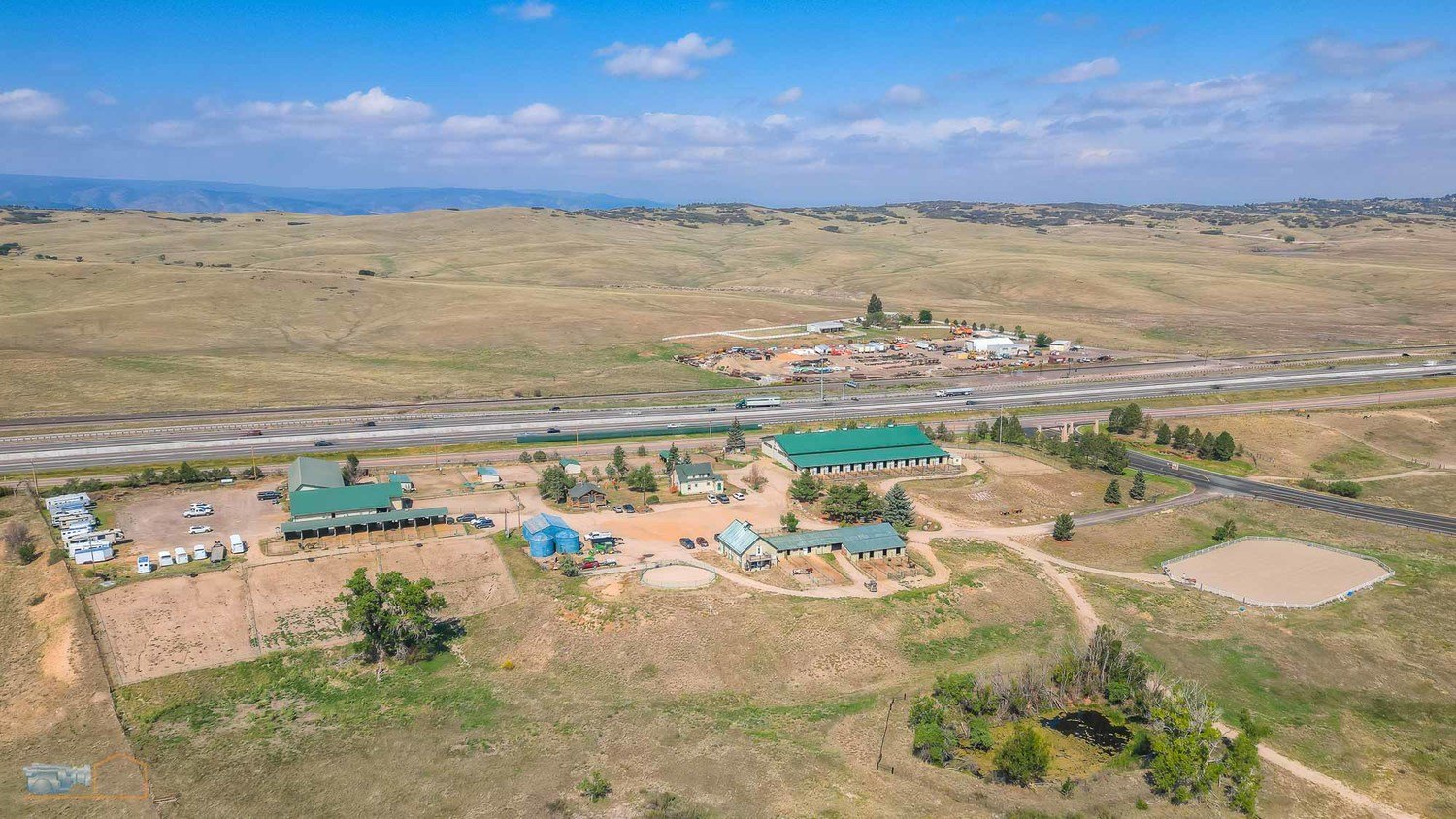 Bell Mountain Equestrian Ranch
Castle Rock, Colorado | Douglas County | 23 Acres
Property Information
Located in prestigious Douglas County, just south of the metro Denver area, this boarding facility has built a reputation based on a long, rich history of caring for horses and training their riding partners. Fully updated in 2016, the property boasts 46 stalls, most with attached pipe steel runs. The 80' x 160' indoor riding arena has LED lighting and is connected to the heated main barn. There is also a 120' x 170' outdoor arena. There are 5 outdoor paddocks with shelters and 6 turnout pens throughout the property. All horse areas have heated automatic waterers. The property can easily handle over 60 horses. Direct access to over 30 miles of trails for riding. In addition, there are two employee or rental houses on site, along with Ranch offices and meeting area, hay storage, rental parking area and a separate office area to the south. The outdoor arena and riding trails are under a License Agreement with the Metro District and will need to be re-negotiated by the new owners. Good staff on board. Great access and within minutes of Castle Rock, Colorado. Boarding historically runs an average of 90% occupancy. Great investment opportunity. Property and boarding operations sell together.
This well managed and prestigious Equine Center is prime for the discriminating investor or an owner looking for a well-established business, with high occupancy percentages. Both real property and existing equine boarding operation are included in the listing price and transfer with the sale. Located in the highly sought-after Douglas County area and close to Metro Denver.
Close Details
LOCATION AND COMMUNITY
Bell Mountain Equestrian Ranch is located on the south end of Castle Rock, which is just 15 minutes from the Denver Metro area. Castle Rock, with a population of over 80,000, is a thriving community with strong values yet a small-town character. Full of history and heritage, the town has many local restaurants, shopping centers and entertainment venues. Open space, parks and trails abound. Douglas County is renowned for being a prestigious area with countless upscale homes and ranches. The rolling hills with stands of pine and shrubs along with rock outcroppings truly reflects a forest infused Front Range community. Colorado Horse Park is just a few miles away and features equestrian competitions. Three major golf courses are in the area, including the well know Castle Pines Golf Club, designed by Jack Nicklaus.
ACREAGE AND DESCRIPTION
The 23 plus acres is mostly flat, with East Plum Creek running through the open space area between the facility area and undeveloped pasture area. Many of the stalls and runs face to the east and have a view of the creek area and Bell Mountain. The layout of the property is well planned, even down to the trailer and vehicle storage area. Trucks and trailers can easily maneuver and turn around. Roads within the facility are graveled and maintained frequently. Views of the foothills range, the Castle Rock plateau, Bell Mountain and rolling hills in every direction. The 8.87 acres containing the entire Equestrian Center is separated from the 14.37 acres of raw pasture land by the East Plum Creek open space area and are accessed via a steel bridge that spans the creek. There is an easement allowing access.
OPERATIONS
This equestrian center runs very smoothly. All boarders are on a month-to-month contract, and typically there are very few vacancies. There is an on-site Ranch Manager a staff including office management, maintenance and Stall Masters (cleaners and attendants). The facility has been in operation since 2004, with the current owners taking control in 2016. At that time, they made major improvements to the property, including all Pipe & Steel fencing, heated automatic waterers, additional turn out pens and shelters and improved footing in both arenas. With the ability to board around 60 horses, the facility averages between 90% to 95% occupancy. The existing License agreements to use the outdoor arena and riding trails will cease upon sale and new owners will need to negotiate their own License Agreements with the Metro District, for the use of the arena and trails. Use of the trails may or may not include some trail maintenance responsibility.
The current Owners have two parcels to the north of the Equestrian Center that total around 28 acres. One of the parcels is 15+ acres and has an outdoor pen that measures approximately 200' x 130' with panels and good footing. There is also pasture area and a shelter. The second parcel (separated by East Plum Creek) is almost 13 acres and is all pasture with a shelter. While the two parcels are not included in this listing, they are available to lease or possibly purchase. (Price TBD).
WILDLIFE AND RECREATION
Small Elk herds and deer occasionally are seen around the creek and open pasture area. Besides the 30 miles of riding trails, recreation in the area abounds. There are numerous other riding areas in the Douglas County area.
WATER AND MINERAL RIGHTS
The water for the property is from a permitted, well with a pumping rate of 40 GPM (gallons per minute) from the Denver Aquifer. The well pumps to a 1,000-gallon underground cistron, centrally located on the facility acreage and feeds to all areas. There are no known mineral rights. If any are found to exist, they shall convey.
IMPROVEMENTS
Ranch Manager House
The quaint Ranch Managers house, remodeled in 2016, is in the center of the facility. It is a two story 1,830 sq ft home with two bedrooms and two baths. Nice sized living area, eat in kitchen, laundry, mud room and a screened in back porch.
Rental House
The second house is smaller at 672 sq ft and has two bedrooms and one bath, nice kitchen area, ample living room and a full-length front porch. It was also remodeled in 2016. It is located next to the Managers house.
North Point Indoor Arena and Barn
The barn area consists of 22 premium stalls, 13 of the East facing stalls have pipe steel attached runs that are 12' wide by 25' long. The west side of the barn has 9 stalls, a wash bay and tack rooms. All offer optional live streaming stall cameras. There is a turn out area on the north side of the barn. The barn is heated and has a fly/mosquito control system. The barn is attached to the 80' by 160' indoor arena. The insulated arena has 3 overhead doors, LED lighting and great footing. Base boarding rate for these stalls start at $912/month, including hay and grain.
Ranch Offices and Meeting
The ranch office is actually the original dairy barn. Remodeled in 2016, it has an updated structure while keeping the historic look. The main floor includes the Bell View Country Store, three offices, bathroom, a beverage table and open area. Upstairs is a huge wooden loft area used for community meetings and gatherings or just a hangout for boarders and staff.
Creekside Barn and Trailside Barn
The Creekside and Trailside barns are connected to the Ranch Offices, with the Trailside Barn being added in 2017. The Creekside barn has 6 stalls and is part of the historic dairy barn and has been totally updated. Pipe steel runs on the east stalls are 12' x 40' long. Creekside stall boarding rates start at $834/month. Trailside barn has eight stalls, 4 with 12' x 40' runs and boarding rates start at $714/month. Both include hay and grain.
Breezeway Barn
The vistas of the Bell Mountain Ranch area and the sunrise will greet your horse each morning. The outdoor breezeway barn has 10 dedicated open-air covered stalls with mats and each has a 12' x 30' pipe and steel run. The west side of the stall area has Dutch doors. The two end runs are oversized. Boarding rates start at $780/month and include hay and grain.
Equipment Shed
The equipment/maintenance shed measures 30' by 36' with metal siding and concrete floors. There are three separate overhead doors. There is more storage in the two original small metal silos next to the shed. Also within that area is a small fenced goat farm for the resident goats.
Hay Shed with Storage
The three-sided hay shed measures 30' wide by 60' deep. The shed has heavily reinforced sides and can comfortably hold approximated 3,400 small square bales. Management has used the same hay supplier for the last 7 years, who has delivered top quality stored hay. Attached to the hay shed is a cover area for bagged pellet bedding. Also attached to this area is a 4-bay grooming and tack up area.
Office and Meeting Area Building
On the south end of the facility away from the horse facility is an office, meeting and storage building that was converted from a 10-bay storage garage building with 12' overhead doors to a more useful meeting area with a handful of offices, cubicles, conference room, kitchenette, bathroom & printing and supply room, while leaving two bays for covered enclosed grain storage. This area could be rented out and provide income for the new owner.
Paddock Boarding and Turnout Areas
There are five large pipe and steel turn out areas on the facility and one 48' round pen constructed with steel panels. In addition, there are 5 paddocks, all with shelters and auto waterers. Two of the paddocks hold 4 horses and start at $570/month and the other two paddocks hold two+ horses and start at $624/month. The 5th paddock is used seasonally. They are located behind the Managers house. There is also a small round pen and shelter for the Mini horses on site.
Trailer and RV Parking
The parking area has 21 designated spaces available for lease by boarders for their trailers or RV's. Typical occupancy is 100%. The spaces start at $75/month.
INVESTMENT CONSIDERATIONS
This is an excellent opportunity for an individual investor or a group of investors. Steady income, some of it untouched. Long time boarders and a facility with great management and a good reputation. The Real Property and the boarding operations sell together and are reflected in the listing price.
HISTORY
Since 1870, Bell Mountain ranch has been a home for people and horses alike. Once a stopping point for travelers headed to the frontier from Denver, people from all over the world have visited the beloved Bell Mountain Ranch. Though its foundation was in dairy farming, Bell Mountain Ranch became known over time for breeding, raising, and training Morgan horses. Thousands of riders, both young and old, both experienced and novice, have enjoyed the trails and beautiful vistas of the Bell Mountain area.
TAXES: $36,747 for 2021
SUMMARY
This well managed and prestigious Equine Center is prime for the discriminating investor or an owner looking for a well-established business, with high occupancy percentages. Both real property and existing equine boarding operation are included in the listing price and transfer with the sale. Located in the highly sought-after Douglas County area and close to Metro Denver.
---