Sold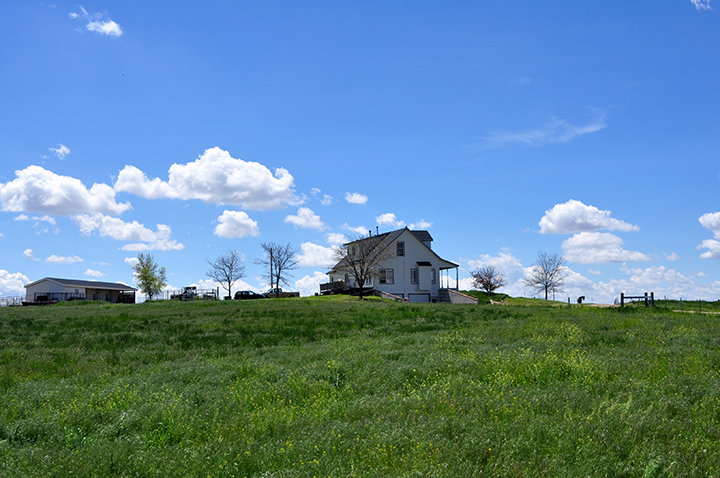 Clapsaddle Farm
Hudson , Colorado | Weld County | 40 Acres
Property Information
The peaceful 40 + acre Clapsaddle Horse Farm is home to 50 plus horses. The acreage includes a 50 x 120 foot multi-purpose barn with stalls and runs, indoor round pen and storage for 3,600 small bales of hay. There is also a smaller six-stall horse barn, outdoor round pen, a fully fenced 150 x 360 foot outdoor arena, numerous paddocks with 14 shelters and adjustable corrals for 2-4 horses each. A three level country style home with three bedrooms, two and one-half baths with attached two-car garage rounds out the property. Box Elder Creek meanders through the acreage along the hay fields and pastures with plenty of space to ride and enjoy the countryside.
Close Details
LOCATION
The farm is located in Weld County, Colorado just eight miles east of Brighton, near Hudson and is easy access to the Denver Metro area, state highways, dining, shopping and the local farming communities.
ACREAGE AND DESCRIPTION
The 40 + acres is generally level with slight slopes towards the creek. Box Elder Creek flows through the property providing an excellent location for exercising and riding your horses. The property is fenced and the paddocks and stalls are equipped with Nelson automatic waters. The entire farm is very well maintained and has a good reputation. An additional 29 + acres adjoining the property is available with this offering, but not included in the price.
OPERATIONS
The farm currently operates as a boarding and riding facility for 50 plus horses. Horses on the property include boarded horses, sale horses and the owner's string of trail/pack horses. The 150 x 360 outdoor arena is set up for riding, roping, cutting and other disciplines. The facility would also be ideal for clinics or events. A Proforma is available to qualified buyers.
WATER RIGHTS AND RESOURCES
The 40 + acres is serviced by a well that is rated to pump 15 gallons per minute, with a static level of 410 feet. Although Box Elder Creek flows through the property, there are no water rights associated with it.
IMPROVEMENTS
House:
The prairie style home with a wrap-around front porch, has wonderful views of the Rocky Mountains. The three bedroom, two and one-half-bath home is over 3,000 square feet and has a two-car attached garage on the lower level. It sits away from the main horse facilities.
Original Barn:
Near the house is a separate horse barn with six stalls with automatic waters, outdoor runs and a large turnout area.
Multi-Purpose Barn:
The barn is 50 x 120 with five indoor stalls with outdoor runs and a turn out area. It also has an indoor round pen, office area, and storage for 3,600 bales of hay.
Outdoor Arena:
The 150 x 360 foot outdoor arena was constructed using heavy duty fiberglass pipe reinforced with concrete. The arena has a side alley and pens to accommodate cattle. The size of the arena allows for roping, reining, riding, barrel racing, cutting and more. A second round pen is located just next to the outdoor arena. All arenas and pens have excellent footing.
Other Structures:
There are 14 portable 12 x 24 metal shelters, with automatic waterers and adjustable corral panels to accommodate 2-4 horses per corral. In addition, the acreage has over 7,600 feet of four wire perimeter and cross fencing.
TAXES:
$1,084 for 2015
SUMMARY
The rural setting of the 40-acre Clapsaddle Horse Farm has everything for a successful boarding and training facility, along with a nice country home. With the creek and over 25 acres of pasture, it is an ideal horse farm.
Click here to view video tour:
Clapsaddle Farm Video Tour
---