Sold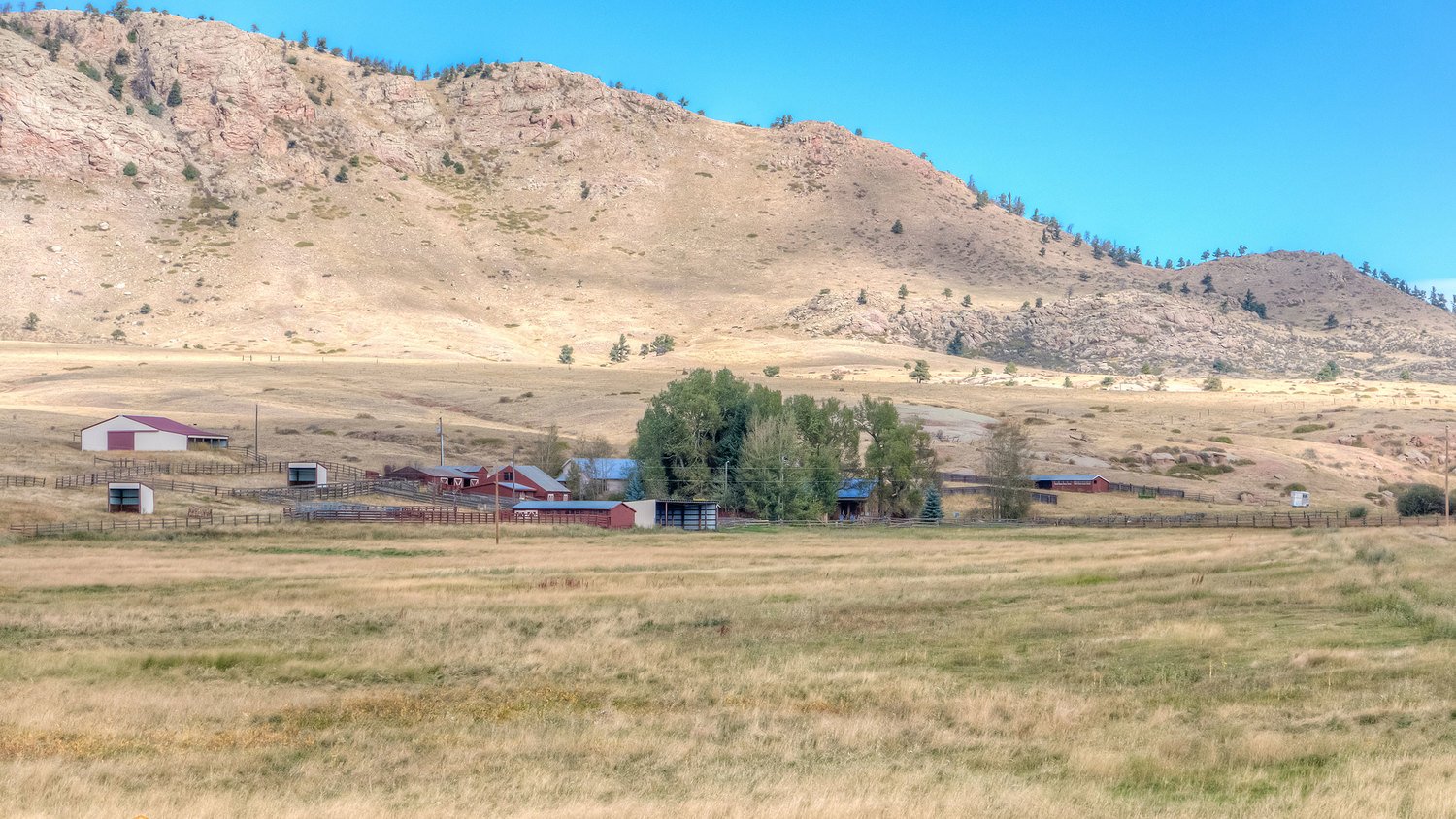 Colorado Overland Trail Ranch
Livermore , Colorado | Larimer County | 1060 Acres
Property Information
Located along the historic Overland Trail and at the end of Old Ranch Road, you will find a gated entry where Overland Trail Ranch begins. This inspiring ranch consisting of 1,060 acres deeded and 640 acres of State of Colorado agricultural lease has a beautiful southwesterly view shed with the Continental Divide in the backdrop and a small spring fed creek trickling through the ranch. The property is appropriately complimented with a functional working headquarters and a warm and inviting country style home along with a guest house and manager's house.
Overland Trail Ranch has spectacular views, wildlife attributes, in addition to its working livestock attributes, adequate living quarters and highlighted with an exceptional country style home.
Close Details
LOCATION

Overland Trail Ranch is located approximately 35 miles north of Fort Collins, Colorado just a few miles off of US Highway 287 at the end of Old Ranch Road. This area is predominately old historic ranch properties that are tightly held by families from the Colorado Front Range. One will find both old ranch family operations as well as those that have purchased in this area for family legacy holdings. The area is considered to be the 'top-end' of recreation and working cattle ranches in northern Colorado.

ACREAGE

The ranch acreage is 1,060.50 acres per county records. The ranch also holds a State of Colorado grazing lease on an adjoining 640 acres. The property is very scenic and stretches out across a valley with a spring fed year round creek running through the bottom. There are numerous pastures for rotational grazing. There are approximately 200 acres of meadow lands along the creek bottom which are naturally sub-irrigated and produce 200 round bales, more or less each year depending upon precipitation. The meadows have been hayed as well as grazed in the past. Typically, the owners have ran about 85 head of cow/calf pairs on the property.

The surrounding area has an open feel with a large ridge to the North providing natural protection, pine tree ridges to the higher lands to the East. The terrain has some unique rock features complimenting the productive grass pastures. There are several springs on the ranch. The elevation on the ranch ranges from 7,000 to 7,600 feet above sea level.

Wildlife are typically seen on the property including deer and antelope as well as elk which frequently migrate across the property. Other wildlife seen include coyotes, raptors, grouse and ducks.

VIDEO OVERVIEW

LOCALE

Overland Trail Ranch is located north of Livermore and just southeast of historic Virginia Dale, Colorado. Virginia Dale was a famous stop on the Overland Trail. The stage station, is the last of its kind is still standing. The closest large city is Fort Collins, and is just 40 minutes away, all via paved and county maintained roads once you leave the ranch. Fort Collins, with a population of over 150,000, has all amenities including shopping, fine dining, entertainment venues, recreational activities and is the home of Colorado State University. Fort Collins is known for its very diverse and stable economy.

IMPROVEMENTS

The highlight of the property improvements is the custom remodeled ranch style home set amidst large trees and ponds. Surrounded by porches and an alcove entry gives it the feel of an old "Ponderosa" style residence. The 2,000 square foot home has many custom amenities including extensive wood and tile floors, southwest style windows, hand-made custom cabinets and doors along with extensive use of colorful painted tiles and plastered walls. The home features a spectacular chef's kitchen, great room and large dining room. The master bedroom is accompanied by a well-appointed his/hers master bathroom and dual walk in closets. All these rooms have views of the ponds, meadows and hillsides. There is also a cozy study that looks out over the courtyard. The home has metal roof and is serviced with hot water propane heating system, well and septic.

The 1,175 square foot remodeled guest house has two large bedrooms that overlook the rear deck, patio and ponds, along with a bunk room that can sleep an additional four guests. There are two bathrooms and kitchenette areas. The guest house, being just across the backyard provides separation but convenience for family and friends while visiting.

A manager's/in-law home sits just a quarter mile away from the main complex. The three-bedroom, two-bathroom home was installed new in 2002 and has its own well and septic.

The outbuildings are very functional for the cattle operation and include a newer metal barn, horse barn, cattle barn, shop, calving shed, three loafing sheds, and corrals.

SUMMARY

The Overland Trail Ranch is a beautiful ranch property in a highly sought after area in northern Larimer County. The property is readily accessible yet isolated and protected from the public with an end of the road setting and a gated entry. The land is exceptional grassland and the attribute of a small year round live water creek makes this a unique ranch property. Not too large and not too small, the Overland Trail Ranch has spectacular views, wildlife attributes, in addition to its working livestock attributes, adequate living quarters and highlighted with an exceptional country style home.

---