Sold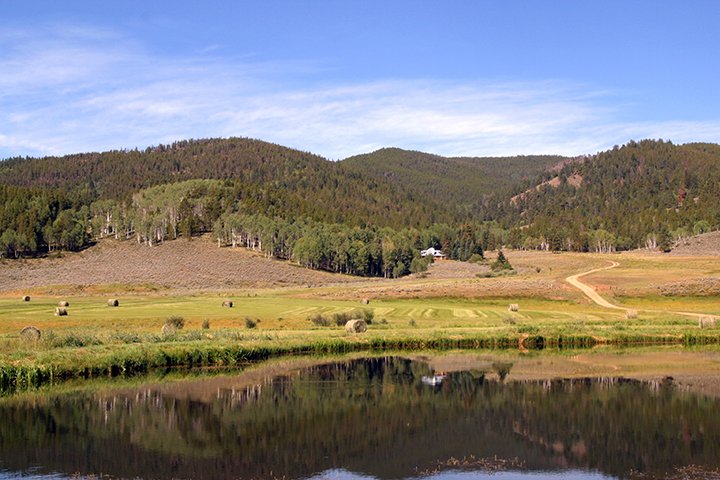 Cross Bar Ranch
Gunnison , Colorado | Gunnison County | 4400 Acres
Property Information
The Cross Bar Ranch is located at the headwaters of Tomichi Creek, thirty two miles Southeast of Gunnison Colorado. Surrounded on three sides by the Gunnison National Forest, the setting for this ranch is some of Colorado's finest mountains. This scenic 4400 acre ranch features eight miles of Tomichi Creek and approximately four miles of Marshall Creek winding through the private valley. Fishing in Tomichi and the various ponds on the ranch features Rainbow, Brown and Brook Trout. The Cross Bar Ranch offers every desirable feature of a trophy property: irrigated meadows, senior water rights, outstanding fishing, hunting for elk and deer, close to skiing and all bordered by National Forest. Improvements include the owner's home, an exceptional 4,800 square foot log-home, a ranch manager's home, a shop, outbuildings and more. The ranch is 30 miles to commercial air service, 30 minutes to excellent skiing at Monarch Ski area, and one and a-half hours to more skiing at Crested Butte.
Close Details
LOCATION

The Cross Bar Ranch is located thirty two miles southeast of Gunnison. Gunnison lies between Pueblo and Grand Junction and is accessible via US Highway 50.  Gunnison by highway is 200 miles southwest of Denver, 165 miles west of Colorado Springs and 125 miles southeast of Grand Junction. Gunnison's year-round commercial air service is provided by United and United Express from Denver.  Additionally, during the winter months, flights may be found from Houston, Dallas and Newark; The airport also provides charter service, fueling and hanger facilities.

The Cross Bar Ranch is bordered by the Gunnison National Forest on the three sides and by a Colorado State Lands School Section on the south into Sargents, Colorado. The ranch has approximately twenty miles of boundary with the Gunnison National Forest. The boundary accesses some of Colorado's finest big game hunting habitat with a series of mountain parks surrounded by heavy timber.

ACREAGE

The ranch has a total of 4,400 + acres, with approximately 800 acres of irrigated hay meadow and 1,000 acres of irrigated pasture.  The balance of the land consists of upland grazing, and aspen and pine forest.  The upland portion of the ranch provides spectacular mountain scenery with aspen, pine, spruce, bountiful wildflowers and grasses. The highlight of the area is Tomichi Creek itself which is a classic meandering stream that works its way down the valley through the lush meadows.

WATER

There is excellent trout fishing in Tomichi Creek, one of the most important water features one can find in a trophy property. A stock-able, spring-fed casting pond lies near the improvements.

The ranch has a substantial decree of water rights.  Records indicate that 116.9 CFS of water rights are appurtenant to the land. A full list of water rights can be provided.

IMPROVEMENTS

The main residence was built in 1991 and every detail was carefully thought out while maintaining the integrity of a western log home. This 4,800+/- square foot four bedroom, three and a-half bath home includes a large, well-appointed kitchen combined into an open cooking and prep area. The open great room and dining area, includes a custom rock fireplace and a generous wrap around deck. Coveted mountain views can be seen from each window. Additional improvements include the ranch manager's home, bunkhouse, guest cabin, two additional homes, shops, a machine shed and additional outbuildings.

The overall condition of the improvements is excellent. In addition, the grounds, fences and corrals have been well built and maintained.

OPERATION AND MANAGEMENT

Historically, the Cross Bar Ranch is rated at 600 Animal Units. The ranch has reduced the number of animals on the ranch in recent years due to drought. Currently the ranch is carrying 280 mother cows and 80 head of outside cattle. In addition to its deeded land base, the Cross Bar has State of Colorado grazing leases on 640+/- acres and over 30,000 acres of U. S. National Forest Lands. The USDA forest service grazing lease allows 321 cow/calf pairs to be turned out for various lengths of time from May to October. The ranch is best used as a cow-calf operation with approximately 1,000 tons of hay produced each year and fed to the cattle.

RECREATION

Opportunities abound for recreation on the ranch. Fishing, hiking and horseback riding on the ranch are excellent, during the winter months cross-country skiing and snowmobiling are right out your backdoor.

The area offers a number of recreational opportunities. Crested Butte Ski Area and Monarch Ski Area offer excellent mountain skiing, both a little over one-half hour from the ranch.  Golfing is provided at two top-rated courses in Gunnison and Crested Butte.  Blue Mesa Reservoir and surrounding reservoirs and streams offer fishing and boating activities.  Hunting, fishing, horse-packing and backpacking can be accommodated in the adjoining Gunnison National Forest and West Elk Wilderness.  The area is a recreation paradise.

SUMMARY

Address:
3534 and 3824 County Road 888
Sargents, Colorado (Gunnison County)

Acreage:
4400 +/-

Main House:
4,800 +/- square feet
Bedrooms/Baths: 4/3.5

Manager's House:
2900 +/- sf
Year Built: 1901

House #1:
1440 +/- square feet
Year Built: 1965

House #2:
1392 +/-square feet
Year Built: 1968

House #3:
1392 +/- square feet
Year Built: 1975

Three detached garages, shops, sheds, corrals and livestock scales.