Sold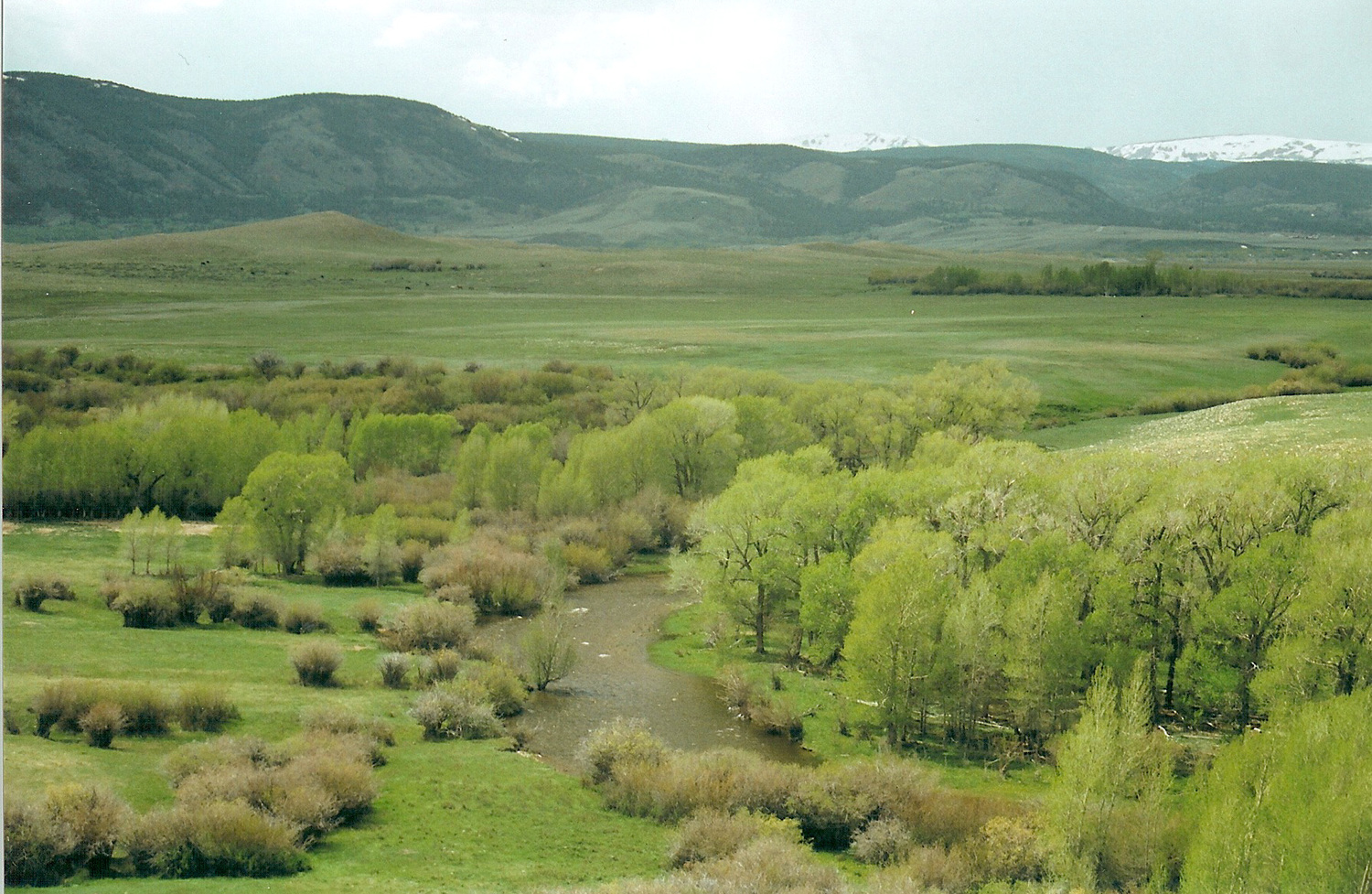 Walker's 91 Ranch
Laramie , Wyoming
Property Information
Walker's 91 Ranch contains 2,154 +/- acres, with approximately 800 acres are irrigated or sub-irrigated hay meadows which, in normal years, will produce about 100 tons of excellent quality hay. Approximately 950 acres are sub-irrigated pastureland. The ranch is about 1-1/2 miles long (north to south) and about 3 miles wide (east to west). The majority of the ranch is made up of rolling pasture and meadowland. In the approximate center of the ranch there is an area of about 80 acres which is quite heavily covered with Aspen trees, coniferous trees and various shrub types and interspersed with grassy areas. Numerous springs emanate form this parcel which then flow thru portions of the ranch in small streams. An ideal calving area with excellent grass pastures scattered throughout, and the river provides some outstanding fishing.
Close Details
LOCATION AND AREA

Walker's 91 Ranch is approximately 22 miles southwest of Laramie, Wyoming via Highway 130, and about two and a half hours from Denver International Airport, three hours from Denver. The ranch entrances are off of Highway 11 and Highway 130, a scenic By-Way through the Snowy Range Mountains.

Laramie, a town of approximately 30,000 people, offers major shopping and medical services. Laramie is home to the University of Wyoming which has an enrollment of about 14,000, and is the largest employer in the town. Cheyenne, the state capital, with a population of about 55,000, is 50 miles east of Laramie, via I-80. Fort Collins, CO is 90-miles southeast of the ranch and offers unlimited shopping. The area in which the ranch is located is generally known as the Centennial Valley. This area is made up primarily of large working cattle ranches, recreational (fishing and hunting) ranches and some smaller acreages.

HISTORY

Walker's 91 Ranch has a long and colorful history. The ranch was originally homesteaded by the Brown brothers, George and Josh, in the late 1860's. and operated as a cattle ranch. The ranch has had numerous owner's over the years including three wealthy Englishmen, Neil Egerton Gresley, John George Clinton Robbins and C.G. Logan. The 91 Ranch was one of the first "dude "ranches in the west. The owners recruited guests from their native England and charged them $500.00 a year for the privilege of doing the hard manual ranch jobs. In 1917 the ranch was purchased by the Irvin's who had the ranch for 30 years. The Irvin's sold to the Sander's family who purchased the Hecht Ranch, to add to the 91. The Irvin's and Sander's families both ran successful cattle operations. One of the subsequent owners converted the ranch to a Bison operation and reportedly built the herd to over 900 head. A subsequent owner reverted back to cattle. The current owners Mike and Ellen Walker, who are both pilots, purchased the ranch in late 1988 and have operated it as a cattle and horse operation.

IMPROVEMENTS

Main House
The main house is an imposing two-story log structure of approximately 4,600 sq. ft. with vaulted log beams, five bedrooms and four bathrooms. In addition to a large living room with a floor to ceiling moss rock fireplace, the spacious kitchen has a wood-burning stove, there is an open dining room area adjoining the living room, a good size office which has a wood burning stove, a second office, and a library. A glassed-in hot tub room is located off of the living room has three skylights. A " logsman " named Berquist built the original part of the house in the late 1800's, some of which can still be seen inside. The square hand-hewn logs with dove tailed corners are the work of a true craftsman. In the front of the house are an ample size lawn and a circular driveway. A portion of the oversized ( 990 sq. ft. +/- ) two car garage is a craft / work room. Heat is furnished by a propane forced air furnace, water is from a well and there is a septic system. The house has a concrete foundation and a metal ( steel ) roof.

Managers House
This two bedroom, two bathroom two-story dwelling has about 1,545 sq. ft., with a concrete foundation, metal ( steel ) roof and is log sided. Heat is provided by a propane forced air heater and a wood-burning stove.

Bunkhouse
A one story wood sided building of approximately 900 sq. ft. with a concrete foundation and a wood shake roof. This dwelling has one bathroom, a kitchen, and will sleep up to twelve. Heat is provided by a propane forced air furnace.

Log Barn
The barn, with loft, is approximately 2,860 sq. ft., has a concrete foundation, dirt floor and a metal ( steel ) roof. It is estimated that this structure was built in the late 1800's or early 1900's. The logs have been hand-hewn and have the same dove tailed corners as the original section of the main house. Note: This structure is in need of attention (TLC), but in the opinion of this Broker is well worth preserving. They just don't make them this way anymore.

Calving Barn
This multi-functional building has approximately 3,200 sq. ft. The structure is of wood frame construction with metal siding and roof. In addition to being used as a calving barn ( there is a heated calving room ) the facility has a complete, and very innovative set of chutes and squeeze chute, so that all of the branding and doctoring can be done indoors, out of the elements. Part of the barn can also be used for equipment storage.

Shop
The 44' x 114' shop is of wood frame construction with metal siding and roof ( steel ). It is roughly 5,370 sq. ft. with a 44' x 40' concrete floor. The balance of the building has a dirt floor. The doors are 14ft in height.

Garage
A multi-purpose building of approximately 1,250 sq. ft., it has a concrete foundation and floor, wood frame walls and metal roof. In addition to being a 2-car garage / shop the building also has a game processing room and a cooler in which to hang meat.

Shed
The shed is about 1,250 sq. ft., is of wood frame construction with metal siding and metal roof.

WATER RESOURCES

The Little Laramie River, a tributary of the Laramie River, courses through the ranch for an estimated 1-1/2 miles, running from southwest to northeast. The river provides excellent fishing in the log-jams, undercut banks and deeper pools for German Browns and Rainbows up to five pounds. Bottomland grasses are sub-irrigated by the river's constant flow. A one acre stocked fishing pond is located near the main house and there are numerous springs scattered throughout the ranch which offer the potential for additional ponds. The ranch holds extensive territorial irrigation water rights. Note: The Listing Agent will be happy to provide a list of these rights.

WILDLIFE AND RECREATION

Sheep Mountain which adjoins the ranch to the east rises up1,700 ft., and is in the Medicine Bow National Forest. The National Forest offers excellent hunting for elk, deer, bear and mountain lion. Deer and elk are plentiful on the ranch and bears are frequently spotted. Downhill skiing is available at the Snowy Range Ski Area five miles from the ranch and there are a number of excellent places to cross-country ski. Snowmobiling is a major winter activity and some of the best in state is at Albany and above Centennial, both of which are nearby.

CARRYING CAPACITY

The ranch is owner rated at 200 animal units ( AU ). An animal unit is a cow with a calf by her side for +/- six months and, the ranch will also carry approximately 600 yearling cattle for three to four months.

AVIATION

The ranch has its own grass and gravel runway of approximately 2,500 ft. The hanger building is of wood frame construction, approximately 1,200 sq. ft., metal roof and siding and has a concrete floor. The hanger will house a Cessna 180 Super Cub and other planes of similar size. Laramie Municipal Airport, located approximately 19 miles from the ranch has two all-weather 7,700 ft. x 100 ft. asphalt runways and can accommodate all sizes of private jet aircraft. There are commercial flights in and out of the airport daily.

MINERAL RIGHTS

There is a gravel pit on the property which is accessed from Hwy. 130. The State of Wyoming has purchased gravel in the past and may be considering a much larger purchase. All mineral rights owned by the Seller will be conveyed.

ELEVATION AND CLIMATE
The elevation at the headquarters is 7,700 ft. with the highest point on the ranch being about 7,950 ft. The Snowy Range Mountains to the west comprise a climate zone that has annual precipitation of over 18 inches, most of which comes as snow. The plains can be described as level to rolling and vary in elevation from 7,000 ft. to 8,000 ft. The annual precipitation is about 13 inches with about half of that as snow.

SUMMARY

Walker's 91 Ranch is one of those unique properties that don't often come available. A ranch that is both a productive cattle and hay operation as well as an excellent hunting and fishing property. Having the Laramie airport nearby and good, paved county road access the ranch is easily accessible year-round. And, the outbuildings on the property can be used for numerous other functions, in addition to their current agricultural usage. Car or tractor collectors will appreciate all of the open storage area. This is the type of property that is an absolute pleasure to market, to those who love outdoor recreation; hunting , fishing, or simply wildlife viewing, and the western way of life.