Sold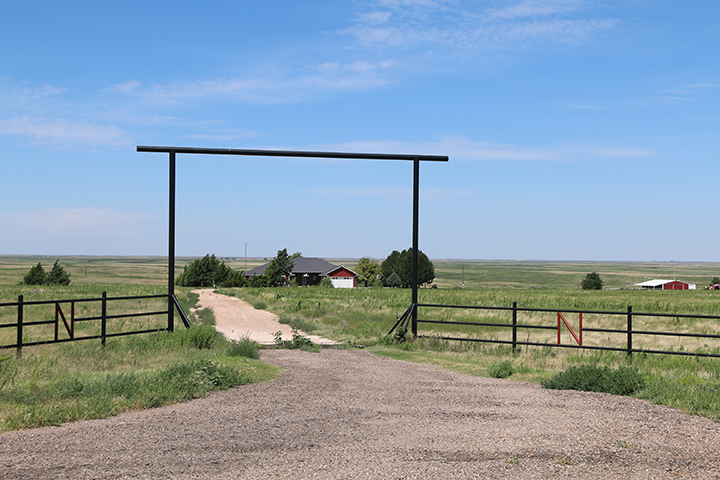 Nye Property
Texhoma , Oklahoma | Texas County | 42 Acres
Property Information
The perfect spot for country living in the Oklahoma Panhandle is waiting for you. If a beautiful brick home with 42 acres fits what you are searching for, then have a look at this property!! Perfectly located on Hwy 95 north of Texhoma, Oklahoma, approximately 1.2 miles sits a 2,036 square foot home constructed in 1997. Inside you will find three bedrooms and two full baths. A spacious living area with a beautiful rock fireplace is the focal point of the home. As well, the fireplace doubles on the backside in the dining and kitchen area providing a cozy spot for holiday memories. Surrounding the home are large mature pine trees and the new owner will enjoy a view of the Oklahoma Panhandle sunsets from the decked back patio. If you are a horse lover, then walk on over to the metal barn and stall area to saddle up and take a trot around your 42 acres. Come take a look at the convenience to town that this property provides!!
Close Details
Situated in the southwest corner of Texas County in the Oklahoma Panhandle lies the town of Texhoma, Oklahoma. As properly named, the town is divided by the Oklahoma and Texas state line. The combined population of both sides is roughly 1,250 people. Texhoma was founded around the Rock Island Rail Road laying tracks through the area in the early 1900's. The local economy has a rich heritage based largely around farming, ranching and livestock. The county seat is Guymon, Oklahoma, a short 20 mile drive with a hospital, shopping and related businesses. There is also a four year college, Panhandle State University, located 10 miles away in Goodwell, Oklahoma.

This is a wonderful place to raise a family and enjoy the wide open spaces. The folks are friendly, the climate is mild, and several job opportunities are available.