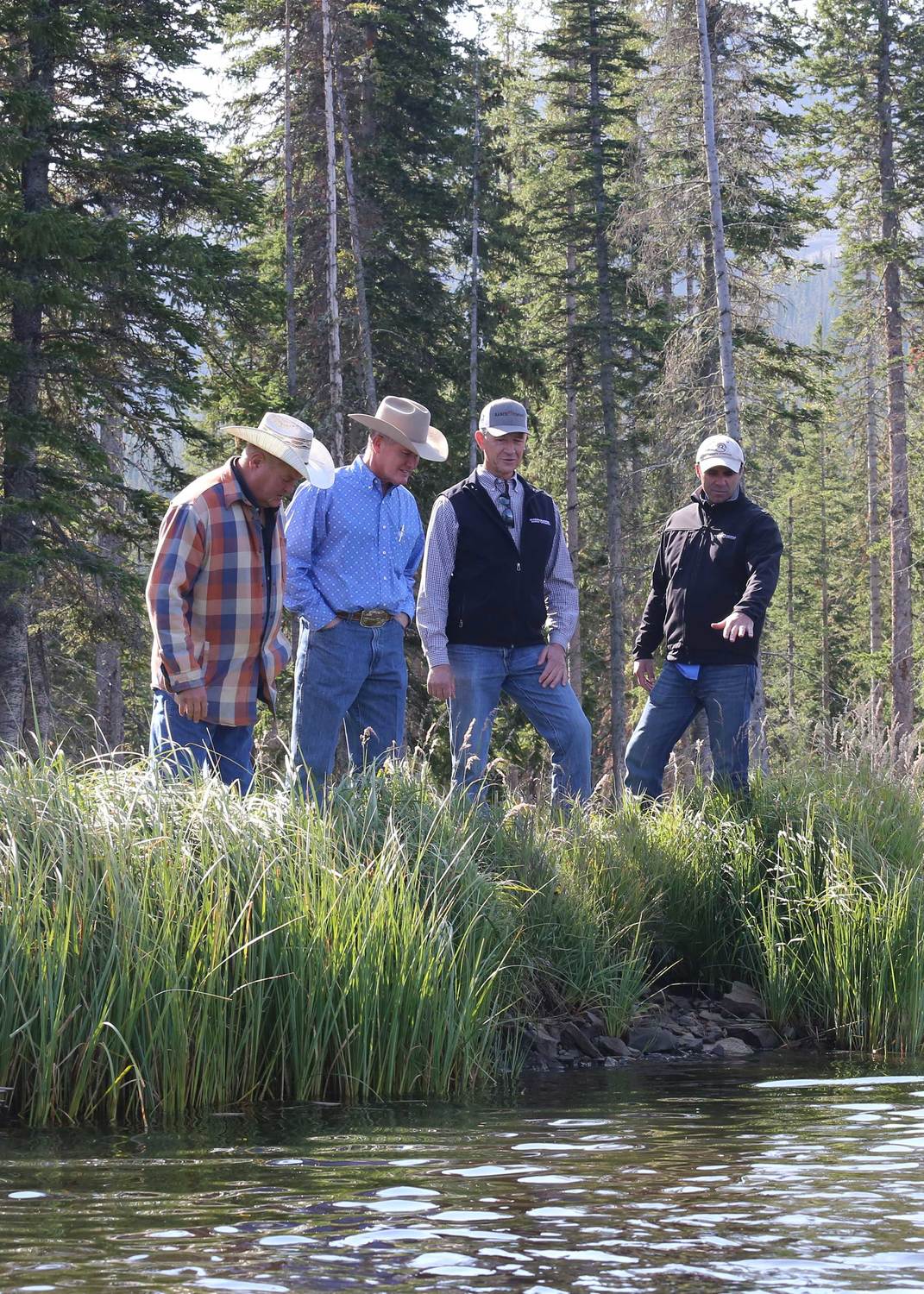 Marketing your Ranch for Sale. By
Ted Harvey
For some land owners, selling the family farm or ranch, can be a very emotional process and one of the biggest financial decisions they will make. For others, it is an investment, and the decision to sell is based on the return on the investment. Regardless of a land owners' motivation to Sell, the process can be daunting, especially when it comes to choosing a real estate broker.
In Wyoming and Montana, selling a farm or ranch can be a complicated process, especially compared to selling a residential property. Ranch property listings require the listing broker to have knowledge of factors related to farms and ranches, including water and mineral rights, livestock carrying capacity, grazing leases, irrigation, cattle operations, crop yields, hunting and fishing, easements and conservation, not to mention the complexities of a ranch sales transaction, which is often millions of dollars. Choosing a real estate Broker with the right knowledge, experience and marketing capabilities can make the difference between successful sales and wasted time and money, without getting your ranch sold.
In the US, the majority of the education required for a real estate license is geared toward residential sales, because for the most part, that is what real estate in the US is. As a result, there are not that many real estate brokers with the right knowledge and experience to represent Sellers of farm and ranch properties. In Wyoming there are about 4000 licensed real estate brokers. Most of them advertise that they specialize in farm and ranch properties. How do you choose a broker with the knowledge and experience to sell your ranch?
People tend to pick their real estate brokers for all the wrong reasons
I went to high school with them
I am related to them
We belong to the same exercise club
They had a big sign on the highway
They said they were #1
When choosing a broker, you want to look for the person and company that really has the experience, knowledge and tools, to sell the kind of property you are interested in selling.
Here are a few points to consider, when looking for a farm and ranch broker
Take a look at the company website
When you do a Google search, where do they show up in the search results?
Do they have one or two ranch listings and the rest are residential, or are all the listings of ranch properties?
Does each property have its own page, with detailed information about the property, including maps, and property video?
What marketing materials are offered?
Professional property video including drone footage?
Detailed professional brochures including the ability for a Buyer to download from the company website or third-party sites?
Local or national marketing? In today's market more often than not, ranch Buyers in Wyoming and Montana are from other states or even abroad
Are they just putting a few pictures and a paragraph description on the local MLS, Realtor.com and Zillow? Or does the brokerage offer a nationwide marketing campaign, including listing your ranch on the top-ranking farm and ranch websites, social media, and print advertising.
Is your broker set up to show the ranch with the right tools?
Ranch properties in Wyoming and Montana can be hundreds if not thousands of acres. A good tour can take hours or even all day. Some ranches include hard to get to remote areas on private and public lands. Some of these places can only be accessed by UTV.
Who will be conducting the tour? In residential sales it is common for only the Buyer's Agent to tour a property. On ranch sales, (especially on bigger ranch listings, it is critical that the listing broker conduct the tour, as he is the one who really knows the property and how best to show it, as well as having knowledge of the details of the ranch.
Does the broker take the time to learn how the ranch operation works, how to get to the key points, such as water resources, irrigation, special locations, and about recreation, including hunting and fishing?
Beyond website listings, how will your ranch be marketed to potential Buyers and other ranch brokers?
Will your property be presented through email blasts to Buyer data bases and other ranch brokers
Does your Broker cooperate with brokers from other firms who may have a buyer?
Will your property be networked through specialized organizations, such as the Realtors Land Institute (RLI)? RLI is a national organization of professional brokers who specialize in real estate transactions related specifically to land.
Will your property be presented to specific financially qualified Buyers with interest in the kind of Ranch you are selling?
Broker communication
Ask for references and testimonials
Selling ranch properties is often a lengthy process and can take months or longer. Having a broker that communicates with the Seller about marketing efforts, showing reports, and market conditions is a critical aspect of the relationship.
Due to the nature of selling farm and ranch properties, the relationship between Sellers and listing broker is critical to successful transactions. This relationship may last months or even years, so finding a broker with the right qualifications and has the commitment to represent your interests in selling your most important asset, is the key to success.
Ted Harvey
| Accredited Land Consultant
Past President of the Wyoming Chapter of the Realtors Land Institute
Real Estate Licenses in Wyoming & Montana
Licensed Drone Pilot