Sold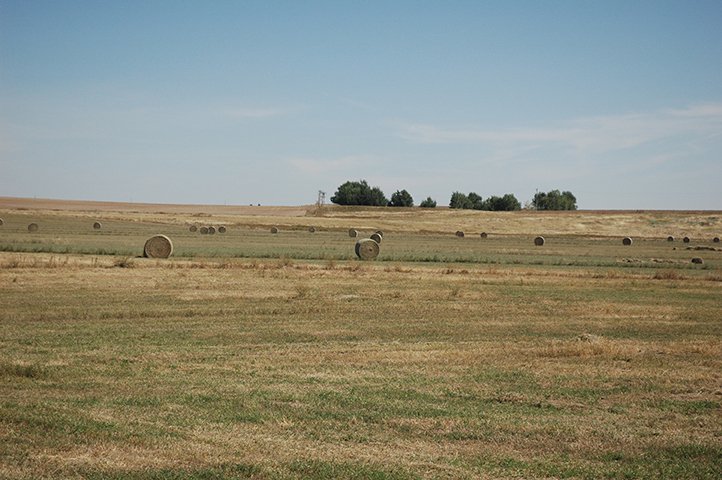 Sunny Valley Ranch
Byers , Colorado | Arapahoe County | 5260 Acres
Property Information
The Sunny Valley Angus Ranch is a diversified farming and ranching operation encompassing over 5,260 acres of deeded and state leases with capabilities that allow for a wide variety of other uses. The ranch has served as both a commercial and registered cattle operation as well as a horse operation. The property could be operated as a commercial scale operation for a variety of livestock such as cattle, sheep, goats, or lamas. Also, the operation could be expanded into recreation opportunities such as a hunting/wildlife operation with cash lease income from agriculture operations. The ranch provides a mixture of pivot-irrigated meadows, open pasture and native grass, dry land farm ground, gently rolling hills, and creek bottom which create a great setting amid the property's exceptional improvements.
The ranch provides a mixture of pivot-irrigated meadows, open pasture and native grass, dry land farm ground, gently rolling hills, and creek bottom which create a great setting amid the property's exceptional improvements.
Close Details
LOCATION

At the ranch, 1.1 west of Byers then 3.3 miles south on SCR 173. Address: 2700 SCR 173, Byers, CO 80103

Offered in tracts and combination of the following parcels

PARCEL #1 - This parcel contains 960± acres of deeded grassland. The grass varieties include a combination of Buffalo and Blue Grama. The grasslands have been well managed and have not been overgrazed. The fences are in good condition and access is provided throughout this tract by maintained roads. In addition to the deeded acres, this parcel offers an additional 2,236± acres of State of Colorado grazing lands lease. The transfers of the State of Colorado Grazing Leases are subject to final approval by the State of Colorado Board of Land Commissioners. The abundant deer, pronghorn antelope and other wildlife makes this a hunting paradise. This tract would be a tremendous addition to any livestock production operation or be an outstanding private hunting property!

PARCEL # 2 – This parcel consists of approx. 458.26± acres of Conservation land that prohibits subdivision or residential and commercial development. The property may be used and maintained for historical uses, livestock production operations and recreational wildlife habitat and hunting. A hunting cabin may be constructed on this property using the deed guidelines. This is exceptional hunting for large Whitetail deer, Mule deer, Pronghorn Antelope, and Turkey. West Bijou Creek runs through this parcel with live water available year round in places. There is a very nice spring fed pond adding good fishing and good water fowl hunting opportunities. An easement will be granted along south boundary of Parcel 3.

PARCEL # 3, 4, 5 &6- These parcels vary in size from 142± acres to 249± acres and offer excellent views overlooking West Bijou Creek. These parcels are currently in well maintained native grasses and each of these parcels offer a rolling terrain and an impressive view. The wildlife populations in this area are abundant. Each of these parcels joins Parcel #2, which is the Conservation Easement, on the east property line of each tract. This easement will insure future privacy and wildlife preservation in the future. These parcels are ideal for anyone looking for an acreage or home site in the country!

PARCEL # 7 – This parcel consists of 217± acres under irrigation, 171.1± acres in dry land cultivation and the balance of 123.7± acres in grassland. The FSA records indicate 185.7± acres of wheat base with an average yield of 23 Bu./A.; 1.2± acre oat base with a yield of 23 Bu./A. and 17.8 acres of corn with an average yield of 83 Bu./A.. The 123.7± acres of grassland has not been overgrazed and is in good condition.

The irrigated cropland contains two center pivots. One system is a 10 tower Reinke tipped at 650 G.P.M. This pivot windshield wipes 87± acres of very productive bottom land. The second pivot is a Valley 8 tower system that has 130± acres under water. This pivot is also tipped at 650 G.P.M. These two systems share a common water source of 4 historically permitted irrigation wells and cannot be operated simultaneously. Water is supplied by 4- vertical shaft electric motors powering 4- turbine pumps with a booster pump to increase pressure to the upper pivot. These systems are in good working order. This is an excellent opportunity for investors or anyone interested in production agriculture!

PARCEL # 8 – This parcel includes 141.8± acres of productive grassland and joins the Conservation Easement on the east. This parcel is remote enough to host abundant wildlife yet has quick and easy access from CR 181. Access to this parcel will be granted through parcel 7. This is ideal for cattle, horses, terrific hunting or may well be that quiet remote building site you have been looking for!

PARCEL # 9 – This parcel consists of approx... 131.48± acres and is improved with the main ranch house that consists of 5,100± sq. ft. and has 6 bedrooms, 4.5 bathrooms, dining, kitchen, breakfast room, utility, large office w/fireplace, large family room w/fireplace, exercise room, etc. The home has hard wood, tile, and carpet floorings, recent window updates, and 2 heating/air conditioning units. There are also a 5 car garage w/4 openers and sprinkler system. This parcel also has a very unique old style wood/metal barn w/hay loft area, heated veterinarian room w/bathroom, calving stalls, and open area large enough for equipment. West Bijou Creek runs across the east end of the property. This property would make an excellent horse property or country estate.

PARCEL # 10 – This parcel consists of approx. 70.74± and is improved with a Manager's home consisting of 3,000± sq. ft. with 3 bedrooms, 2 baths, kitchen w/large pantry, family room w/fireplace, air conditioning, office and laundry room. The home has a partial finished basement with bathroom and separate entrance. There is an employee's home consisting of 1,440± sq. ft. with 2 bedrooms, 1 bath, kitchen, living room, scale room w/office and air conditioning. The buildings consist of a 41'x 66' horse barn w/10 stalls, 50'x 100' metal shop building w/6" concrete floor, grease pit, w/heated store room. Additionally, there is a 50'x 101' metal open building w/concrete floors, electric, 2- 14' x 20' overhead doors w/openers; 25' x 60' open Quonset w/42" concrete wall; 30' x 60' cement shed w/10' walls; 25' x60' Quonset w/4'6" concrete sidewalls, 36' x 103' feed shed w/5 bays w/partition walls, lots of pipe corrals (most have cement feed bunks, automatic waterers and are lighted. There are several grain storage bins (some with dryer fans and augers). This property would serve as a livestock feeding operation and equipment storage facility.

POSSESSION

Will be given at closing; except: Tract # 7 and possession is subject to existing farm lease with possession given after harvest of existing crop.

MINERALS

Any mineral interest Seller owns will transfer with the surface rights.

WATER RIGHTS

There are 4- irrigations wells, 2- domestic wells; 2- livestock wells; and 1- livestock well with a pipeline. A water sharing agreement for the existing domestic and livestock drinkers will be required and available for review.

INTERNET BIDDING

Will be available by logging on to www.lippardauctions.com Neither Auction Company, Broker, or Seller are responsible in the event of loss signal by either side.

TERMS ON REAL ESTATE

7% Buyers Premium will be added to the high bid price to determine the total contract price! 10% of the total contract price will be placed in escrow the day of the auction with the balance being due at closing. A $10,000.00 dollar Cashier's Check will be required the day of the auction with the balance of the escrow deposit accepted by personal or company check. The transfer of the Colorado State Grazing lease will be subject to final approval by the State of Colorado Board of Land Commissioners. All information is taken from sources deemed to be reliable. Bidders should rely on their own inspection and due diligence for final determination as to the condition of the property and in accuracy of all information. No warranties other than title. Auction registration begins at 8:30 A.M. on the day of the auction.

EQUIPMENT WILL SELL FOLLOWING THE REAL ESTATE

EQUIPMENT/CATTLE RING: 93' John Deere 7810 tractor w/J.D. 740 ldr w/grapple, 7,800 hrs, PS, 3pt, pto, quick hitch, 3 remotes, 18.4R42 rubber, #053198; 79' John Deere 2940 tractor MFW, 5,730 hrs, 3pt, pto, 2 remotes, #399273; John Deere 535 rd baler (twine & net); Hesston 1345 Hydra Swing disc mower; H&S pull type 12 wheel hyd rake; Knight 2250 Reel Augie feed wagon w/digital scale, pto; 2007 Hustler mod. 745 72" gas lawn mower; CATTLE: Commercial cattle sale ring (18'x24'x7') and auction block.

TERMS ON EQUIPMENT

Cash, Visa, Mastercard or check with Bank Letter of Credit.

DISCLAIMER

All information is taken from sources believed reliable; however, no guarantee is made by the Auction Company, Broker, or Seller. Buyers should satisfy themselves as to any inspections prior to bidding. Any announcements made the day of the auction supersede all advertising.