Sold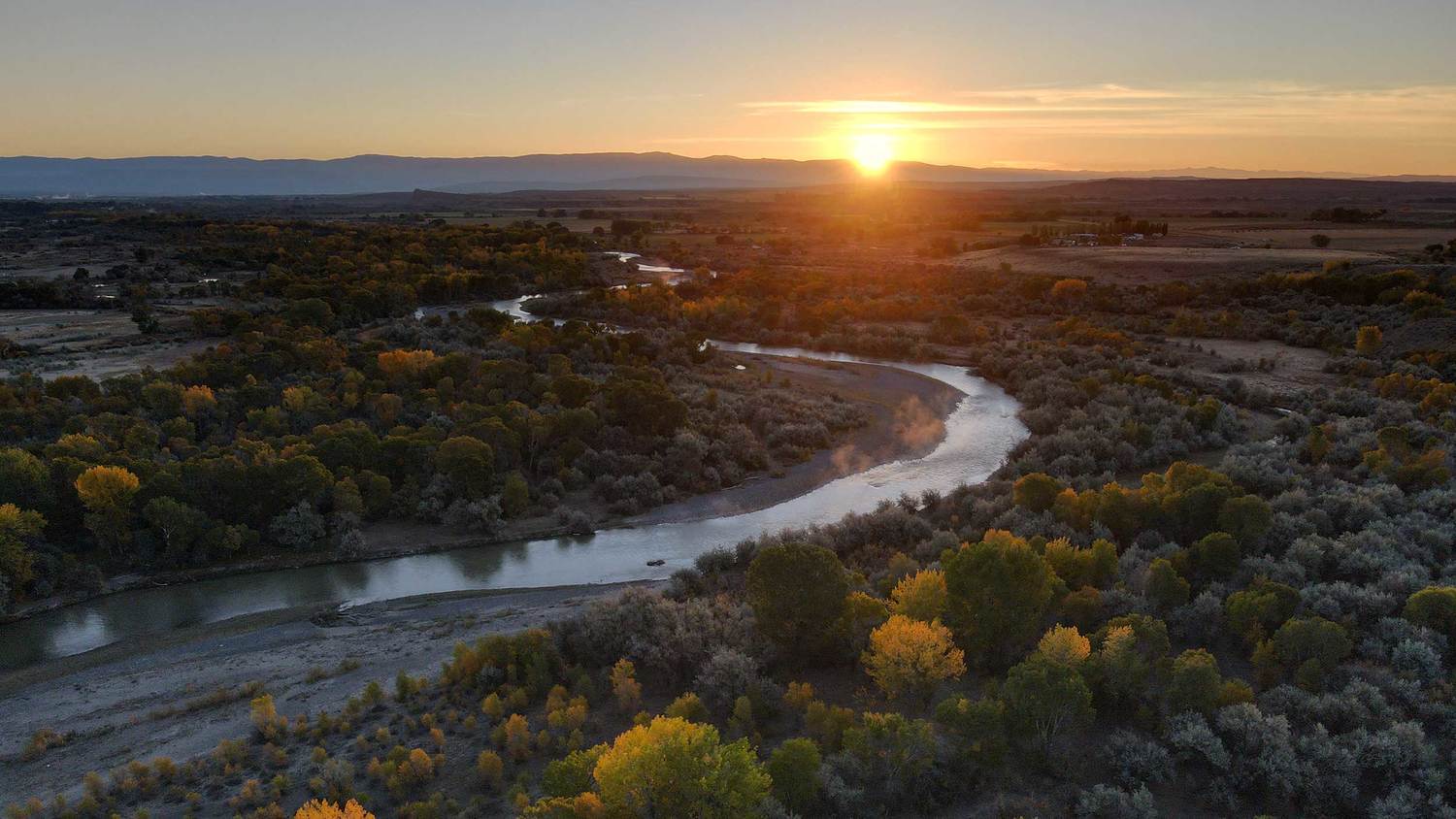 Kremer Ranch
Powell , Wyoming | Park County | 16517 Acres
Property Information
Located in the heart of the Big Horn Basin this 16,517-acre ranch includes 1,726 deeded acres, a vast BLM cattle lease and 654.93 irrigated acres with four pivot sprinklers. A peaceful and tranquil setting with easy access to Powell, Wyoming. Shoshone River frontage for 2.5+/- miles with property on both sides of the river, plus Bitter Creek traverses the property and Sidon canal which has a historic fish ladder borders the north and the west. The property is literally surrounded by water! The ranch offers excellent fishing, flocks of wild turkeys, geese, ducks, pheasants and herds of deer make for exceptional wildlife and recreational opportunities.
The Kremer Ranch has excellent improvements with irrigated acreage that sit along the banks of the Shoshone River, with extraordinary panoramic mountain views.
Close Details
With adjacent public lands and private/BLM grazing, excellent water resources and water rights, operations of this quality are hard to find. The ranch is secluded, private, and close to amenities. The location, scenery, wildlife, hunting and ranch operation all combine to offer a ranching lifestyle not easily found. This ranch is owner rated to run 350 pairs and 20 horses.

IMPROVEMENTS

The ranch has excellent improvements, including a six-bedroom, five-bath home finished with a large dining area, cozy fireplaces, large hallways, spacious bedrooms/bathrooms, expansive decks and a detached three-car garage. Sizeable windows capture the sweeping views of the river bottom. The master bedroom and bathroom have been attractively updated with a rustic theme to make this home very relaxing.

For the horse enthusiast, the ranch features several 12' x 20' horse stalls with partial cover, a round pen, an interior tack room and a large sandy outdoor roping arena (150' x 300'). The ranch headquarters also features a dog kennel set up for 4 dogs and a 40' x 60' insulated shop with 220 and single phase electricity.

The cattle lot area features two large quonset buildings and a nice set of working corrals with great highway access as well as utilities for an additional home. Bunk space for 120 head made with 3 ½" pipe make the feedlot/working corrals very solid. The ranch has many features to make it function easily such as two silage pits, one with a concrete bottom, and two hay yards.

WATER RIGHTS

This property boost some of the best water rights in the state of Wyoming. Sidon canal assessment is offset by oil royalties paid out to all shareholders (Shoshone water right). Sidon Canal has an early state water right, oldest in the area. The farm also has a right from Bitter Creek which is not assessed a fee at this time.

The property contains 1,726 deeded acres with 654.93 acres of adjudicated water rights. Water is delivered from Bitter Creek for 221.7 acres and Sidon Canal for 433.23 acres. There are 4 irrigation pivots on the property all operated by natural gas engines.

GRAZING PERMIT

362 AUM permit will accompany this ranch located to the north of the deeded parcel through 2/28/2031. The turnout dates are 6/1 – 10/15.

RECREATION

The Shoshone River is a northern Wyoming river whose headwaters are in Yellowstone National Park which is a heavily traveled corridor for people visiting Yellowstone Park via the east entrance of Yellowstone National Park. The Shoshone River here has been rated among the top ten freestone trout fisheries in the Rocky Mountains. Teddy Roosevelt once called the North Fork corridor the most scenic 50 miles of land in America. Cities it runs near or through are Cody, Powell, and Byron It ends when it runs into the Big Horn River near Lovell, Wyoming. (Source: Greater-Yellowstone.com). In addition, the Big Horn Mountain range is sure to impress you with its recreational opportunities!

The Shoshone River offers a chance to land several subspecies of Cutthroat Trout. In 2011 the Wyoming Game and Fish Department completed a fish bypass structure that allows fish in the Shoshone River to move upstream to spawn in Bitter Creek on the ranch.

Limitless recreational and historic sites surround the ranch including the Bighorn National Forest, Pryor Mountain Wild Horse Refuge, Medicine Lodge Archaeological Site, Red Gulch Dinosaur Track Site, Shell Falls, Paintrock and the famous ancient Medicine Wheel. Outdoor recreationalist can find a wealth of wild game, fish, and outdoor scenery in the area.

LOCATION

The ranch is ideally situated 11 miles from Powell, and 35 miles from Cody, Wyoming. Billings, MT is located just 97 miles north.

COMMUNITY

Small town charm, old-fashioned values, excellent quality of life, and friendly residents are a way of life in the Powell community.

The City of Powell is a community located in the northwest corner of Wyoming, 75 miles east of Yellowstone National Park and south of Billings, Montana. Lying between the Big Horn Mountains on the east and the Absaroka Range on the west, clear blue skies, clean air, a temperate climate, and loads of sunshine make the Powell Valley a wonderfully refreshing place to live. (source: www.cityofpowell.com)

The Kremer Ranch is 15 minutes from Cowley, Lovell or Powell for public school education and 15 minutes from Northwest Junior College! Highly sought-after education all in close proximity.

CLIMATE

Precipitation facts for Powell, WY
On average, May is the wettest month.
On average, February is the driest month.
The average amount of precipitation is: 15.12"
Temperature typically varies from 16F to 87F

SUMMARY

Wyoming has low property taxes, low sales tax, and NO personal income tax, and it's a GREAT place to live. The Kremer Ranch is a piece of Wyoming heaven! Excellent improvements with irrigated acreage that sit along the banks of the Shoshone River, with extraordinary panoramic mountain views. The inviting open concept with a beautiful stone fireplaces, large windows and vaulted ceiling all add to making the home very enjoyable. The location offers privacy, excellent views and a multitude of outdoor recreational opportunities. For the outdoor enthusiast the ranch offers some of the best hunting, fishing and access to public ground in the west.

The Kremer Ranch is 35 miles northeast of Cody, the rodeo capital of the world and home to many western cultural events. The Shoshone River flows through the valley offering excellent fishing. This ranch is conveniently located in the heart of the Big Horn Basin of Northern Wyoming. The area is rich in history and lavish in beauty. It is an easy scenic drive to Yellowstone National Park and many other numerous recreational opportunities within the Yellowstone ecosystem.



---