Sold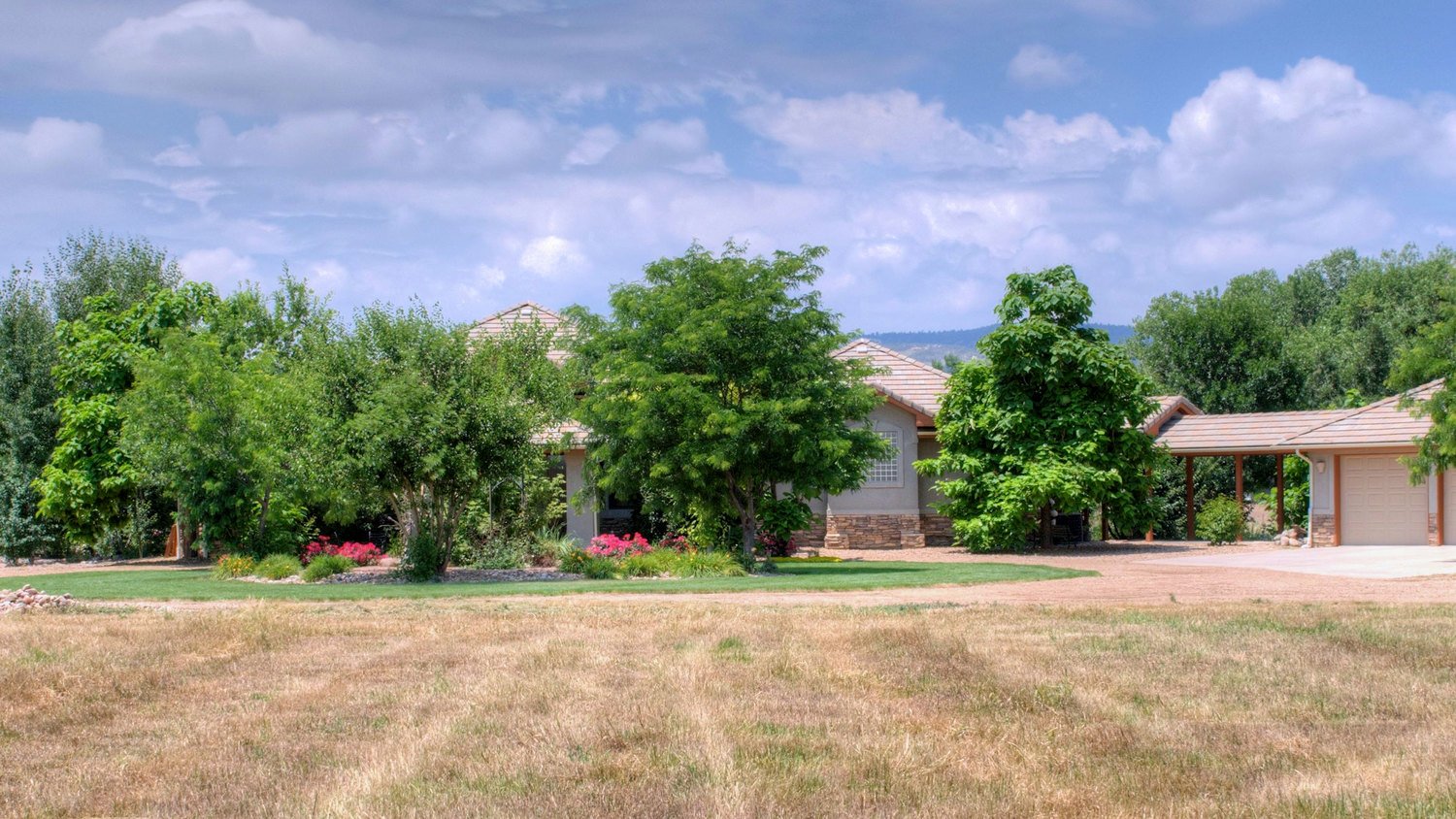 Little T Farm
Longmont , Colorado | Boulder County | 9.25 Acres
Property Information
The 9.25 acres of the Little T Farm lies at the base of the foothills of the Rocky Mountains. This rural farm setting includes views of the Rocky Mountains and has over 500 feet of river frontage north of the hay field. Built in 2002, the 4,000+ square foot contemporary home features four bedrooms, open floor plan, ash wood floors, cherry wood cabinets, gourmet stainless steel professional kitchen, media room, with an office and master on the main floor. Extensive landscaping and mature trees with an expansive mahogany deck. 50 shares of West Blower Irrigation convey with the property. Hay crop is easily flood irrigated and can produce 500 or more bales of hay per cutting. Property was previously approved for an 8,700 square foot barn and is zoned agricultural, so bring the horses, cattle and chickens!
Close Details
LOCATION
Located in Boulder County, the property is within 45 minutes of Denver International Airport, 30 minutes from Estes Park and about a half hour to an hour and a half from major ski areas and recreational destinations. In addition, there are many lakes, streams, National Parks, golf courses, world class dining, shopping and entertainment venues within minutes of the farm.
ACREAGE AND DESCRIPTION
The 9.25 acres of the Little T farm is fairly flat, with stately cottonwoods and vegetation along the creek. Just to the west are the Rocky Mountains, with Longs Peak towering at 14,255 feet to the southwest. Access to the property is a county maintained paved road. Grass and alfalfa mixed hay production is irrigated and also sub irrigated. The hay pastures in the past have averaged 500 small square bales per cutting. It has been historically possible to get three cuttings per season. The home is surrounded by mature evergreen and deciduous trees and shrubs, creating a park like setting. In addition the Little T Farm is located in a highly desirable area of upscale and high end farms, ranches and estates, adding to the value of your new property and home.
WILDLIFE AND RECREATION
Deer, eagles and elk are abundant on the property, as are songbirds. The river frontage has long since been a family gathering spot for evening get-togethers, camping, fishing, cookouts, relaxing and horseshoes. The property is just minutes from Carter Lake for boating and waterskiing. There are also 12 golf courses within 30 minutes of the farm.
WATER RIGHTS AND RESOURCES
The domestic water is supplied by Little Thompson Water District. 50 shares of West Blower Irrigation also convey with the property to irrigate the hay crop via two ditches on the north and south boundary lines of the farm.
IMPROVEMENTS
The contemporary 4,700 square foot ranch style home is tucked into the extensive landscaping and creates a park like tranquil setting from every window. The home features four bedrooms, three bathrooms, a professional stainless steel gourmet kitchen with granite countertops that adjoins the family room and large mahogany deck. Cabinets are a stunning two tone stained cherry wood and the wood floors are ash. The home has a main floor master, office, laundry, hearth room, formal dining room and media room. Construction on exterior is stucco and stone with a concrete tile roof. A three car oversized detached garage compliments the home with a covered walkway through a garden area.
TAXES:
$4,585.76 for 2013
SUMMARY
Upscale, private and warm home for a family or couple. Beautiful setting along the river with the Rocky Mountains and extensive landscaping. Bring the horses, chickens, cows or whatever and make this your new home.
Click here to view video tour:
Little T Farm Video Tour