Sold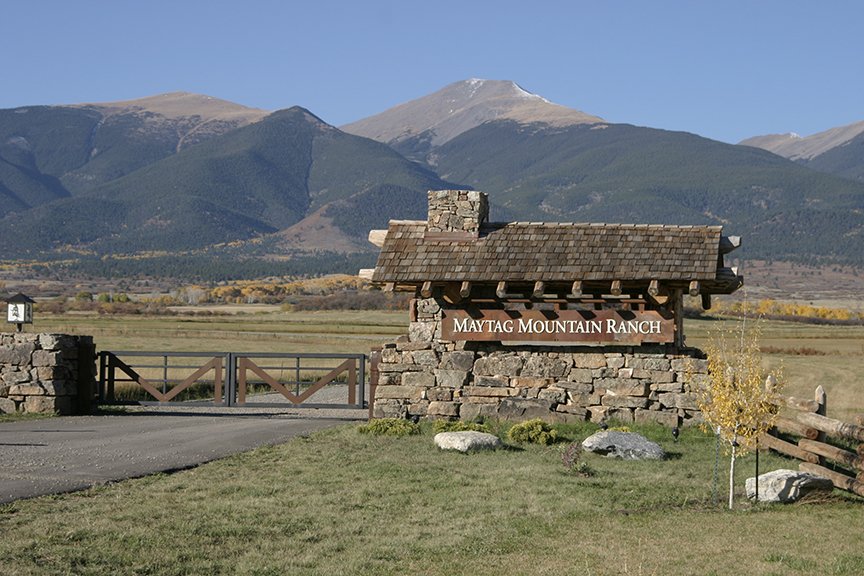 Maytag Mountain Ranch Homesteads
Hillside , Colorado | Fremont County | 100 Acres
Property Information
Maytag Mountain Ranch is a recreationally rich 2,953-acre sustainable cattle ranch featuring spectacular views of the Sangre De Cristo and Wet Mountain Ranges. The ranch is located in Freemont County between Salida and Westcliffe, Colorado and offers 27 Homesteads of 100 acres each. Each Homestead has a designated building envelope and the balance of the acreage is maintained within the working ranch, thereby assuring minimal impact on the working ranch. Most of the Homesteads have been sold and a number have been built upon, only a few remain available for purchase.
A 2,953-acre sustainable cattle ranch featuring spectacular views of the Sangre De Cristo and Wet Mountain Ranges. As an agricultural preservation community, each Maytag Mountain Ranch Homestead owner shares the ranch, and owns a personal homestead of 100 acres.
Close Details
ACTIVITIES AND AMENITIES

Maytag Ranch was originally created by Russ Maytag to offer a fortunate few families the opportunity to own your own recreationally rich, authentic working Colorado mountain ranch without the hassle and expense of traditional ownership. The cattle operation seeks to preserve western tradition of natural grazing, healthy ecology, and family participation in the ranching lifestyle. Owners may participate in this authentic working cattle ranch, built and managed with sustainable ranching practices to honor its heritage and protect its value. Owners and their guests can become true cowhands that help work cattle or otherwise run the Ranch. This sets Maytag Ranch apart from other mountain properties in Colorado.

Set in an environment of magnificent vistas, mountain-fed streams, horse and hiking trails, and vast mountain meadows, Maytag life beckons. The ranch has a shared border with the San Isabel National Forest, where millions of acres of possibilities abound.

Amenities that Maytag Mountain Ranch offers to each Homestead Owner include the following:
• Experienced, professional, hospitality oriented staff capable of assisting with requests both small and large
• Two picturesque, rustically elegant, fully furnished guest cabins
• Large main lodge with commercial grade chef's kitchen and a spacious great room, encompassing over 4,000 sf of entertaining area
• Some of the finest fishing in southern Colorado through our Ranch controlled access to one of the best river miles on the famed 102-mile-long Gold Medal Arkansas River
• Stocked Fishing ponds and improved streams
• A barn stall filled with recreational gear (fly fishing and spin casting gear, archery equipment, mountain bikes, etc)
• Well-trained Quarter Horses
• Fully outfitted Barn with stalls and runs
• A Round pen and riding arena perfect for teaching beginners or practicing your barrel racing
• Abundant Trophy Class Mule Deer, Elk, Pronghorn, and other wildlife
• Gourmet quality Grass-fed Red Angus cattle
• Contiguous access to millions of acres of US National Forest
and Wilderness Area
• Panoramic views of the Sangre de Cristo Range and Wet Mountains, with added views of the Seven Sisters Range, the Collegiate Peaks, and even Pike's Peak
• A bountiful and diverse garden and orchard for those who wield a green thumb
• Farm fresh eggs from free range Chickens
• Available catering options, ranging from deliciously prepared reheat meals for two for that care free weekend, to custom multi-course dinners for up to 100
• The dynamic Maytag Mountaineer Program, designed to educate and reward kids from 4 to 84 about ranching and outdoor skills to help maximize their appreciation of all that Maytag and the region have to offer.

LOCATION

Maytag Mountain Ranch lies in the shadows of the Sangre de Cristo Mountains in southern Colorado; less than 90 min from Colorado Springs, 2 ½ hours from Denver and a short drive to the charming towns of Westcliffe, Salida and Canon City.

Maytag is a mere 10 minutes from a tasty breakfast burrito or burger at the Cotopaxi General Store or 15 minutes from the quaint shops, restaurants, bowling alley, grocery store, and nostalgic theater in Westcliffe. The ranch is approximately 30 minutes by car to the historic and charming towns of Salida and Canon City. Salida features excellent boutique shopping in a well-preserved downtown, teeming with restaurants that front along the beautiful Arkansas River, complete with its whitewater kayak course and riverside Amphitheater and park. Canon City offers a multitude of shopping and entertainment options, ranging from antique stores to Home Depot, a historic prison museum to a winery, from a multi-screen cinema to a murder mystery train ride at the bottom of a steep canyon along one of the most challenging whitewater runs in the world. These local communities have virtually year-round festivals and events.

LOCALE

The ranch is less than 90 minutes from Colorado Springs, 2 hours from Breckenridge, 2½ hours from Denver and 2½ hours from Taos, New Mexico. Commercial flights are available into Colorado Springs (9 non-stop destinations including DFW, HOU, LAX, SLC, PHX, LAS, ORD, SEA, and ATL) and Denver airports. Private jet access is available at Silver West Airport near Westcliffe (22 miles away, 7,000' asphalt), Alexander Field in Salida (34 miles away, 7,350' asphalt), and Fremont County Airport in Canon City (42 miles away, 5,400' asphalt).

The Ranch also provides easy access to local amenities in the nearby communities of Salida, Westcliffe, and Canon City, Colorado. These quaint, historic towns are just a short drive away and are filled with restaurants, galleries, boutiques, and festivals year-round.

Here are some nearby activities and unusual attractions you can also enjoy throughout the region:
• Shopping & dining at nearby towns and cities
• Activities catering to the tourist in all of us (zip lines, museums, train rides, 4-wheeling tours, Segway tours, etc.)
• Whitewater sports (River rafting, kayaking, etc.)
• Fishing
• Hunting
• Trails for additional hiking and horseback riding
• Mountain biking
• Natural Hot Springs (Salida, Mt Princeton Resort)
• Skiing and other winter sports
• Mountain Climbing
• The Great Sand Dunes National Monument
• Bishops Castle
• Gambling in Cripple Creek
• Year-round festivals (food, rafting, biking, wine, art, concerts, etc.)

CLIMATE

Maytag Ranch sits in a beautiful valley between the picturesque Wet Mountains and the stunning Sangre de Cristo Range and benefits from a mild, temperate climate. With over 300 days of sunshine each year, your outdoor pursuits will rarely be interrupted by inclement weather. The elevation at the ranch ranges from 7,300' to 8,300', moderating the extreme temperatures found at higher elevations. July finds pleasant average high temperatures of 80 degrees, while January highs average a moderate 39 degrees.

HOMESTEADS

Homestead #10 and #14 were reserved by the Maytag family and offer some of the very best views and esthetics on the ranch.

Homestead #10 - SOLD – Situated near Lake Creek and Duckett Creek on the southern portion of the ranch. This Homestead is near running water and offers spectacular views of the Sangre de Cristo range.

Homestead #14 - Within walking distance of the Cookhouse Lodge, horse barn and Mow owner cabin, this Homestead is close to the action of the community center. Even so, it has a remote, secluded feeling with wide open meadow views.

As an agricultural preservation community, each Maytag Mountain Ranch Homestead owner shares the ranch, and owns a personal homestead of 100 acres. Each homestead is an equal partner in the Ranch Owners Association. Homes may be built within a one-half to five-acre building envelope carefully selected by a team of experts considering sun, wind, topography, privacy, and the ranch ecology. Design guidelines guarantee that the architectural integrity of the ranch and harmony with the landscape will always be maintained. Fewer than 120 of the total 2,953 acres are be impacted by the Homesteads. The ranch management plan assures that the land will be managed properly, never overgrazed or ecologically damaged. Fulltime ranch hands care for the horses and cattle, tend the garden, plow the roads and fix the fences – so you don't have to.

---