Sold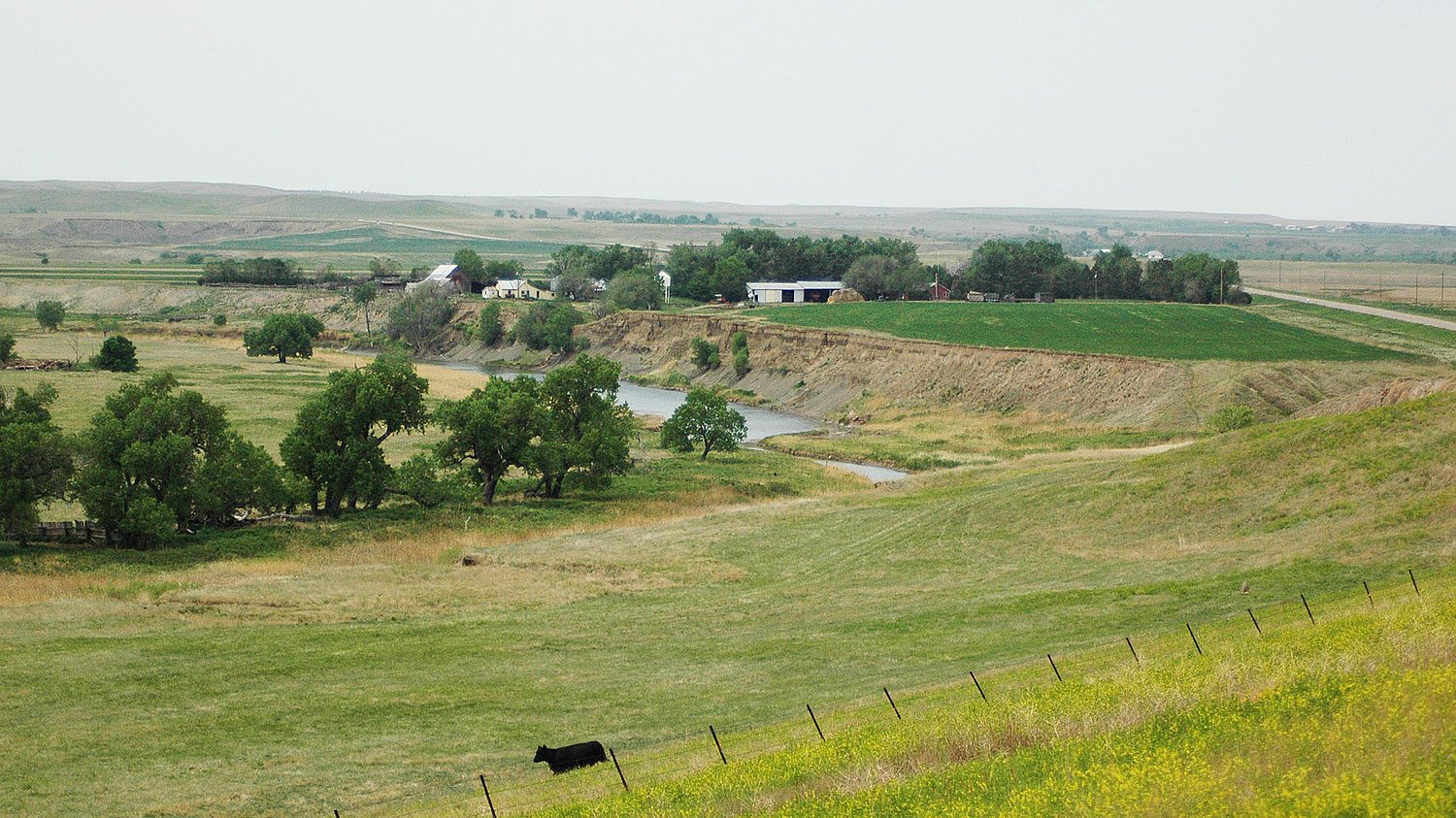 Meadow Way Ranch
Sturgis , South Dakota | Meade County | 8184 Acres
Property Information
One of the richest ranch resource offerings in today's marketplace. Consisting of 8,184 acres with 7,634 deeded, the ranch offers an excellent cattle ranching resource together with a large percentage of the minerals being intact. The property has good improvements and infra-structure necessary for the operation. Fishing is afforded along the Belle Fourche River and Bear Butte Creek. A variety of wildlife makes their home here. Additionally, there is a gravel deposit containing significant reserves of fine gravel and sands. A paved state highway borders the lands providing excellent access. The family of the current owners started assembling this holding in 1930. Without question, Meadow Way Ranch is one of the finest ranches to be offered in western South Dakota.
Close Details
LOCATION

The ranch is located 20 miles east of Sturgis, South Dakota along State Highway 34. Sturgis is on the northeast edge of the Black Hills, a popular vacation destination, with attractions such as Bear Butte State Park, Mount Rushmore, historic Deadwood, skiing, and snowmobiling.

The property is in two parcels with the Headquarters Unit (1,409 acres) lying along the Belle Fourche River where it crosses Highway 34 and the Grassland Unit (6,224 acres) lying just two miles east. An agriculture lease of 550 acres joins the Headquarters Unit. Livestock are trailed between the two units and both parcels adjoin Highway 34 making them readily accessible.

ACREAGE

The acreage tabulation is as follows:

Headquarter Unit – 1,409 acres

Grassland Unit - 6,224 acres

Barrick Ag lease - 550 acres

Total: 8,184 acres

The Headquarters Unit is an outstanding piece of land and has a riparian water right to pull irrigation water from the Belle Fourche River perfected by South Dakota water right #440-1 issued to irrigate 604 acres. Hay and cropland are irrigated by a gravity ditch system. Irrigation pivots could be added to increase the productive capability. The Belle Fourche River and Bear Butte Creek flow through the property with trees and banks providing natural shelter for wintering livestock. Farm Service Administration records for 2012 show 432 acres of cropland.

About 30 acres are planted to corn for silage and about 185 acres of dry land crop typically alternate between summer fallow and winter wheat. The rest of the crop land is hay ground.

The improvements include a nice remodeled owner's home, shop and machine storage, barn, calving barn, sheds, three sets of corrals and miscellaneous outbuildings. Livestock water is available year round.

The Grassland Unit is also comprised of outstanding lands that have been carefully and extensively improved to enhance grass production. The ranch has a prolific native stand of Western Wheatgrass and other native grass varieties found in this prairie region. The lands are improved with perimeter and cross fencing comprising 14 pastures that allow for rotational grazing. Every pasture has a pond or dugout. A deep well, located on the ranch and shared by two neighbors, provides a stable source of water for a pipeline system. The pipeline system has eleven tire tank drinkers strategically located to make the pastures drought resistant. Pasture dikes and drainage checks spread the runoff water over about 1000 acres which increases forage production. The water diversion is allowed and perfected by SD water right No. 1076-1. Shelter from early and late winter storms is provided by 16 wind breaks. Auto gates and culverts are installed on the two main ranch roads. A good set of shipping corrals and barns are serviced by an all-weather gravel/rock road. The owners typically harvest Western Wheat grass seed from 500 to 3000 acres about every 5 years on average which produces significant additional income for the ranch.

An agriculture lease on 550 acres is held by the ranch and could possibly be obtained by a new owner. The lease lands adjoin the Headquarter Unit.

AREA

Meade County, founded in 1889, is the largest county in South Dakota with 3470 square miles of land area. The 2010 population was 25,434 people or 7.3 people per square mile. The county was named after Fort Meade, which was a garrisoned United States cavalry post founded in 1878 and named after General George Meade. The area is serviced by the nearby towns of Sturgis, Spearfish and Belle Fourche. Rapid City is about 55 miles from the ranch and offers all major services including commercial air service and regional medical facilities. Sturgis is the county seat and its 2010 population was 6,627 people. The Black Hills are a national tourist destination and include Mount Rushmore, Crazy Horse Memorial, Wind Cave, scenic Spearfish Canyon, historic mining sites, and historic Deadwood.

Weather statistics for Sturgis show an average temperature for a January day at 35.6 degrees and an average July day at 86.2. Annual precipitation reported for Sturgis is 21.4 inches with 15.2 inches received from April through September. Precipitation declines as one moves east away from the Black Hills.

RESOURCE BASE

Livestock - The ranch is conservatively operated by the owner at 250 cows, plus bulls and a carryover of 100 yearlings year-round which equates to a carrying capacity of about 325 Animal Units. The valuable water rights and potential for pivot irrigation could enhance the productive capability of the ranch.

Oil and Gas – A large portion of the mineral estate is intact with the ownership. The minerals have been leased previously and geologically, it is believed, there is a dome existing beneath a portion of the property. The minerals are not leased.

Gravel – A gravel deposit lies on the Headquarters Tract and core sampling indicates there are approximately 4 million cubic yards of sand and gravel. These deposits are rare in eastern Meade County and used extensively for highway construction and repair. Other landowner deposits nearby have been largely exhausted and there is interest from the County in extraction of this deposit. No agreements have been made as of this time. Seller shall reserve 50% of the gravel rights on the Headquarter Tract at the current pricing.

Wildlife – A variety of wildlife exist on the property including antelope, mule and whitetail deer, turkey, sharp-tail grouse, pheasants, ducks, and geese, and a variety of raptors and small game animals. Typically, 8 antelope and 10 deer are taken annually to manage populations. The opportunity to enjoy the fishing and wildlife on the ranch is a very positive attribute.

PROPERTY TAXES $13,592


SUMMARY

The Meadow Way Ranch is a resource rich land opportunity. The significant water rights, quality of grasslands, wildlife, gravel and mineral rights make this ranch a worthy investment. The improvements put in over many years add significant value to the day to day operation making it largely drought resistant and capable of handling livestock in adverse winter conditions. The location near the Black Hills, and access along a state highway add convenience and value to the ranch. Certainly, Meadow Way Ranch is one of the top ranches in the area and available for the first time in over 80 years.