Sold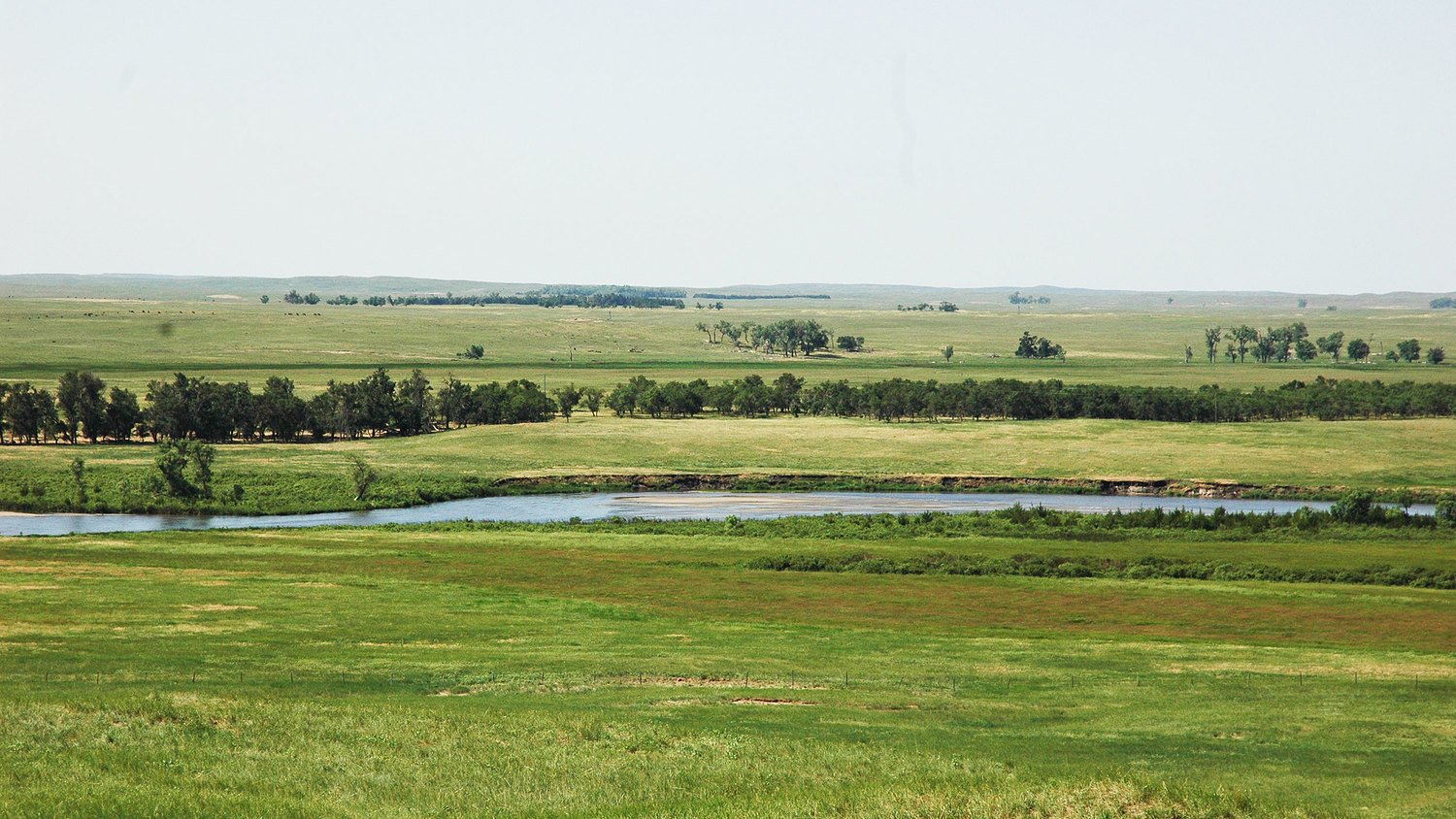 North Loup River Ranch
Thedford , Nebraska | Cherry County County | 8025 Acres
Property Information
The North Loup River Ranch consists of 8,025 acres based upon county assessor records. The property lies in several nearby tracts with the Headquarters and West tract being adjacent to or bisected by the North Loup River. The South tract and North tract are within a few miles of the Headquarter tract. The ranch is located in southeast Cherry County, approximately 15 miles north of Thedford on Highway 83 and eight miles east on a county gravel road. The property is approximately 64 miles from North Platte, Nebraska, 160 miles from Kearny, Nebraska and 265 miles from Denver, Colorado. The area generally has a 135 to 145 day frost free growing season and average annual precipitation ranges from 20 to 24 inches.
Thedford, Nebraska $4,600,000
The North Loup River Ranch provides and opportunity to own a well improved ranch with excellent water and production capabilities enhanced with excellent wildlife considerations and access to flowing water.
Close Details
LOCATION

The North Loup River Ranch is located in southeast Cherry County, approximately 15 miles north of Thedford on Highway 83 and eight miles east on a county gravel road. The property is approximately 64 miles from North Platte, Nebraska, 160 miles from Kearny, Nebraska and 265 miles from Denver, Colorado.

The area generally has a135 to 145 day frost free growing season and average annual precipitation ranges from 20 to 24 inches.


ACREAGE AND IRRIGATION

The North Loup River Ranch consists of 8,025 acres based upon county assessor records. The property lies in several nearby tracts with the Headquarters and West tract being adjacent to or bisected by the North Loup River. The South tract and North tract are within a few miles of the Headquarter tract.

There is 1,235 acres with irrigation water rights with about half of that currently in production. There three new Valley center pivots with John Deere diesel motors. One existing Valley pivot is in good condition. The total acreage under pivot at this time is approximately 675 acres. The remaining water right lands could be improved with center pivots.

The property lies near the heart of the Ogallala aquifer and the water available for irrigation is considered virtually unlimited other than by constraints of the water right appropriations. The well data and appropriated water rights are from the Nebraska Department of Natural Resources (NDNR) and set out in the attached summary. The water rights cover 1,235 acres with eight wells permitted for 1000 to 1600 gallons per minute.

IMPROVEMENTS

The property is well improved. There are five homes including an owner's home, two older ranch homes and two modular homes. The outbuildings include a large Quonset, livestock sheds, corrals and horse barn. The improvements are located so that views are over the North Loup River Valley. The improvements are various ages but in serviceable condition. Additionally, a series of feed bunks and pens are located at the entrance of the ranch. A feed mixing operation is also located near the headquarters. These facilities historically were used for back-grounding calves as well as feeding purebred breeding stock.

SOILS

The soils are vary with the upland tracts consisting of Valentine, Simeon and Pivot soil associations which contain sand, fine sand and loamy fine sand. These soils have a class 3 and 4 irrigated land capability classification. The soils on the lowlands along the North Loup River are generally fine sandy loams with several associations present including Anselmo and Jansen (class 2) Bolent, Doughboy and Nenzel (class 3) and some Valentine soils.

The sandy nature of the soils along with natural rainfall and irrigation make them excellent for feed and grain production.

OPERATIONS

In full production, under center pivot there would likely be 1,235 acres, providing gross production potential at 200 bushels of corn and $4/bushel price of $988,000. Excluding about 95 acres of farmstead and tree breaks, there remains about 6,700 acres of grassland and sub-irrigated lands that should carry about one animal unit per 15 acres resulting in 446 AU's. Gross production based upon 375 producing cows and a 92% calf crop with an average calf weight of 550 lbs. and calf price of $110/cwt equates $208,725. This results in total annual gross farm production of nearly $1.2 million, excluding recreation opportunities. The ranch could also be operated as a purebred cattle and/or performance horse operation. Due to the mix of dryland pasture, irrigated lands, river and wildlife habitat along with the improvements the ranch could have diversified operations from several profit centers.

WILDLIFE AND RECREATION

The opportunities abound for wildlife and recreation on the North Loup River Ranch due to diversity and habitat created by the North Loup River itself as well as the many planted shelter belts on the property. Wildlife is well represented with deer, turkey, upland game birds and water fowl. In addition to hunting, other recreation opportunities include fishing, horseback riding and four wheeling. With the additional housing on the ranch, a guest ranch/B&B/hunting/fishing operation could be conducted seasonally from mid May thru November.

SUMMARY

The North Loup River Ranch provides and opportunity to own a well improved ranch with excellent water and production capabilities enhanced with excellent wildlife considerations and access to flowing water. The ranch could easily be downsized due to the various tracts that lend to splitting the property. The property lies in the heart of the sandhills and is served by an abundance of water from the Ogallala aquifer. The opportunity to purchase a property of this caliber and diversity is limited by availability.