Sold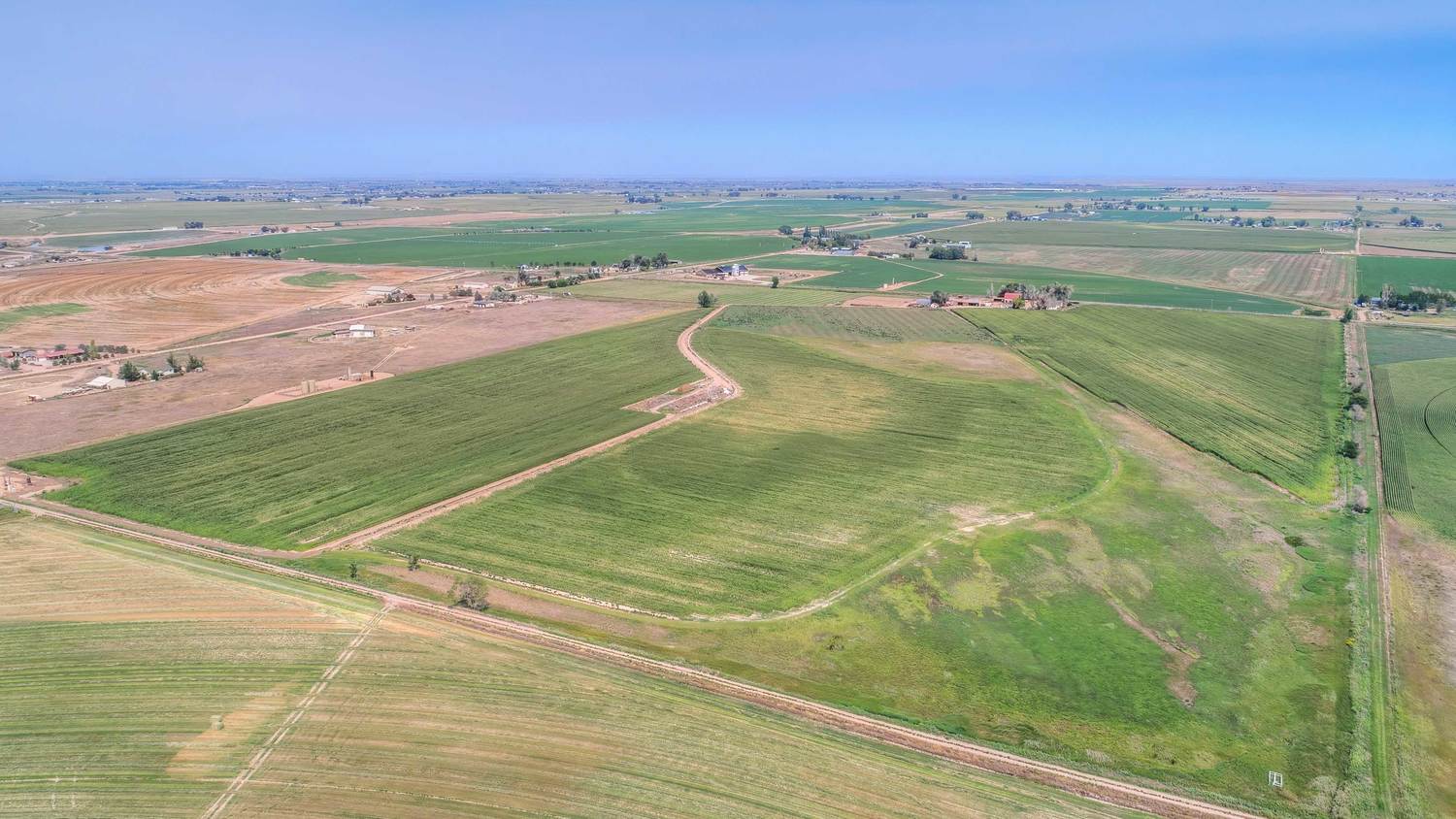 Raptors Roost Ranch
Eaton , Colorado | Weld County | 106 Acres
Property Information
The 106+ acres of Raptors Roost Ranch is a well-rounded property with rich irrigated farm ground, horse facilities and a 3,900 square foot Victorian Farmhouse in a rural setting. The five-stall barn, including two foaling stalls, a tack/office room, hay storage loft, three attached runs, five corrals with two loafing sheds, three heated auto waterers and an outdoor arena complete the horse facility. There is also a 40 x 72 Quonset, a 29 x 64 four bay hay and equipment shed, a great chicken house, small garage and two other outbuildings. Around the farmhouse are perennial gardens, a vegetable garden and mature trees. This residential - equestrian property also produces net farm income.
Raptors Roost Ranch is true to Colorado history, this Victorian Farmhouse, horse facilities, outbuildings and farmland has it all. Located within a great and respected farming community, it is perfect for families wanting the rural life with good income potential.
Close Details
LOCATION

If you want to move out of the city to a rural property, this land has a lot to offer, including income. The acreage is in the agricultural area of Weld County, which is within the top 10 agricultural counties in the U.S. Just east of Eaton, it is a sought-after rural community, known for great schools and a cozy small-town feel. The frontage of the property is on a paved County maintained road on the north side.

ACREAGE AND DESCRIPTION

Of the 106 acres 62 acres are currently planted to corn, 19 acres of hay ground and 14 acres of grazing pasture. All the farm ground slopes gently from north to south, interlaced with the irrigation ditches. Weld County is known for its fertile soil and consistent irrigation water. The farmhouse sits on the northeast with the horse barn and corrals just to the west. Quonset, hayshed and equipment area is further to the south and west of the farmhouse. The property is laid out well with gravel roads and a loop to aid in moving and storing equipment.

OPERATIONS

There are two irrigated hay fields. The 12 acres on the NW side is planted to Brome and inter-seeded with alfalfa in 2019. The yield on this portion is 1 to 2 tons per acre, per cutting.

The second field consists of seven acres of irrigated brome grass. This field has an average of three tons per acre annually, with two cuttings.

The 63 acres of irrigated farm ground is currently planted to shelled corn. The yield on this ground averages anywhere from 160 to 200 bushels per acre, depending on weather.

There are 14 acres of pasture and grazing ground which is sub-irrigated. It consists of Brome and tall wheat grass. Tail water also supplies water to this area.

WILDLIFE AND RECREATION

Hawks, Eagles, Owls and small herds of deer frequent the ranch along with many varieties of songbirds and hummingbirds.

WATER RIGHTS AND RESOURCES

The farmhouse area and corrals are serviced by the North Weld County Water District.

Conveying with the property are 3 Shares of Larimer-Weld Water, which is river water, with no storage rights. The irrigation water is available from approximately mid-May through usually the third week of September. This is adequate to irrigate the crops.

Six shares of the Owl Creek/Eaton Lateral Ditch also convey for water delivery. There is a $150 assessment fee per year on the ditch, subject to change annually.

In addition, owner can lease additional water, if wanted, from stored water from a variety of irrigation companies. Allocation varies from year to year.

There is an old (circa 1800's) well on the property, close to the residence. Due to the age, it is not permitted. It is currently being used, but it is drilled to 150' with 59' standing. This well can be moved about 20' to 30' west of current location, to accommodate a drilling rig to redo the well and be permitted and used, once approved by the State of Colorado.

HISTORY

The home dates back to the early to mid- 1900's. The character shows through. Although it has been added to, remodeled, updated and brought up to code in 1994, it is a true farmhouse with the added Victorian charm and décor. The barn was constructed 1913, is well built and likely served the horses farming the now irrigated with the Eaton ditch arriving the same year for water delivery. The barn adds to the character of the property. Having always been a working farm and horse farm, the previous and current owners have been excellent stewards of the land.

IMPROVEMENTS

House
The total house consists of approximately 3,900 square feet, plus a 900+ square foot unfinished basement. The north and south portion are connected. The entire home has a total of three bedrooms (plus two non-conforming bedrooms) two baths, two laundries, a parlor and adjoining sun porch. Two charming kitchens/pantry area, dining room, mud rooms, huge recreation/family room, and a loft sitting room adjoining one of the bedrooms. The entire north portion of the house has beautiful wood floors, doors and trim with vintage hardware.

The south portion of the home could be an in-law suite or for returning children and family. All on one level, it has the two non-conforming bedrooms, one larger bedroom, a living room, bath, laundry and a kitchen with an eating space. This south end has its own entrance with a mud room.

Barn
The barn which is 40 x 44 feet is wood frame and siding on a concrete foundation. It has five stalls total, two are foaling stalls and three are 12 x 12 stalls. One foaling stall has an outdoor run as do two of the 12 x 12 stalls. The alley way of the barn is a sturdy full wooden 2" x 10" timber plank floor. There is hay storage on the second level. A nicely finished wood plank office, tack room, feed room and a carriage room finish out the main level. The barn has electricity and water. The steel roof was installed in 1998. All stalls are well constructed with good footing. A closed circuit tv monitoring system is installed from house to barn to monitor horses during foaling season.

Corrals and Pens
The runs attached to the barn, the large turn out and the four corrals are all constructed with pipe railings and wood posts. There are three heated auto waterers, split between corrals and runs so that all horses can water from them. In the Corrals, there is about a 4' concrete pad along the fence line and around the auto waters to prevent standing water and erosion. There are two loafing sheds for shelters. One is 12 x 40 and the other is 12 x 16. They are located in the corrals and pen.

The outdoor arena, which could be expanded sits to the west of the corrals.

Quonset
The steel Quonset is 39' x 72'. In good condition, it has a concrete floor which is estimated to be 8" thick. The building is set up to accommodate grain storage with 3 ft concrete stem walls around the building. There is electricity, including 220 to building.

Hay and Storage Shed
The shed measures 29' x 64' and is open to the south. It is wood frame with metal siding and roof. There are four bays, two of which have concrete floors. In addition, the entire bottom 4' of the shed walls have 2" thick timber boards to serve as a loader backstop if used for ground feed.









---