Sold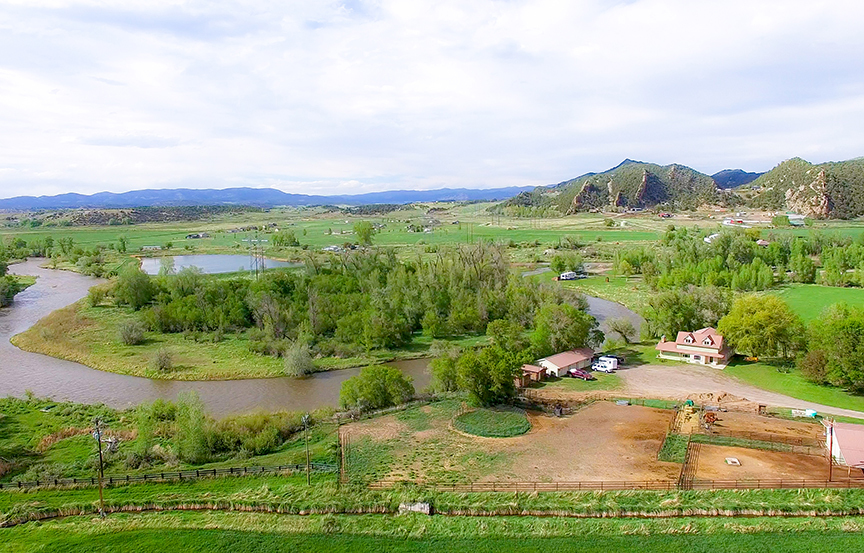 White River Ranch
Meeker , Colorado | Rio Blanco County | 40 Acres
Property Information
The White River Ranch is a premier 40-acre fly-fishing property with approximately ⅓ mile of both sides of an epic three quarter circle bend of the White River conveniently located just minutes from the town of Meeker in Rio Blanco County. This is a once in a lifetime opportunity to own this prime fishing location known for its king sized Brown and Rainbow Trout. The property features an idyllic, beautifully remodeled 3,157 square foot four-bedroom and two and one-half bath home complete with a weeping willow, massive front lawn, sweeping views of the hay meadows, mountains and river. This gated property is complete by a 25 X 30 six-stall barn, three-riverside cabins, oversized hay storage, 20 acres of irrigated green hay meadows, and senior water rights.
Close Details
LOCATION

The White River ranch is conveniently located in northeast Colorado just 2.5 miles from the historic town of Meeker, Colorado. It is 53 miles south of Craig, 70 miles from Glenwood Springs, and 220 miles West of Denver. The property is directly accessible from paved Highway 13.

ACREAGE AND DESCRIPTION

The White River Ranch consists of 40.8 acres, 20 of which are irrigated and sub-irrigated hay meadow producing 55 tons of weed free hay annually. Both sides of the White River flow through the property in a dramatic bend that completes almost a full circle. This not only creates the perfect fishing holding environment with deep eddy's, riffles and slower moving water inside the corners, but the center island is the ideal bedding area for the resident trophy mule deer.

IMPROVEMENTS

3,157 square foot, 4-bed, 2.5-bath, two-story home
25 X 30 six-stall barn with three turnouts, round pen all pipe fenced
40 X 15 three-car detached garage with storage area
Cabin 16 X 15
Cabin 10 X 15
Cabin 10 X 15
Three 15 X 10 X 6 dog runs
Hay storage barn
Domestic well newly drilled
Water rights on ditch
Two-sprinkled irrigated hay fields 14 acres
One sub-irrigated hay field six acres

SUMMARY

Have you ever been driving down the road and you see that picture perfect property and think to yourself….if that place ever goes on the market, I am buying it? The White River Ranch is that place. The mighty river traversing the valley, the country charm of a historic home with modern upgrades, totally private, yet close to town, Dad casting the fly rod, grandson swinging under the weeping willow, acres of lawn and deep green hay pastures. Come see for yourself the splendor that awaits on the banks of the White River Ranch.

---