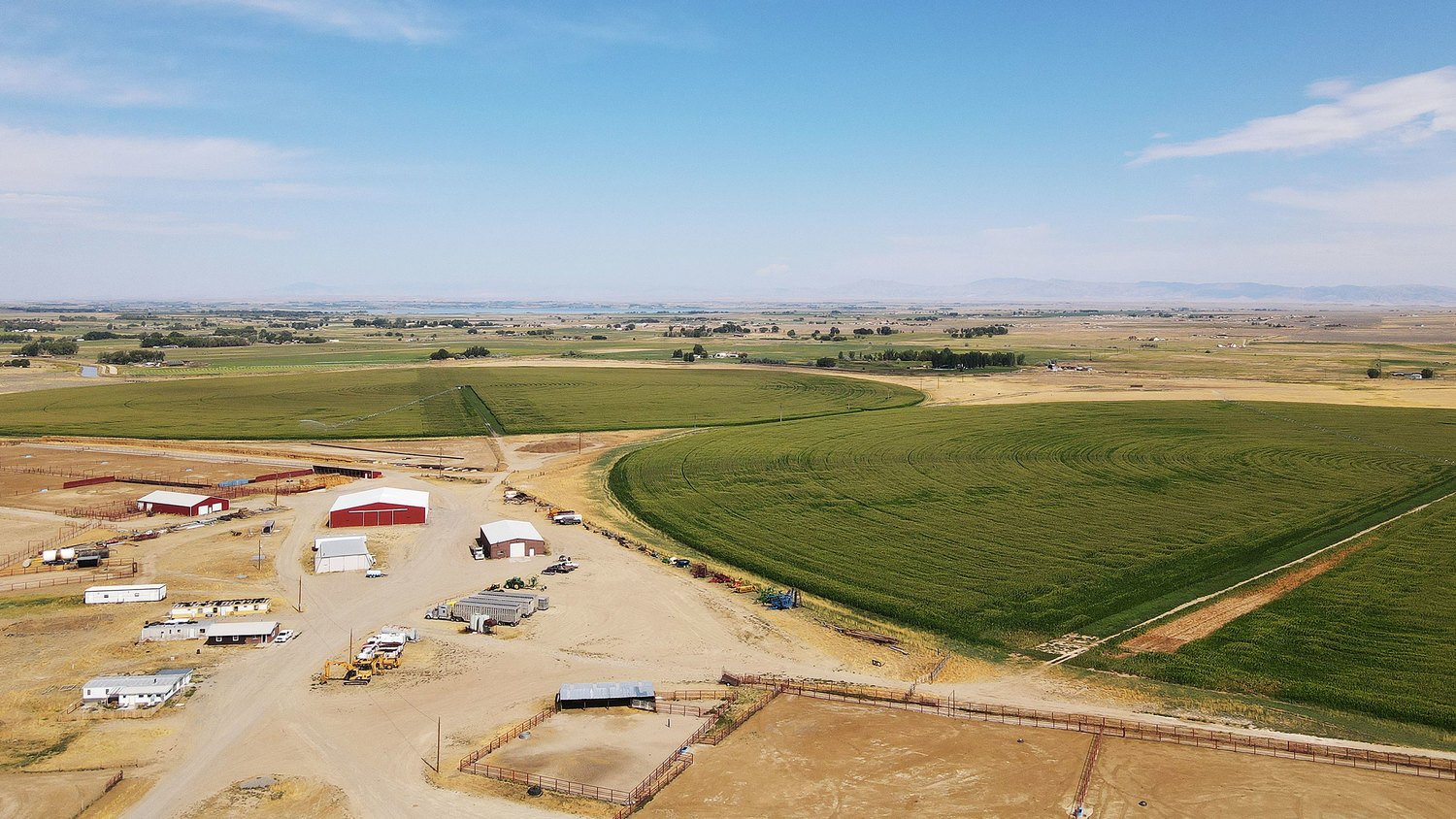 Wyoming Winter-Calving Operation
Riverton, Wyoming | County: Fremont | 1000 Acres
Property Information
The Wyoming Winter-Calving Operation is business opportunity backed by a property developed for livestock wintering services which provides the feed base and facilities to winter and calve out 3,000 cows from November through April. The farm located in Central Wyoming is located 8 miles West of Riverton, Wyoming just off Highway 20/26. The area is well known as a feed production area in Wyoming due to plentiful water supplies, productive lands and mild, open winters. Situated on just over 1,000 acres, the operation involves growing 10,000 Tons of corn silage and 2000 tons of alfalfa hay complete with feeding and calving facilities consisting of living quarters, shops, barns, corrals, lots and feeding paddocks. The operation is a value-added business providing feed and service to livestock producers. The improvements are mostly newer and well designed for the business. The land is well fenced and capable of handling livestock with facilities in place for handling, feeding, watering and calving large groups of cattle. Adjoining lands offer further investment in a solar development program.
With over 1,000 acres plus additional land for solar development, the land produces silage and alfalfa hay for wintering and calving 3,000 cows through the winter months. Design efficiency and newer improvements compliment the highly productive irrigated lands making this a unique investment opportunity.
See More Details
ACREAGE & WATER

The acreage breakdown is as follows:
Irrigated - 600 acres
Dry range - 416 acres
Total Deeded - 1,016 acres

The irrigated lands are primarily pivot irrigated with five pivot systems. The deeded lands are located in two units, the Headquarters (Herman Place) consist of 782.8 acres with three newer Zimmatic pivots and the two Valley Farm consists of 233.7 acres with two Valley pivots with one being a wiper. Two additional pivots on 190 acres are leased to round out annual feed production needs for feeding 3,000 cows. The alfalfa stands are mostly newer top-quality plantings. An undivided one-half interest in an additional 681 acres of rangeland under option for solar development can be added.

The irrigated lands are serviced by Midvale Irrigation District. Formed in 1921, Midvale manages a 400 mile-long system of canals and laterals known as the Riverton Unit of the Bureau of Reclamation, delivering irrigation water to over 73,000 acres of irrigable classed lands in Central Fremont County, Wyoming. The District`s water supply is derived from the Wind River and its tributaries, a portion of which is stored annually in Bull Lake and Pilot Butte Reservoirs; facilities also managed by Midvale. Local farmer/irrigators comprise a five member Board of Commissioners whom provides direction and establishes the policies under which the District is operated in order to fulfill Midvale's stated objective to: "Provide the maximum amount of available water to the District`s constituents at the lowest reasonable cost each year."

Midvale delivers water to the farm at a head gate from its canal system. Midvale has ditch riders that ensure proper delivery of water. The annual cost of the water is about $20/acre. Annual real estate taxes are low as well.

OPERATIONS

During the growing season the Wyoming Winter-Calving Operation produces 10,000 Tons of Corn Silage and 2,000 Tons of Alfalfa Hay which in the winter is fed to 3000 cows that can also be calved and prepped for spring delivery to surrounding grass ranches. The operations are very efficient handling cow groups of 500 – 700 head, with one operator feeding the entire herd and depending on time of season, one to three herdsmen caring for and calving the entire herd. A large mixer feedtruck and loader is used to feed the cows in bunks in large paddocks with 500+ head cow groups. The alleys, lots and calving facilities are strategically designed to efficiently handle the livestock. An excellent water system with a deep well ( 1050'), pumping 68 gpm, feeds frost free drinkers in both feeding paddocks and feedlot pens. The livestock counts consist of 2000 head of customer cattle from different area operators and 1000 head of leased cattle.

IMPROVEMENTS

The farm is substantially developed and improved to accommodate labor, machinery and livestock with homes, several shops, other outbuildings and a feedlot and corrals generally as follows:

• Trailer house - 2
• Shop - 50' x 100' metal shop with concrete floor
• Machine Shed – 100' x 100' new metal shop with 14' main door and 2 other overhead doors
• Quonset
• Processing/Calving Facility – 48' x 96', indoor processing with hydraulic squeeze and adjustable alley way, 18 calving jugs, vet room, bathroom
• Secondary calving barn with 10 jugs, alleyway and turnout pens
• On farm feedlot – concrete feed bunks, automatic waters, 8 pens (200 'x 200'), 4 pens (200' x 240'), frost free automatic waters
• Silage Pit – 80' x 360'
• Grain Storage
• The property has newer field and boundary fencing as well as underground utilities and backup systems.
• A full line of equipment is available separately.

SOLAR OPTION

An undivided one-half interest in an additional 681 acres adjoining the Herman Place can be added. These lands have been under option for over four years and they have annual 'hard money' payments from a Solar company which, if and when exercised, will generate $1,000 per acre on an estimated 600 acres.

SUMMARY

The Wyoming Winter-Calving Operation offers a business with wintering and calving facility integrated with feed production from irrigated lands making an all-in-one livestock operation for handling 3000 cows or equivalent number of stockers. The improvements are substantial and together with the feed resources, allow the operation to gross approximately $1.25 Million in Revenue. Quality large scale farming and feeding equipment allows for an efficient cost structure. The offering produces the opportunity for excellent return on investment with a possible secondary source of income which knocks the investment 'out of the park".

Possession on or after January 15, 2021. With an undivided one-half interest in additional 681 acres of Solar Option lands - $5,500,000 total price.

---