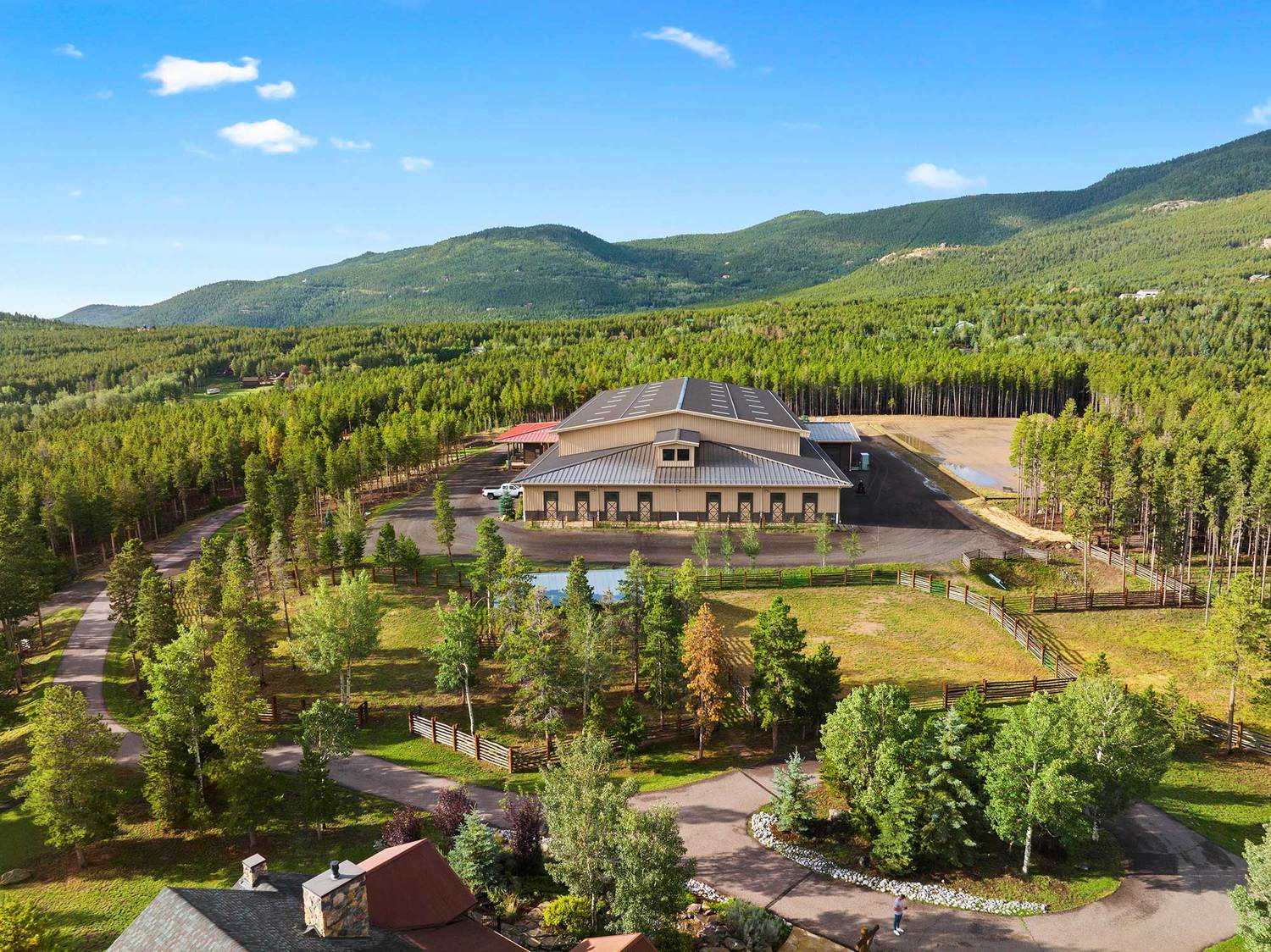 2nd Chance Ranch
Conifer , Colorado | Jefferson County | 50 Acres
Property Information
Every now and then a rare and exciting property comes on the market. We sometimes wait years for the right combination of location, land, style, features and quality. The 2nd Chance Ranch is a superior example of harmony between home, equestrian center, and the land it sits upon. This truly unique, one-of-a-kind property features 50 acres with a world-class 33,000 square foot equestrian facility and a magnificent 7,853 square foot, four-bedroom primary residence with main level living. A two-bedroom, two-bath guest house, and a second home currently divided into multiple employee units.
Equestrian ranch for sale in Colorado, one-of-a-kind property features 50 acres with a world-class 33,000 square foot equestrian facility and a magnificent 7,853 square foot, four-bedroom primary residence, plus guest house and employee units.
Close Details
LOCATION
Encompassing 50 acres of well cared for, park-like land within 15 minutes of most local amenities, 45 minutes to Denver, 20 minutes to Evergreen and 60 minutes to Denver International Airport (DIA). The gentle, lodgepole fenced acreage offers expansive space for horse or other recreation activities.
IMPROVEMENTS
Primary Residence
Access to the main home is thru a very imposing log and natural stone entryway. The interior of the home makes good use of structural logs for support, and beams in the ceilings throughout, and natural stone for fireplaces and structural support.
Every indoor or outdoor space, deck or patio feels like a retreat, a place to unwind and relax. Layers of natural and man-made landscaping combined with the bubbling water feature contribute to the relaxing feeling of this trophy property. There are 1,570 square feet of covered outdoor living areas plus 1,131 square feet of decks and patios.
The main living area shares an open space with the kitchen and informal dining room. The stonework, hand scraped wide plank floors, log support beams and antique doors layer in subtle nods to the rustic surroundings.
The rich tones and bright accent colors make a strong statement all while creating a comfortable environment.
The kitchen is a highly functional, welcoming place to gather.
The formal dining room is a space to enjoy good food and conversation and flows easily to the living room warmed by a stone fireplace.
The primary suite was designed as a retreat with a private deck to enjoy the sound of flowing water and mountain views. The primary bath is an extension of that retreat and offers his and her spaces and a walk-in closet.
The unsurpassed quality, design and character make this a true one-of-a-kind ranch property.
Guest House
The two-bedroom 1,636 square foot guest house is layered with design details encouraging functionality and reflects the understated elegance of the main house. It has a three-car garage.
A third house has 4,514 square feet and has been divided into multiple units currently used for employees. It has a newer three-car garage with a spacious second floor storage or meeting room.
Equestrian Facility
The magnificent world-class equestrian facility has 33,000+/- square feet with an indoor arena: 200' x 100' (20,000 square feet) with a clay and sand base. The arena has a viewing walkway surrounding. There are eight stalls, six are 12' 12' and tow are 12' x 16' birthing stalls, all have rubber mats under wood shavings and automatic waterers. All eight attached outdoor runs also have automatic waterers. Other features include: a wash rack, tack room, feed room, office, restroom with shower, laundry room, hay storage and an exhaust fan. A 20-foot-wide concrete aisle provides ingress/egress for hay trucks and large horse trailers to drive thru. The ceilings are approximately 35 feet high providing excellent air circulation. The barn is completely circled by a driveway for easy access. There are five access doors into the arena. Other features include: an equipment/vehicle storage wing and outdoor shavings storage. The barn siding and roof are steel. A second barn has four stalls and tack/feed room.
The "people entrance" is thru a log entryway at the front of the barn which brings you into a spacious living room/entertainment room with a pool table, bar and full kitchen and lounging area, all for the comfort of prospective horse buyers. You will also find very large windows for viewing activity in the arena. There is a bedroom with a ¾ bath and heated water.
Amenities include: two-2,000-gallon underground water tanks, a Generac generator that serves the entire barn, plus two water detention ponds.
The outdoor arena is 300' x 150' (45,000 square feet). There are six fenced pasture corrals. All fences on the ranch are of lodgepole pine.
OPERATIONS
2nd Chance Ranch is a premier training operation for reining horses. In addition to training, this could also be used to buy and sell horses.
Taxes: 2021 $26,704
---