Sold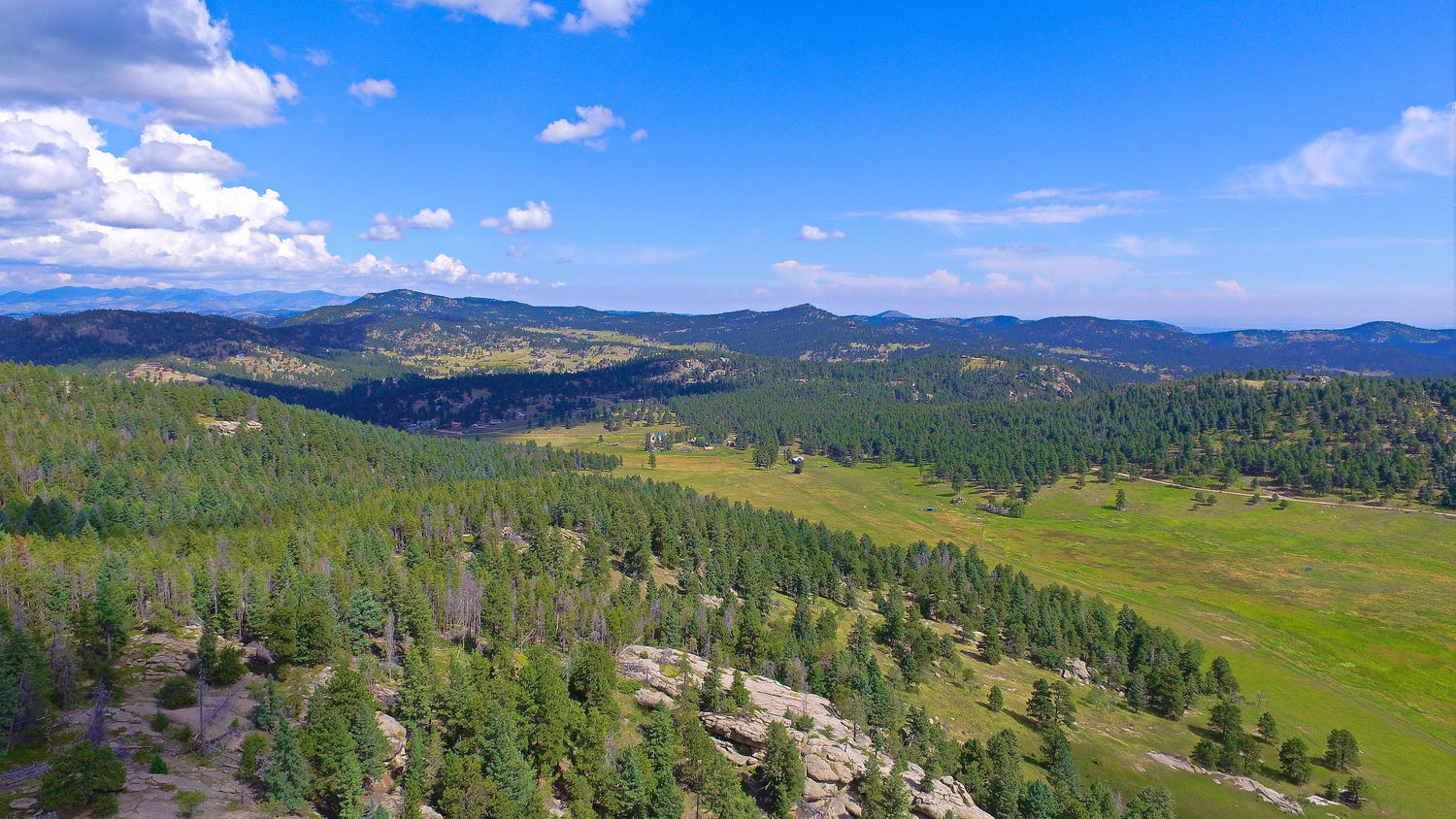 Mountain Meadow Ranch
Evergreen , Colorado | Jefferson County | 288 Acres
Property Information
The Mountain Meadow Ranch is comprised of 288 +/- acres with large open hay meadows, hillsides treed with groves of aspens and conifer trees, spectacular rock outcroppings and expansive mountain views in several directions. The ranch has been protected with a conservation easement, which covers about 270 acres and includes a building site for a house up to 10,000 square feet and other supplemental buildings. The acreage that is not covered by the conservation easement offers another possible building site. All of the potential building sites offer treed privacy.
Close Details
LOCATION

The ranch is located a short distance from the quaint mountain town of Evergreen, Colorado and is ideally located for commuting into any part of the Denver metro area, or to the mountains to the west or southwest. The ranch is located approximately equidistance between Evergreen and Conifer, Colorado and between Highway 285 and Highway 73. Denver International Airport is approximately 50 to 60 minutes in non-rush hour traffic. In addition there are two private airports, Centennial Airport and Rocky Mountain Metropolitan Airport, which can handle jet aircraft and are closer and somewhat easier to reach.

The ranch will partially adjoin the B Bar K Ranch on the east, mostly Denver Mountain Park land on the west and several smaller acreage properties as you head to the southern border. The area in general can be considered agricultural/ rural residential with multiple homes in the seven figure range.

ACREAGE

The ranch consists of 288 acres of large hay meadows, gently sloping hillsides covered with stands of aspen and conifer trees, and beautiful rock outcroppings. Following a seasonal stream to its origin, heading south through a wooded canyon, you will find numerous ponderosa and spruce trees whose age can easily be 100 plus years old. This area can be ridden on horseback or hiked on foot.

WILDLIFE AND RECREATION

World-class fly fishing is available in both the South Platte River and North Fork of the South Platte in 45- 90 minutes from the ranch. Well known to avid fly fishermen, the Arkansas River near Buena Vista and Salida is approximately 2-1/2 hours from the ranch. Elk and deer are abundant on the ranch and in the State Wildlife areas. Bear may also be found in the area. A spring fed pond on the ranch will hold fish thru the winter months with some improvements.

Ski areas such as Winter Park, Breckenridge, Copper Mountain, Keystone, Loveland and Arapahoe Basin can be reached in 45 to 90 +/- minutes on weekdays, weekend days may take longer.


IMPROVEMENTS

A very well built metal barn measuring 50' x 100' with a concrete floor. Four metal loafing sheds are scattered in the meadows, and a vintage large wood barn that appears salvageable. The ranch is mostly fenced with four strand wire and there is heavy duty pipe fencing in front of the metal barn compound.

Co-listed with Emily Henderson at LIV Sotheby's Realty in Evergreen.