Sold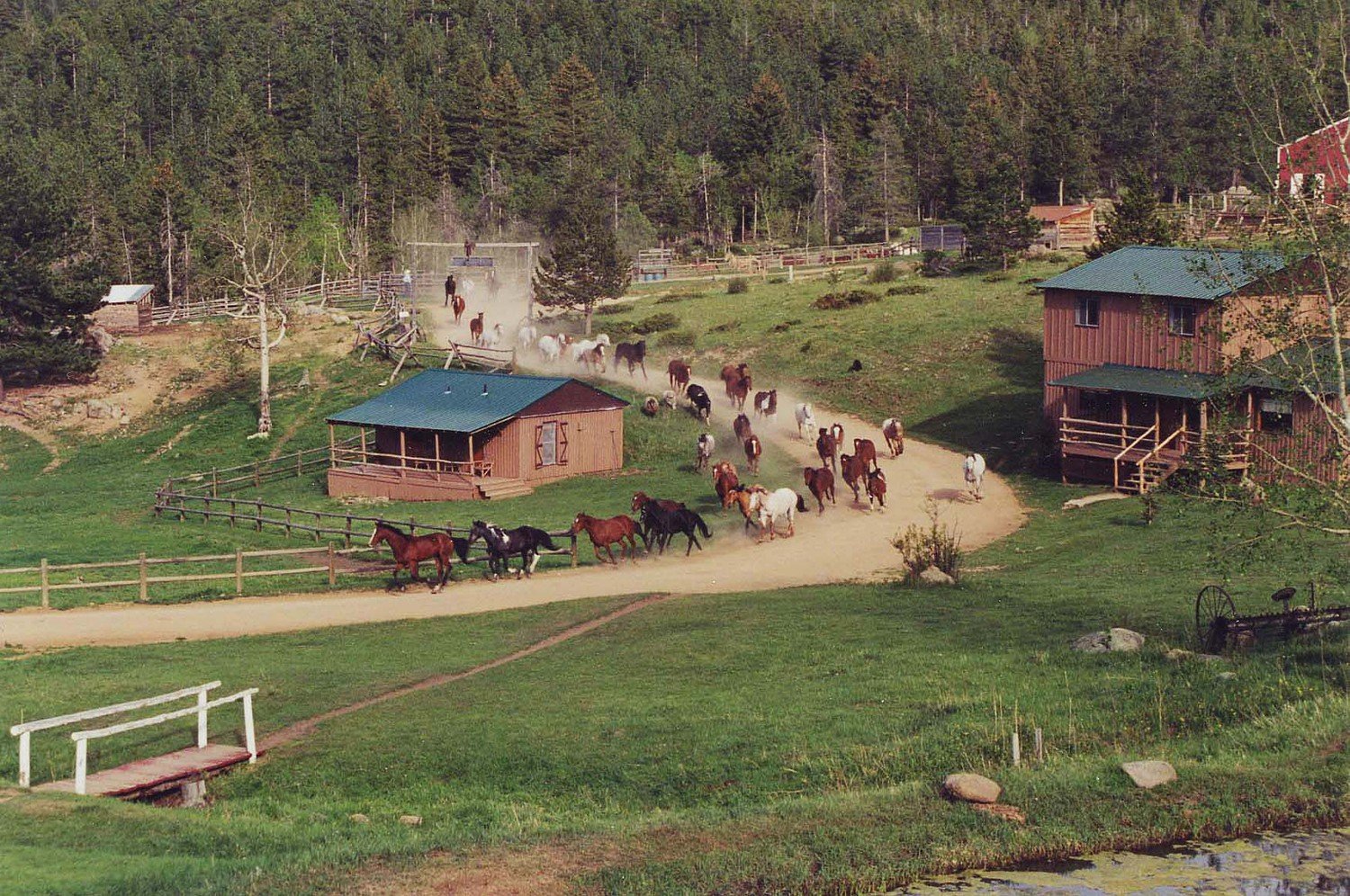 Sky Corral Guest Ranch
Bellvue , Colorado | Larimer County | 452 Acres
Property Information
A guest ranch, children's camp, church retreat or business and conference center represent the many uses for this property. The ranch encompasses 452 acres in two parcels. The main parcel, 292 acres and has all of the improvements and is bordered on three sides by Roosevelt National Forest.
Close Details
The second parcel, about 1-mile from the main ranch, has 160 acres, is surrounded by National Forest and borders the Cache La Poudre Wilderness area on the north. This magnificent parcel is an in-holding in the National Forest.

LOCATION

The ranch is located about 25 miles northwest of Ft.Collins, 85 miles northwest of Denver, at 7,400 to 7,800 feet elevation. Denver International Airport (DIA) is about 2- hours away. The Ft.Collins / Loveland Airport, about 45 minutes from the ranch, can handle most private jet aircraft. Historic Stove Prairie Elementary School, built in 1896 is 3-miles from the ranch and has 40 +/- students in kindergarten through six grade. Ft. Collins, home to Colorado State University.

ACREAGE

The ranch is 452 acres in total. The main parcel, 292 acres, has all of the improvements and is bordered on three sides by Roosevelt National Forest. The second parcel, about 1-mile from the main ranch, is 160 acres, is surrounded by National Forest and borders the Cache La Poudre Wilderness area on the north. This magnificent parcel is an in-holding in the National Forest. One night each week, during the dude / guest ranch season, it is used for an overnight campout. There are 5-small log sleeping huts, cook-shack and a storage unit. Additional tents are also erected for these campouts. Being within the forest this acreage is an excellent place for wildlife viewing, or hunting.

The overall land in general is predominantly rolling hills, beautifully covered with pine and aspen trees. There are numerous open parks and grassy meadows interspersed with several ponds and unique rock outcroppings, some of which are quite imposing. The largest pond, which is stocked with trout, is about 2-acres and within sight of the main lodge and cabins. The area in which the ranch is located, while seemingly remote, is easily accessible year-round. Neighboring properties are primarily cattle and horse ranches of various size, several of which are quite magnificent, and all with character and great western flavor.

OPERATION

Sky Corral Guest Ranch has been operated since the 1950's as a traditional "dude" ranch, from the end of May through September. Although the ranch will sleep up to 37, the "comfortable" capacity, for the dude / guest ranch operation is 30-32 guests. Because it is easily accessible year-round from Ft.Collins, Longmont, Boulder, Denver and other front range population centers, the ranch lends itself to many other uses during the "non guest ranch" months. Some of those uses include: weddings and receptions--even honeymoons; conferences and business meetings, family reunions, bed and breakfast and hunters during hunting season. Or, the ranch could cater to one or more of these alternative uses exclusively. Conversion to a private family compound or a church camp are also possibilities.

IMPROVEMENTS

The heart of the ranch is the rustic 2-story Lodge of about 4,650+/- sq. ft. which houses the beautifully appointed guest check-in office with wood burning stove, a cozy living room with wood burning stove, the dining room which will seat up to 48 people, a private office, and guest (1/2 bath) and staff bathroom (full bath).

On the upper level there are seven guest rooms all with private bathrooms. All guest rooms are carpeted, tastefully decorated with western art, period furniture and several have log beds.These rooms will accommodate up to 17 guests.

The commercial kitchen has a U.S. Range with 6-burners, grill and double ovens; Beverage Air double door freezer; Kenmore upright and Kenmore horizontal freezers; McCall double door refrigerator; icemaker, and a dry-storage pantry.

OWNER'S HOME

A very comfortable modular (42 x 16), with 3-bedrooms, 2-bathrooms, Jacuzzi tub, wood-burning stove, Kenmore range, Whirlpool washer and dryer.

GUEST CABINS

Skookum East and Skookum West:
is a log duplex with connecting door for use by families. One side has wood-burning fireplace. Each side has a refrigerator, log beam ceiling and there is a covered porch.

Knickinick:
Wood sided, 2-bedroom, 1-bath has wood paneling and a covered porch.

Larkspur and Columbine:
Separate units, same wood sided building. Larkspur is a 2-bedroom suite, Columbine a 3-bedroom suite. They share a covered porch. The upper level of this building is the staff girls dormitory which has 2-bedrooms, 2-bathrooms. The floor between levels is heavily insulated.

Aspen:
Wood sided two bedroom unit with wood-burning stove on a brick hearth in living room and a covered porch.

Note: All guest cabins are appropriately rustic in nature, furnished, comfortable, have either tub or stall showers. The capacity of the guest cabins is 20 to 22, plus 8-9 individuals in the staff dormitory.


RECREATION HALL AND CONFERENCE CENTER

This building is approximately 1,500 sq. ft., insulated, has 4-skylights, and decks on 3-sides. Building is predominantly a large open room, with knotty pine paneling, which has been used for guest ranch activities such as music and dancing. Because it's a wide open space it can serve many uses. Inside there's a Sauna, exercise room and two 3/4 baths. Outside on the deck is a hot-tub.

BARN

Metal structure approximately 50' x 100' with 100' overhang roof on one side, concrete floor. The tack-room, vet stall and tie stalls for tacking, grooming and graining horses are located here. There is an oversized 3-stall garage/ machine shop with 14' doors and a storage loft. A second bay, currently used for bulldozer, tractor and hay storage also has a 14' door. A private, comfortable, staff boys quarters in a portion of this building has one bedroom, bathroom and wood-burning fireplace and sleeps up to 4-wranglers.

The laundry building has two Maytag commercial washers, two Maytag commercial dryers, and a large storage area for linens and camping gear.

WILDLIFE AND RECREATION

The Cache La Poudre (or Poudre) River to the north, and the Big Thompson River to the south of the ranch, 8 miles and 10 miles respectively, offer miles of fishing and white water rafting. Trophy elk and other wildlife such as deer, bear, bobcat, hawks and eagles are native to the area. Rocky Mountain National Park, a gem in the national park system, is one to one and a half hours from the ranch. The Roosevelt National Forest which borders the ranch has over one million acres and provides endless hiking, horseback riding, mountain biking, and hunting.

CLIMATE

The area receives about 300 days a year of sunshine, as does most of Colorado. In July temperatures range from about 75 to 80 degrees in the daytime, to an average daytime temperature of 20 to 30 degrees in January. Remember, there is very little humidity here - so the cold is not that cold and the hot is not that hot.

SHOWINGS

By appointment with Listing Agents only. A minimum 48-hour in advance appointment is required.