Sold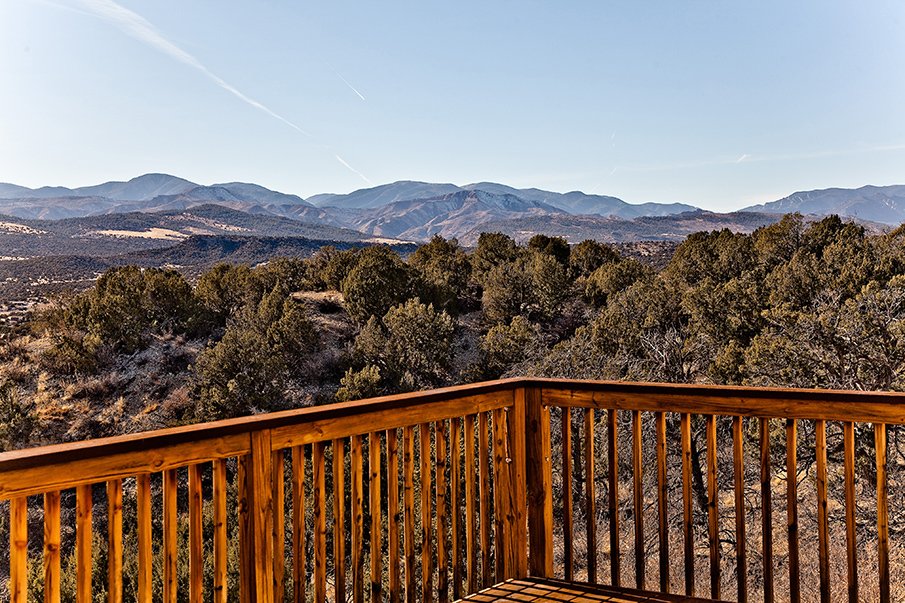 Pine Ridge Ranch
Pueblo, Colorado | Pueblo County | 134 Acres
Property Information
Pine Ridge Ranch is in a very scenic area of Colorado with beautiful views to the west of the Wet Mountains and from the deck of the guesthouse you can see Greenhorn Mountain to the southwest. The main house and all other improvements are in a very private setting and can't be viewed from the county road, or from other homes. Pine Ridge Ranch is one of the larger parcels of land in the immediate area at 134 acres. In addition to the beautifully designed and crafted main house the compound includes a uniquely laid out guest house/meeting facility, a cabana, multi-car garage with workshop, and a magnificent New England inspired barn.
Close Details
LOCATION

The ranch is located approximately 18 miles southwest of Pueblo, Colorado. Once known as a steel manufacturing town, Pueblo today is a far cry from the old days and is now promoting high tech and clean industry. Pueblo is about 40 miles south of Colorado Springs, which has a major airport served by national carriers. The heart of Denver is approximately 110 miles north and has Denver International Airport (DIA). Santa Fe, New Mexico, and all it has to offer is about four hours south of Pueblo.

ACREAGE AND DESCRIPTION

The ranch terrain is relatively flat with about 100 feet of elevation gain from east to west and has 134 acres covered with native grasses and pinion pine, cedars, junipers and some Ponderosa pines.

IMPROVEMENTS

The focal point of the property is the 5,285 square foot primary residence, with central air conditioning, sited to take advantage of the majestic mountain views to the west. The exterior is stucco, the interior is almost entirely tile or slate floors with Santa Fe plastered walls throughout and planked ceilings over heavy exposed wood beams. There are two bedrooms; the master bedroom features a magnificent five piece master bath with granite countertops, slate floors, Alder wood doors, steam shower, a claw foot slipper tub and access to the courtyard with a six person hot tub. The guest bedroom on the main floor, which is now being used as an office, has its own private bathroom.

The kitchen is a spacious 18' x 35' with all granite countertops, a large island, a wet bar, 6' x 8' pantry, utility room and tile floors. All appliances are professional grade. The dining room is 16' x 22' and features a one-of-a-kind elk antler chandelier. The front entrance to the home takes you into the 22' x 24' living room with a cozy wood burning fireplace. In addition there are three wood pellet stoves throughout the house. Coming thru the rear entry brings you directly into the 18' x 40' family room with a 20' high tongue and groove Douglas fir ceiling. The massive spruce beams spanning across the room provide a spectacular first impression to this beautiful home.

Above the living the living room and family room is "his" 22' x 40' office / trophy room with a bridge extending over the family room providing spectacular views of the Wet Mountains to the south and Pikes Peak to the north. This bridge area is spacious enough to be made into a third bedroom, a craft room, additional office space or whatever you may choose to use it for

The guest house, across the courtyard from the main house, is air conditioned, has three bedrooms, two and one-half bathrooms. There is a full kitchen with granite countertops, the living room has a pellet stove. There is a large covered patio and an expansive upper deck which provides some breathtaking mountain vistas.

The detached garage has a total of 1,888 square feet. There are two 9' x 8' doors with 13' x 26' bays; one 10' x 9' door with a 14' x 26' bay; one 10' x 9' door and a 14' x 34' workshop with built-in storage cabinets.

The 44' x 52' barn is a sight to behold, the workmanship is incredible. It was designed with a New England style influence, meaning the primary beams are all notched together. It has six 12' x 12' stalls with mats, wash rack with concrete floor, tack room, concrete isle, and a hay storage area.

In the courtyard is a 12' x 36' x 8' in ground gunnite swimming pool with an automatic cover, propane heater, chlorine generator and a timed cleaner with a diatomaceous earth filter. Adjoining the pool is a charming 32' x 16' cabana and a utility room for pool equipment.

WILDLIFE AND RECREATION

Elk and deer are abundant in the area and can often be seen within a few feet of the house. In the nearby San Isabel National Forest bear, bobcat and cougar also inhabit the territory, in addition to the elk and deer. For fishermen, world class fly fishing can be had in the Arkansas River, about 15 miles north of the ranch. For spin casting enthusiasts Lake Pueblo, has some of the finest in the state, and is also about 15 miles from the ranch. Power boaters, wind surfers, and water skiers will also enjoy the lake. In addition, there are many high mountain lakes and streams that offer some truly wild fly fishing. For those that enjoy running, hiking and mountain or road biking, the roads in the area are excellent and there are numerous trails throughout the San Isabel National Forest

TAXES: $3,273.00

Co-listed with Charla Cook of Keller Williams Performance Realty.

---