Sold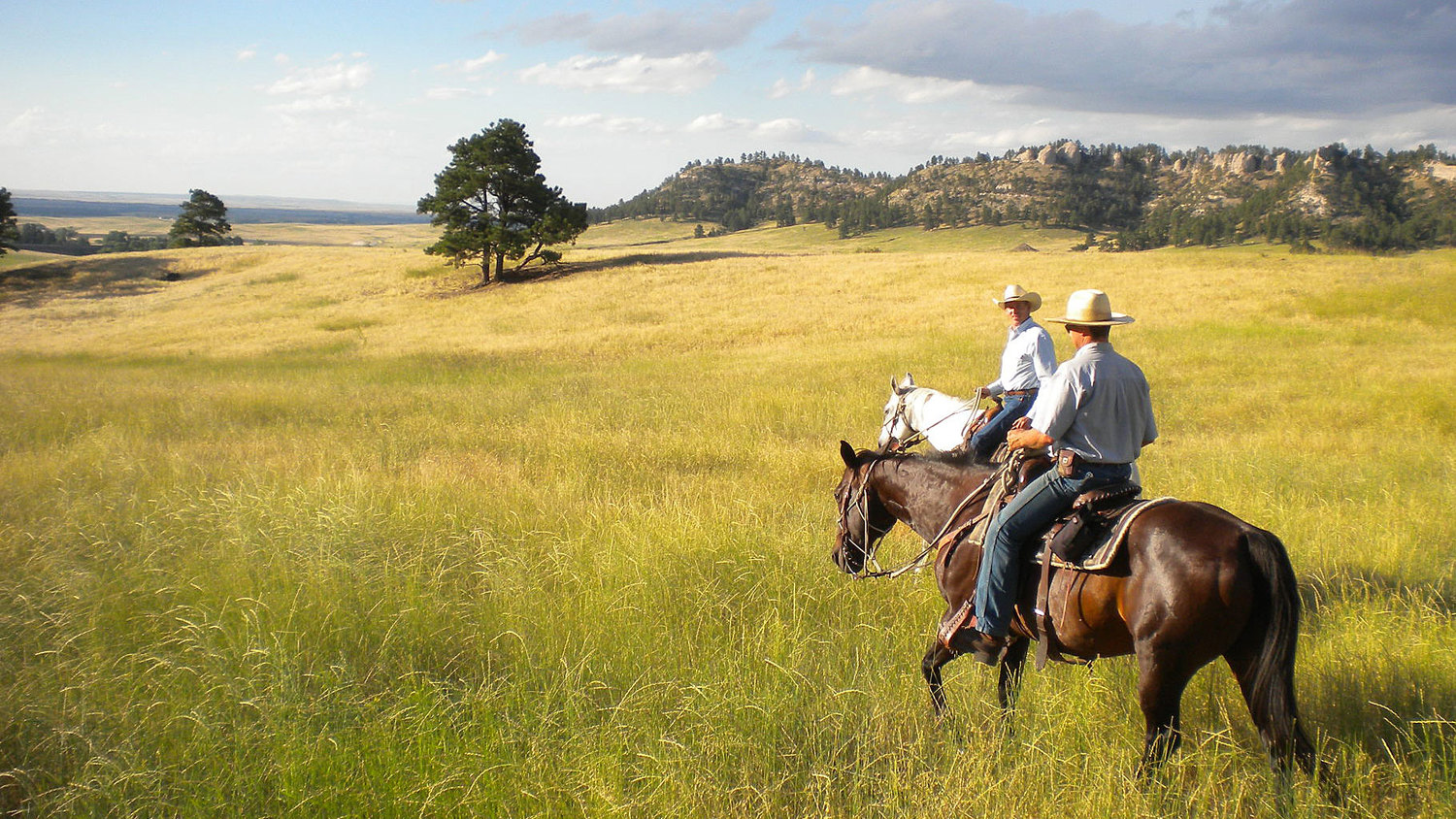 Ponderosa Ranch
Crawford , Nebraska | Dawes County | 3400 Acres
Property Information
Ponderosa Ranch is a 3,400+/- acre working cattle and premier hunting ranch located in Northwestern Nebraska approximately eight miles southeast from Crawford and 30 miles southwest of Chadron, Nebraska. The ranch consists of 1,457 acres of deeded lands and the remainder state, federal and private lease land. The lands offer excellent grassland with scattered Ponderosa Pine Tree forests. There are adequate improvements including a large ranch home, a small cabin, barn, shop and working facilities and corrals. The ranch is currently leased for grazing and hunting to a solid tenant who runs about 270 pairs for six months plus outfits for mule deer and turkey hunting. The offering represents an opportunity to purchase a beautiful "Pine Ridge" area ranch with excellent grassland and premier hunting characteristics.
The Ponderosa Ranch is a unique property in the "Pine Ridge" area of Northwest Nebraska. Very scenic, yet still very affordable, the area and this ranch offer most of the amenities that are desirable for both a working and recreational lifestyle ranch property.
Close Details
LOCATION

The ranch is located eight miles southeast from Crawford, Nebraska. The property is an easy drive and just a few hours from Denver, Colorado. Commercial air service, colleges, hospitals and other major services are offered at Chadron, Nebraska (30 miles to the east) and Scottsbluff, Nebraska (80 miles to the south). The ranch is easily accessed off of Highway 71 by well-maintained county roads.

ACREAGE

The deeded lands consist of 1,457 acres of gently rolling and rolling timbered grassland hills with deep heavily treed draws. There are two creeks on the property, the larger year round creek is White Clay Creek, and the smaller more seasonal creek is Squaw Creek. Additionally, water is supplied by an electric well at the house, which supplies a large cistern which connects via pipeline to a series of drinking tanks. There are also several windmills on the property.

The ranch is fenced and cross-fenced into 13 pastures and traps consisting of a mix of electric and barbed wire fencing. The cross fencing allows for an intensive grazing system allowing most of the ranch to be at rest at any given time.

Included within the ranch is a state of Nebraska lease of 1,600 acres. The current state lease through 2023 has an annual cost of approximately $22,000 per year. Additionally there are approximately 280 acres of US Forest Service lease lands and 200 acres of private lease at nominal rental rate.

The ranch is currently leased for grazing and hunting for a period of 5 years ending November 1, 2019.

Also available with the property would be the owner's business assets including a functioning website and customer list. The website is in use by the current tenant and would be subject to the existing property lease.

IMPROVEMENTS

The Ponderosa Ranch has good functional improvements that support all the uses for which the ranch is intended, including a seasonal livestock operation and a full scale hunting property. Building improvements are as follows:

Main Home - Furnished, 2,000 square foot, two-story ranch home. This home's sleeping arrangement has two queen beds, a futon/day bed and two twin beds (bunk bed).
Cabin - Fully furnished, 436 square foot, cozy stucco one-bedroom with a ½ bath with shower. Cabin has kitchen area with stove, refrigerator, and microwave, sleeps up to six with four twin beds (two sets bunk beds) and a queen bed. This guest/hunters cabin has excellent views of wildlife and the terrain from the front porch.
Garage - Stucco with two eight foot doors, approximately 28 X 26 with concrete floor and electricity.
Barn - Approximately 30 X 32 wood barn with electricity and water. Stalls inside with tack room attached.
Shop - Approximately 30 x 60 metal pole barn type construction, has electricity.
Sheds - Two small sheds approximately 12 x 16 and 16x 30, wood construction, used for storage.

RECREATION

The Ponderosa Ranch provides excellent recreation opportunities and is considered a premier hunting property. The ranch provides excellent hunting opportunity for mule deer, whitetail deer and true Merriam Turkey. The ranch is large enough to offer economics of a livestock operation and to hold wildlife on the property facilitated by the pine tree terrain and live year round water sources. The diverse land type offers a variety of other recreational activities including hiking, biking, horseback riding, four wheeling and winter snowmobiling. Another favorite activity is watching and photographing the daily trains with tracts which make a horseshoe bend within the property. The property has been used by the owners as a guest ranch in the recent past and currently the ranch is leased for hunting and grazing.

The property is within a few miles of the White River, Niobrara River, Box Butte Reservoir and Whitney Lake, all of which provide opportunity for fishing, boating and camping. Fort Robinson and Agate Fossil Beds National Monument offer opportunities of historic and geological interest. Crawford, Nebraska offers a western flavor for its visitors to remember the splendor of this little known recreation area. Nightly theatrical and dining entertainment are offered at historic Fort Robinson. Hunters and wildlife photographers will find numerous opportunities on the public and private lands offered for access which abound with mule deer, whitetail deer, True Merriam Turkey, Sharp-tail grouse, antelope, bighorn sheep, elk, pheasant, fox, coyote, bobcats, eagles and a rare mountain lion sighting.

In addition to its natural wildlife, the "Pine Ridge" area is fast becoming known for its variety of horse and horseman events ranging from world-class cutting and rodeos to trail rides and breed shows.

AREA AND CLIMATE

Crawford calls itself the "the Garden beyond the Sandhills" and is known as the big game capital of Nebraska. From the South Dakota border on the north to the Niobrara River on the south, the Wyoming state line on the west and the Sandhills on the east, Sioux and Dawes Counties are filled with scenic splendor, wide open skies, beautiful sunsets, starlit nights, history, geology and wildlife. The pine-covered hills of the Nebraska National Forest and the Pine Ridge are full of trails for hiking and horseback riding. The Pine Ridge area is becoming renowned for its deer and True Merriam Turkey hunting. In addition, the elk population is increasing dramatically.

The last remount depot of the US Army, Fort Robinson, is just west of Crawford and approximately 15 miles from the ranch on US Highway 20. Its historical significance during the Indian Wars, World War I and II are revealed in the displays at the Fort Robinson Museum complex. Fort Robinson State Park offers nearly 22,000 acres of wide open and wild country blending history and natural beauty with abundant recreation opportunities for the whole family.

Additionally, Fort Robinson offers the Post Playhouse Theater, trail rides, fishing, museums, cabins, camping (both rustic and improved) and hosts events such as weddings and reunions as well as numerous horse related events and shows.

Chadron is the county seat of Dawes County, there is a golf course in Crawford and it hosts a long standing PRCA rodeo, as well as other annual and periodic events.

The climate is typical of a 4 season climate with long warm sunny summer days and cool winters. Snow cover can be present for several months in the winter with 4 to 6 inches typically on the ground. Spring and fall offer beautiful transitions between summer and winter. The area is blessed with lots of sunny days with good spring and summer moisture. Fall is generally dry and winter snow accumulations vary from year to year.

SUMMARY

The Ponderosa Ranch is a unique property in the "Pine Ridge" area of Northwest Nebraska. The ranch is a great investment opportunity with a good lease in place with a qualified tenant. The area is tightly held and offerings of this stature come to market very infrequently. Very scenic, yet still very affordable, the area and this ranch offer most of the amenities that are desirable for both a working and recreational lifestyle ranch property. The Ponderosa Ranch is an outstanding livestock and hunting ranch that offers income from a lease on the agricultural and hunting operations.

---