Sold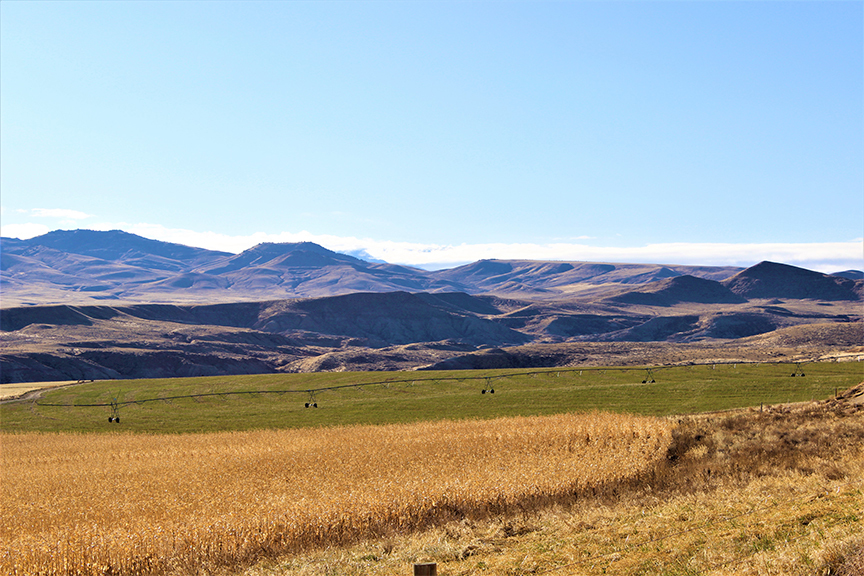 Chalk Road Ranch
Powell , Wyoming | Park County | 455 Acres
Property Information
Chalk Road Ranch is a premier irrigated farm and ranch located between Powell and Cody, Wyoming in a spectacular setting next to Heart Mountain featuring 455 acres with 200+/- acres under pivot and flood irrigation. This diversified operation has been set up for running livestock with pivots providing high-quality feed. Improvements include a shop with living quarters and a feedlot. There is excellent hunting with an abundance of upland game birds, deer and elk.
Chalk Road Ranch consists of working assets which make it a very profitable agricultural operation located in a beautiful setting along the east side of the Yellowstone Eco-System and nearby to world famous Cody, Wyoming.
Close Details
LOCATION

Located on the northeast side of Heart Mountain between Cody and Powell, Wyoming, the ranch sits at the end of the road, but still only 20 minutes from Powell. The ranch sits at an elevation of approximately 5,100 feet and has spectacular views of Heart Mountain, the Beartooth Mountain range, and the Pryor and Big Horn Mountains. Cody, Wyoming is only 25 minutes and offers many cultural events and dining attractions. Billings, Montana is located one and a-half miles north and is the primary service center for northern Wyoming, Montana, western North and South Dakota. Billings is also a major retail shopping destination for many and is also known for its outstanding medical facilities along with being the hub for commercial air service at Logan International Airport.

Powell, Wyoming is considered the "friendly spot" whether your visiting friends and family, shopping, on vacation or looking to relocate. Nestled in the Big Horn Basin of northwest Wyoming, surrounded by the Prior and Absaroka Mountain ranges, Powell is a recreational paradise with many big town amenities. The Park County School District #1 encompasses a large geographical area and includes Powell, Clark, Garland and Ralston. The District operates with seven schools, which include Clark Elementary School, Parkside Elementary School, Southside Elementary School, Westside Elementary School, Powell Middle School, Powell High School, and Shoshone Learning Center. Powell Wyoming High School is ranked 3rd in the State of Wyoming based on ACT assessments, graduation rates and college readiness. Current K-12 enrollment is 1,700+ students.

Cody Wyoming is considered "one of the best small towns in America" and is just 50 miles from Yellowstone National Park's east gate and 85 miles from the northeast gate. Cody was created with the help of Buffalo Bill Cody and still retains that western charm and flair. Enjoy the many adventures in Cody by visiting the Buffalo Bill Center of the West Museum, or hop the Cody Trolley tour, attend the Cody Nite Rodeo and Dan Miller's Music review. Cody is the county seat of Park County, Wyoming.

ACREAGE AND DESCRIPTION

This scenic ranch offers approximately 455+/- deeded acres with 200 +/- irrigated acres with 177+/- under pivot with the balance being flood irrigation. The remainder of the topography of the farm/ranch operation features beautiful rock outcroppings with picturesque Eaglenest Creek traversing through the southern portion of the landscape. The soils, based on USDA/NRCS surveys are summarized in brochure.

CLIMATE

The climate in the region varies depending on the location from the Mountains. The area is classified as a modified continental climate with the valley floors receiving annual precipitation of approximately 14-19" while the mountains receive up to 40". Based on NRCS/USDA soil surveys, the region experiences 110-150 frost-free days allowing crops such as hay, small grains and sugar beets to be grown.

OPERATIONS

Chalk Road Ranch is a diversified operation and has been utilized for agricultural endeavors, which includes an irrigated farm producing corn and alfalfa and cattle operation. The acreage is perimeter fenced, with interior fencing being smooth wire electric. The current operator raises corn and alfalfa during the growing season and grazes the corn stalks and hay residue in fall and winter. A new feedlot was constructed in 2015 with 504 feet of bunk space, four separate lots with waterers. Surplus feed allows for custom feeding, adding additional income potential.

WILDLIFE AND RECREATION

Northwest Wyoming and Yellowstone Country is renowned for a natural gathering place for wildlife. Deer, moose, mountain sheep, elk, grizzly bears, black bears, eagles and more can all be found in the Northwest Wyoming corridor with the owners receiving the right to purchase two landowner permits for one of the most sought-after areas for elk and antelope.

Buffalo Bill Dam, Big Horn Lake, and the Shoshone River provide the angler with premier fisheries. And just a short distance away, lies the gateway to Yellowstone National Park with unlimited hiking, fishing and wildlife viewing opportunities. The ranch also borders thousands of acres of public lands including BLM, Bureau of Reclamation and State of Wyoming ground with access continuing onto the Shoshone National Forest. Elk, deer and antelope frequent the property in early morning and evening while spending the remainder of the day in the steep and rugged terrain offered by the BLM and BOR.

WATER RIGHTS AND RESOURCES

Irrigation water is supplied by the Heart Mountain Irrigation District with the water being delivered by a canal. Pump costs are minimalized with water flowing downhill. A new well provides water to the improvements. The Heart Mountain Irrigation District is comprised of 31,120 irrigable acres north of the Shoshone River from Cody, Wyoming to about seven miles north of Ralston, Wyoming. The Heart Mountain Canal provides water for the Heart Mountain division. The canal begins at the inlet to the Shoshone River Siphon, which spans the river below the Shoshone Canyon conduit outlet; the canal has an initial capacity of 914 cubic feet per second and a length of about 28 miles. About 140 miles of distribution laterals and 145 miles of open and closed drains also serve the Heart Mountain division. The facility was built by the Bureau of Reclamation in the late 1940's with water deliveries starting in the early 1950's. Around 1960 the operation and maintenance was turned over to the Heart Mountain Irrigation District. (From Heart Mountain Irrigation District Website).

MINERAL RIGHTS

Seller will transfer any owned mineral rights.

IMPROVEMENTS

The improvements on the ranch include:
• 46' x 64' shop
• 1,920 square foot shop area with two overhead doors
• Two-bedroom, one-bath 1,024 square foot living quarters.
• Feedlot with 504 foot bunk space, three waterers, working pens, sick pen
• Pivot 1 Valley 6 towers with 25 HP pump
• Pivot 2 T-1 6 towers with 15 HP pump

SUMMARY

Chalk Road Ranch represents a diversified farming/livestock operation with the benefit of lifestyle characteristic including hunting and beautiful scenery. The property consists of working assets which make it a very profitable agricultural operation located in a beautiful setting along the east side of the Yellowstone Eco-System and nearby to world famous Cody, Wyoming.

---