Sold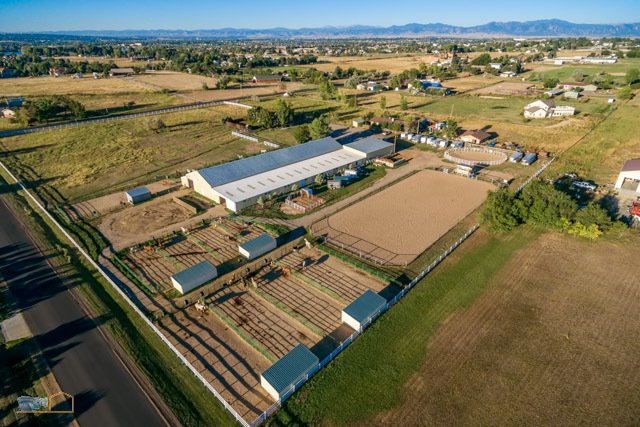 Christensen Stables
Broomfield , Colorado | Adams County | 6.15 Acres
Property Information
Christensen Stables is a very successful boarding and training facility situated in a highly desired rural area in Broomfield, Colorado. The 6.1 acres is licensed to board 48 horses and is at full capacity with a waiting list. Indoor and outdoor arenas, round pen, 35 box stalls, 10 with runs and 9 outdoor paddocks with shelters. All have automatic waterers. Large turn-out pasture areas. Tack rooms, office, kitchenette, wash bays, heated grooming areas and trailer parking. Updated 2,000 square foot home with four bedrooms, three bathrooms, family room, deck with views of the stables, attached garage and country landscaping with a BBQ area and fire pit. All is very well maintained. Proforma available to qualified buyers.
Close Details
LOCATION

The property is located in a more rural area of Broomfield, Colorado. Broomfield has a population of approximately 55,000 and is within minutes of the Metro Denver Area. The city boasts may amenities including fine dining, shopping, extensive recreational trails, parks and open space. The economy is stable and the city has many large corporations.

ACREAGE AND DESCRIPTION

The acreage is flat with a healthy stand of pasture grass in the turn out pasture. The entire property has been carefully planned out and functions well. There is room for trailer parking, vehicle parking, covered hay storage, the outdoor arena and round pen.

RECREATION

The area has numerous fine golf courses, and is close to fishing, hiking, boating, camping, and just over an hour and one-half to ski slopes. There are extensive trails around the city for biking or walking.

OPERATIONS

The current owners have operated the facility since 2007. The prior owners operated it for ten years, so it is a well-established stable with an excellent reputation. There is also a trainer who works out of the facility and contributes to the occupancy rate and income. Two full time employees handle feeding, cleanup, horse turnout, blanketing and maintenance. All stalls and paddocks have heated auto waterers. The owners live on site and are quite active within the facility, including a bed check at night.

Boarding rates are competitive with other facilities in the area. They are currently at full capacity of 48 horses and they also average a waiting list of 5-10 horses. Trailer parking (for a fee) is available at the facility and currently also at capacity. There is a large parking area for day time parking of vehicles and trailers.

IMPROVEMENTS

Home: The bi-level home is approximately 2,006 square feet. It has four bedrooms, three baths, living room and recreation room, both with wood burning insert fireplaces. Off the eat-in kitchen is a beautiful deck with views overlooking the fenced yard, front pasture and the south side of the barn. It has been updated over the years and is rounded out by a two car attached garage and large trees surround the home.

Barn: On the north side of the barn there are 24 box stalls with a 12' alleyway and drive through doors at both ends, along with a grooming area and tack. In the center of the barn is the 44 x 140 foot indoor arena. The arena has an overhead sprinkler system for watering down the footing. There is also a three bay heated grooming area, office and tack room. This center portion also has drive through doors. On the south side is a kitchenette with a sitting area, wash bay and ten stalls with outdoor runs. All stalls have automatic waterers and are matted.

Out Buildings and Structures: Attached to the barn is a three sided covered structure for hay storage, shavings and equipment. There is also an exterior wash rack by the patio and fire pit area.

The round pen is 65' and is situated near the trailer parking and outdoor arena. The outdoor arena is 88' x 205' and has good footing. There is a viewing stand on one end. The nine paddocks with shelters are on the east side of the property. All have automatic waterers and are close to the barn and pasture.

TAXES: $7,533 for 2015

SUMMARY

Christensen Stables is a profitable well maintained property. You can live on site or hire a manager, which has been done in the past. Good source of income, especially if you have horses of your own or are a trainer. Proforma compiled by owner is available to qualified buyers.

---