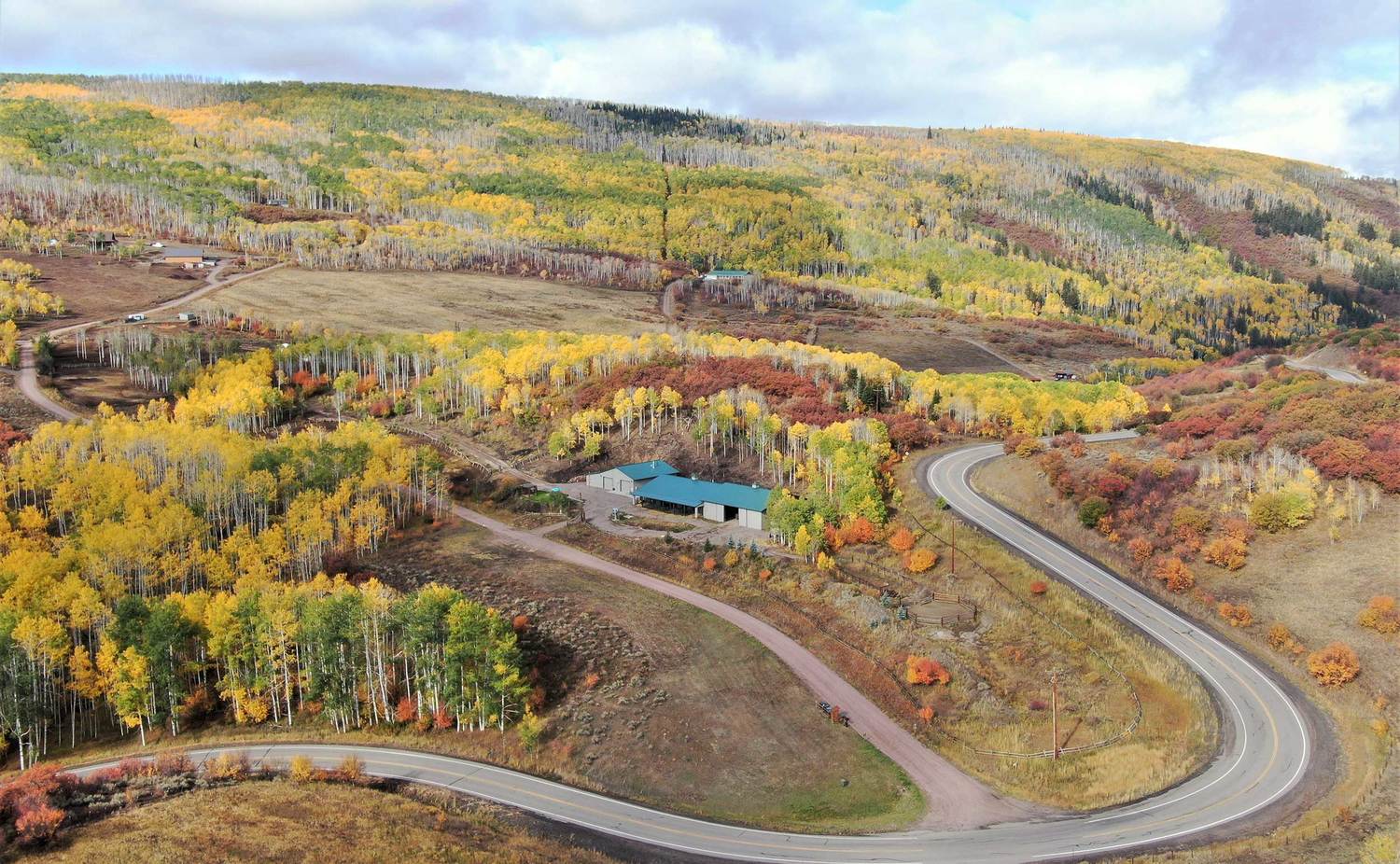 Silverado Ranch
Oak Creek, Colorado | County: Routt | 42 Acres
Property Information
Silverado Ranch offers the perfect combination of easy year-round access, seclusion, and views. In today's market rarely do you find such rural acreage along with the ability to stay well connected for a remote working environment. Silverado Ranch provides an authentic mountain setting with good year around access, high speed internet, and cell phone coverage. Elevation on the property ranges from approximately 7,750 feet to just below 8,000 feet near the top of the hill directly behind the barn and shop. No HOA.
Silverado Ranch delivers a thoughtfully designed estate in an easily accessible mountain setting with modern conveniences surrounded by world-class recreational opportunities. 
Close Details
LOCATION
Silverado Ranch is an exceptional equestrian rural mountain estate situated in one of the most premier recreational locations in Northwest Colorado. This thoughtfully planned and designed 42.75 acre +/- estate is located about 25 miles southwest of Steamboat Springs and Steamboat Ski Resort, and approximately 65 miles northwest of Interstate 70 and the Vail Valley. Travel time to the Front Range and Denver International Airport is around three hours. Eagle County Regional Airport and Yampa Valley Regional Airport are both less than an hour from Silverado Ranch catering to convenient travel.
ACREAGE AND DESCRIPTION
Around 50% of the property is timbered with intermixed shrub, brush, and mountain pasture. The timber is predominantly beautiful healthy Aspen. The current owners have proactively managed both the soil composition and various vegetative species on the property for optimal production and long-term health. The portions of the property with more dense cover provide great seclusion and habitat for both horses and wildlife. The north side of the forested area has been seeded in Timothy and Mammoth Red Clover. Currently this area is often utilized by elk and mule deer for calving. The mixture of vegetation not only provides great cover and habitat but also an incredible blend of colors come Fall. The remaining 50% of the property is more level to slightly sloping mountain pasture and fenced dry-lot paddocks allowing for plenty of usable land for horses or other livestock.
OPERATIONS
The ranch is perimeter fenced and cross-fenced with treated tenon joint wood fencing. A graveled parking area and some steel pipe fencing surround the pasture shelter in the far southwest portion of the property. There are four 12' x 36' pasture shelters with Nelson Waterers to each pasture. Some areas are double fenced making this an ideal set up for a breeding program or to board outside horses. Current ownership has boarded numerous outside horses in years past and this is a very financially feasible option for Silverado Ranch. In addition to riding in the round-pen or in the pastures, there are numerous trails in the surrounding area to ride and keep horses exercised. Trail riding from the front gate along Silverado Road presents some amazing views. For the animal lovers, there are also fenced areas for dogs, goats, and chickens if so desired.
WILDLIFE AND RECREATION
Recreational activities abound in the surrounding neighborhood including skiing, fishing, boating, hiking, biking, snowmobiling, horseback riding, hunting, and camping to name a few. The Flat Tops Wilderness Area, Yampa River, Stagecoach Reservoir, Steamboat Ski Resort, and miles of mountain trails are all a short distance away. Don't discount the hunting potential in the area with Silverado Ranch as a perfect base camp. The property includes a 25-yard pistol shooting range, a 100-yard rifle range, and a 280-yard rifle range. The diverse landscape on the property and in the surrounding neighborhood is great habitat for elk, mule deer, and black bear. Silverado Ranch is located in the southeast portion of Game Management Unit (GMU) 131. This unit consists of mostly private land ownership with only about 16% being publicly accessible. However, adjacent Units 231 and 15 to the south and east offer a significant amount of public lands for hunting and other recreational opportunities. These Units have over-the-counter tags for elk during archery and two of the four rifle seasons. Mule deer is draw only.
IMPROVEMENTS
Silverado Ranch is perfectly improved for the discerning buyer. The property offers 1,728 +/- square feet of high quality finished living area. The barn, indoor riding arena, and large shop all compliment the look and utility of the property. Details on these improvements can be found below. The covered porch outside the living area provides great outdoor living space for entertaining. Additionally, a Gazebo and fire pit near the entrance of the property provides the perfect setting for quiet evenings or morning coffee and sunrises.
Finished Living Area ~ General Specifications
• Ceilings are 9' 2" throughout the living area
• Blue pine interior wall finish throughout
• Fire wall and fire doors per county regulations all the way up to the barn roof
• R-42 insulation blown in ceiling and R-19 in the walls
• Entire living area is in-floor radiant heat with 3 zones (living room, bedroom and office)
• LED lighting can be set as daylight, soft white or warm white
• Windows and French doors are high efficiency. (French doors have mini blinds inside glass).
• One large master bedroom with attached bathroom
• Large, 18' long walk-in closet with solid acacia wood make-up table
• Push button entry system to allow for a tiered level of entry for owners, friends and boarders
• 200 amp service in living area located in the office, also feeds to 100 amp sub-panel in mechanical room
• Half bathroom is aisle-way for guests and boarders
Kitchen
• Solid cherry cabinet doors with solid wood cabinets
• Dekton counter tops. (Dekton does not need sealer like granite and does not discolor like quartz. Almost indestructible and easy to maintain. Can withstand temperatures over 800 degrees, so hot pans can be set on it.)
• Black stainless appliances
• Under counter LED lighting
Laundry / Mechanical Room
• Solid acacia wood table for folding clothes with hickory base
• Lochinvar high efficiency propane heater and indirect water heater
• Slop sink
• Floor drain
• Additional freezer in mechanical room
Office
• High speed internet
• Secluded with separate entry through barn aisleway
Barn
• Aisleway is made of full size bricks
• Two separate tackrooms (owner's tackroom and boarder's tackroom)
• Heavy-duty stall systems
• 5 stalls with pipe fence turn-outs
• One stall can open up to a double stall for foaling
• Stalls have Nelson Waterers
• 2 tie stalls
• Interior stall floors are constructed with a grid system that is filled with fine black lava rock and has heavy plastic underneath. The stalls are angled so that they drain to an underground French drain in the center and this runs down the entire length of stalls and then daylights outside of the barn.
Indoor Riding Arena and Hay Storage
• 16' high walls
• 54' x 60' indoor riding arena
• Lighted
• Washed sand on top of compacted road base (good footing for multiple disciplines)
• Large overhead door entry from aisleway near tackrooms. Large sliding door entry from exterior.
Shop Building
• Building has a poured concrete foundation, 1' footer + 4' walls. Rebar at 1' centers in 7" thick slab and double rebar in the foundation walls and footer
• In-floor radiant heat, (6) different loops
• Supply lines and thermostat wire ran from shop to the living area mechanical room, not hooked up to pump and system not charged with glycol
• Building is currently heated with wood stove
• 12' high walls in shop
• Shop building has R-30 in ceiling and R-19 in side walls
• (3) floor drains
• 200 amp service panel
• Full bathroom with shower
• Tons of storage space for tools and toys

INVESTMENT CONSIDERATIONS
Rural residential acreage with equine facilities allowing for personal use, breeding, and/or additional boarding income potential.
TAXES: $5,436 (2021)
COMMUNITY
Oak Creek is located in the Yampa Valley, south of Steamboat Springs, in an area described as Southern Routt County. Southern Routt County is a sparsely populated rural area about halfway between Steamboat Springs and Vail. Elevations in Southern Routt County range from over 10,000 feet in the Gore Range to over 12,000 in the Flat Tops. Elevations along the Yampa River and its tributaries are generally in the 8,000- to 8,500-foot range. Upland pasture/sage ground is interspersed with irrigated lands at lower elevations, giving way to timbered lands at higher elevations. Land ownership in southern Routt County is primarily private at lower elevations, with the Routt National Forest covering most of the higher elevations in the Flat Tops and Gore Range. The Flat Tops Wilderness Area is immediately to the west in Rio Blanco and Garfield Counties.
Considerable recreational opportunities are also available, including hunting, hiking, four wheeling, and stream and lake fishing. Stagecoach Reservoir provides important recreational opportunities for southern Routt County and the county as a whole. The Colorado Division of Parks and Wildlife provides access to the lake by virtue of a long-term lease. CPW also operates a marina on the lake.
Potential buyers have many options for luxury and additional recreational opportunities in Routt County. There are numerous luxury residential communities with golf courses, ski slope access, and countless other amenities catering to convenience. The Yampa Valley Regional Airport near Hayden also caters to convenient travel.
Also nearby attractions include: Steamboat Springs, Steamboat Ski Resort, Stagecoach Reservoir, Yampa River, Flat Tops Wilderness Area, Yampa Valley Regional Airport, Colorado River, Vail Valley.
---