Sold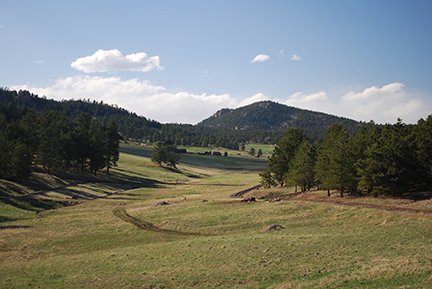 B Bar K Ranch
Evergreen , Colorado | Jefferson County | 996 Acres
Property Information
The B Bar K is located near historic Evergreen, Colorado and approximately 45 minutes west of downtown Denver, in the majestic Rocky Mountains. The ranch has a total of 996 acres, of which, one half is hay meadows and pasture and the balance is a mixture of pine, fir and aspen trees. The ranch is protected by a conservation easement which allows for additional primary residences and various supporting structures, and additional manager or caretakers homes. A magnificent stone residence of just over 16,000 square feet has 9-bedrooms, 12-bathrooms, 23-seat theater, 16-person hot-tub, exercise room, library, and many other features, is but one of the primary structures. A world-class barn and arena has a total of 45,890 square feet under one roof. Additional amenities include: 19 stalls with individual heating, electric watering, individual runs.
Close Details
LOCATION
Address 23084 North Turkey Creek Rd. The magnificent B Bar K Ranch is ideally located in the mountains west of the Denver metropolitan area, approximately 45 minutes from the heart of downtown Denver with its many attractions. The Denver Tech Center is also about 45 minutes from the ranch. The property is easily accessed from state Highway 285, south of C-470, or from Highway 73 between Evergreen and Conifer. All roads are county or state maintained year-round. Denver International Airport is a little over an hour away and, Centennial Airport (aka: Denver Jet Center), near the Tech Center, and Jefferson County Airport, near Broomfield, are both about a 45-50 minute drive from the ranch. All three airports can accommodate private jet aircraft.
Locale
The ranch is about equal distance between the charming mountain town of Evergreen and the thriving community of Conifer. Both communities provide medical facilities, necessary shopping needs, a multitude of dining opportunities, and a variety of entertainment. One of the world's finest outdoor music venues, Red Rocks Amphitheatre, in Morrison, is just a few minutes from the ranch.
Acreage / Breakdown
The B Bar K Ranch consists of 984 +/- deeded acres. Which makes this ranch one of the few remaining large tracts of land, in the mountains, that is in close proximity to the greater Denver metropolitan area. The ranch is being offered in total, but due to it's layout it may be purchased in several different variations. As the parcels are currently configured, according to the Conservation Easement, the approximate acreages and inclusions are: Parcel #1, 517 acres and includes the main residence, equestrian center, caretakers house and the Rossman Cabin; Parcel #2, 458 acres (total of the two pieces) and includes the Githens cabin, hay meadow, hay barn and equipment storage building; Parcel #3, 9.4 acres includes the Hyle house. All three parcels, #1, and both parts of parcel #2 very productive hay meadows which contain a total of 225 acres, approximately.
NOTE: Descriptions of the various improvements and other structures are outlined in the following paragraphs.
Owner's Residence
* Built in 1991
* 14,742 sq. ft. (plus decks, garages and unfinished areas)
* Four levels with loft area overlooking living and dining rooms
* Nine bedrooms / 12 bathrooms
* Elevator serves all four levels
* Master bedroom: cathedral ceiling, large walk-in closet, sauna, multi-head steam shower, jet-tub, dual basins, two commodes, stacked washer and dryer, balcony
* Very large gourmet kitchen features: two Sub Zero refrigerators, 2-under counter refrigerators, 4-dishwashers, 3-ovens, pizza oven, bun warmer, 2-microwaves, icemaker, and 2-trash compactors
* Open, great-room and adjoining dining room have cathedral ceilings. Stone, natural gas fireplace in living room, oak plank flooring
* Office has Brazilian Rosewood bookcases, ladder, desk area, moldings
* 23-seat stadium style movie theatre with remote controlled screen, internal stereo system, under counter refrigerator, microwave, dishwasher, trash compactor, ½ bath
* Game and TV room has small dance floor. Compact refrigerator, sink, trash compactor
* Wet bar
* Exercise room
* Large finished storage / recreation room
* Laundry room: 3 washers, 3 dryers, compact refrigerator, trash compactor, storage room
* In floor radiant heat and forced air heat. Air conditioning, Honeywell air cleaners
* Five car garage. ATV garage
* Woodworking shop with garage type door
* 16 person spa with 4 jet-chairs, automatic rolling cover, towel warmer
* Landscaped grounds. Old growth Ponderosa pine, Blue spruce and Douglas fir trees
* Natural gas, well(s), septic system
* Heated flagstone patios and walkways
* Automatic lighting
* Honeywell security system
* Central vacuum system
* Water purification system
* 10,000 gal. domestic water storage tank
* Two 119 gal. water heaters, two hot water storage tanks
* Two A.O. Smith Lime Tamers
* Armstrong de-humidifier (for the benefit of pianos and harp in living room)
Equestrian Center
* Built in 1996 of reddish colored concrete blocks
* 45,890 total sq. ft. Heated and lighted 29,926 sq. ft. arena. Overhead doors each end, exhaust system
* Nineteen stalls each with individual radiant heating, electric watering system, automated fly spray system, attached outdoor runs
* Rubber brick walkway to outdoor area
* Stalls have sand and gravel base under a filtered rubber mat topped with shavings
* Ground level viewing room and lounge. Plasma TV, kitchenette, men's and women's locker rooms with full bathrooms
* Upper level viewing room overhanging the arena has 15 seat stadium style seating, kitchen area
* Apartment on second level has 916 sq. ft., living / dining area, one bedroom, one bathroom with Jacuzzi tub, kitchen, washer and dryer
* Spacious tack room has wood floor and paneling, utility room with commercial washer and dryer
* Vet station with bay door
* Wash rack has hot and cold water
* Indoor equipment / vehicle garage has 4 bay doors
* Hay storage area
* Two storage rooms
* Employee bathroom
* Stereo system throughout
Guest Cabins / Caretakers House
Hyle House On Parcel #3 (9.4 ac.)
* Built in 1991, remodeled in 2006
* 4,161 sq. ft. including finished basement
* 3 bedrooms on upper level, 2 on lower level
* Master suite has 2 walk-in closets, whirlpool tub, shower, twin basins
* Kitchen has dining nook
* Wet bar in living room
* Entertainment room
* Lower level recreation room
* Two fireplaces
* Attached 3-car garage
* Spacious outdoor patio
* Tile roof
Githens House (On parcel # 2)
* Built in 1967, completely re-built in 2005
* 1,173 sq. ft.
* One bedroom, one bathroom with whirlpool tub
* Large deck, lower level storage area
* Detached metal storage building
Rossman House (On parcel #1)
* Built in 1966
* 1,186 sq. ft.
* Two bedrooms, 1 bathroom
* Expansive deck area
* Detached garage / workshop
Caretakers House (On parcel #1)
* Built in 1987
* 2,616 sq. ft.
* Up and down duplex
* Four bedrooms (2 on each level)
* One bathroom on each level
* Kitchen on each level
* Covered porch and a deck
* Attached 2-car garage with storage area
* Eight- stall horse barn with radiant heat and ½ bath, adjoins caretaker's house
* Heated shop with concrete floor
Other Improvements
* Tunnel under No. Turkey Creek Rd. to access barn / arena from main residence
* Two additional metal barns for hay and equipment storage
* Loafing sheds
Conservation Easement
A conservation easement, held by Colorado Open Lands, has been placed on the ranch by the current owners to protect the integrity of the vast amount of open space controlled by the ranch, and to preserve the natural habitat and migratory corridors for elk and deer. Preserving the ranch provides scenic enjoyment for the public who travel North Turkey Creek Road, and the secondary roads which border the ranch.
The easement allows for construction of two additional primary residences of up to 10,000 sq. ft., two additional guest / caretaker houses of up to 2,500 sq. ft., and additional supporting structures. A copy of the Conservation Easement is available upon request.
Water / Water Rights
The most prominent water feature is North Turkey Creek which courses through the ranch for approximately 1-1/2 miles, providing water for livestock and wildlife. The stream runs through the meadows that border North Turkey Creek Rd. and then into the timbered area surrounding the main residence area providing a very aesthetically pleasing setting.
The water resources associated with the ranch have been thoroughly developed and include 11 ponds situated in the ranch's natural drainages. There are five wells on the ranch which provide water for domestic and livestock purposes and, there are three 10,000-gallon cisterns for water storage, for domestic and livestock use. There are no surface irrigation rights associated with the ranch.
Mineral Rights
All mineral rights owned by the Seller and appurtenant to the property will be conveyed.
Widlife
The attributes of the ranch being; overall size, large grass meadows, plentiful water and abundant timbered areas, provides excellent habitat for elk, deer, and an occasional black bear.
Recreation Opportunities
Some of the worlds finest skiing is available at: Arapahoe Basin, Breckenridge, Copper Mountain, Keystone, Loveland and Winter Park; all within 1-1/2 hours from the ranch. Vail and Beaver Creek are within 2-hours. World-class fly fishing in the South Platte River and the Blue River are within 1-hour and the Arkansas River is about 2-1/2 hours from the ranch. If big game hunting is your sport, elk and deer are plentiful on the ranch, and in the Pike National Forest or Roosevelt National Forest, both nearby. The Mount Evans Wildlife area, administered by the Colorado Division of Wildlife is no more than 30 minutes from the ranch.
Climate
The Evergreen, Colorado area enjoys about 300 days of sunshine. Summer temperatures range from the high 70's to the mid 80's. Winter temperatures will usually fluctuate between the low 30's and low 40's. December, January and February may experience colder temperatures. The humidity is very low, allowing for a very comfortable climate year-round. The area has four distinctive, beautiful seasons.
The average annual precipitation is approximately 18-1/2 " and 84" average annual snowfall.
Elevation
The elevation ranges from approximately 7,450' at the main residence, up to 8,500'in the southeast and southwest areas of the ranch
Utilities
Heating is by natural gas in the main residence, caretaker's house and the equestrian center. Propane is used in the Hyle house and electric in the Githens and Rossman cabins. Each improvement has a separate septic system. Inter-mountain
Zoning
The ranch is zoned Agricultural (A2) per Jefferson County Planing and Zoning.
Co-Listed with Roger Campbell, The Kentwood Company
Click here to view more photos and additional website material:
B Bar K Link
---