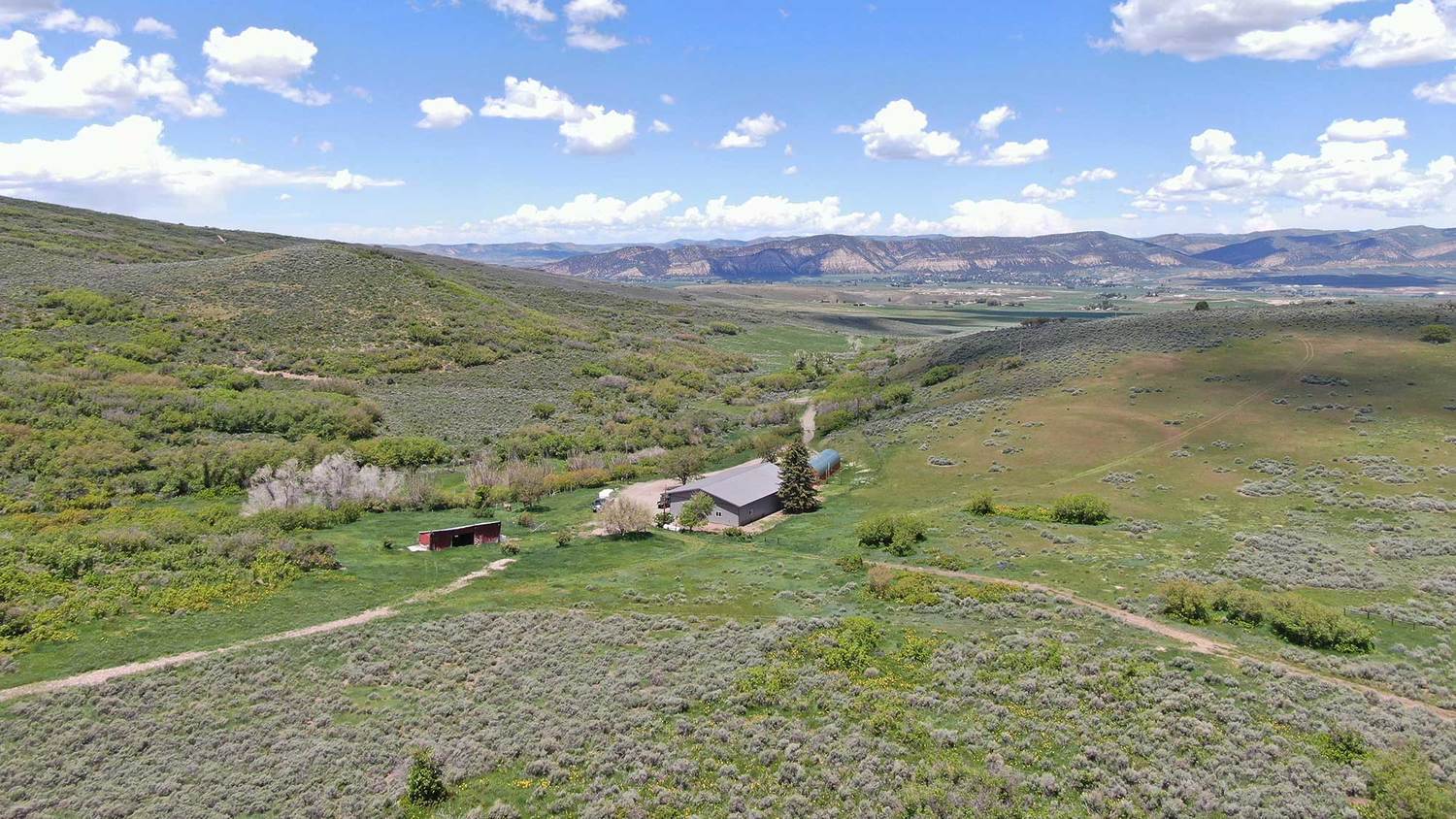 Bear Canyon Hideaway Ranch
Meeker , Colorado | Rio Blanco County | 640 Acres
Property Information
Bear Canyon Hideaway Ranch offers a remarkable hunting and recreational investment opportunity in one of the most distinguished big game and sporting regions in Colorado. Located in Northwest Colorado, the property is only about five miles southeast of Meeker at the end of county-maintained roads providing good year around access. The property is a contiguous block of 640+/- acres that is well watered with stock tanks fed by underground pipelines in addition to a nearly half-mile stretch of live water flowing through the western portion of the property. Adjudicated spring water rights are associated with the property and a domestic well serves the existing improvements. The end-of-the-road location provides great seclusion while being only a short commute to services including both local and regional airports.
Bear Canyon Hideaway Ranch is an extraordinary recreational investment opportunity you will not want to miss. Existing improvements include a recently constructed large metal shop building with plenty of storage and work room, and a remodeled modest hunting cabin.
Close Details
KEY DETAILS
• 640 +/- contiguous acres
• End-of-the-road location with year around access off paved and gravel county-maintained roads
• Topography, vegetation and water resources provide excellent wildlife habitat
• Stock tanks with underground pipelines and live water
• Newly constructed large metal shop building and remodeled hunting cabin
• Nearby local and regional airports
• Opportunity for next owner to build and further develop this ranch on their own terms

ACREAGE DETAILS
Large privately owned ranch land borders the property which employs well managed and conservative hunting practices. Native grass meadows transition to areas of thick cover and pockets of oak brush groves with open meadows intermixed. Elevation and topography are conducive for good on-site access and hunting. Diverse vegetation, end-of-the-road seclusion, rock outcroppings, and water resources complement the wildlife habitat and recreational experience making Bear Canyon Hideaway a rare opportunity in the current market at such a reasonable investment level.
Approximately 620 acres of the property are protected with a conservation easement which will protect the natural environment and landscape of the property for years to come. The conservation easement favors continued agricultural and recreational uses allowing for enhancement of the natural habitat at a high level of stewardship put in place by the current owners. The 20 acres surrounding the existing improvements is not included in the conservation easement which gives a new owner a substantial amount of latitude in developing a future potential building site to suit their needs.
LOCATION DETAILS
Colorado's Rio Blanco County, an area made up of 75% managed by US Forest Service, Bureau of Land Management, and the State of Colorado. The massive amount of public land in the area offers many opportunities to residents, business owners, and visitors, and features the Flat Tops Wilderness, White River National Forest, Flat Tops Trail Scenic Byway. According to Field and Stream Magazine, the White River Valley in which the Town is located area has earned the title, "One of America's Best Wild Places." The Town of Meeker–population 2,242–is located 100 miles northeast of Grand Junction and 225 miles west of Denver.
IMPROVEMENTS
The 30'x 16' one-bedroom, one-bath modestly remodeled hunting cabin, has a garage door on one end and a mud room on the other. Completed in fall of 2022 the 48 'x 80' heated metal shop building, with 220-amp feed, bathroom, concrete floor throughout, and oversized doors. The shop building is immaculate with plenty of work room and storage for side x sides, atvs, RVs, and everything else one can imagine. These improvements allow a new owner the immediate opportunity to recreate while giving them the chance to further develop a potential building site.
HUNTING & WILDLIFE
The property is situated in the northwest portion of Colorado Game Management Unit (GMU) 23. GMU 23 has over-the-counter tags for elk during archery and two of the four rifle seasons. Landowner applications enhance the odds of drawing tags for mule deer, which the current ranch owner has done every year. Current ownership has done an excellent job of thoughtfully managing for both livestock grazing and hunting recreation.
---