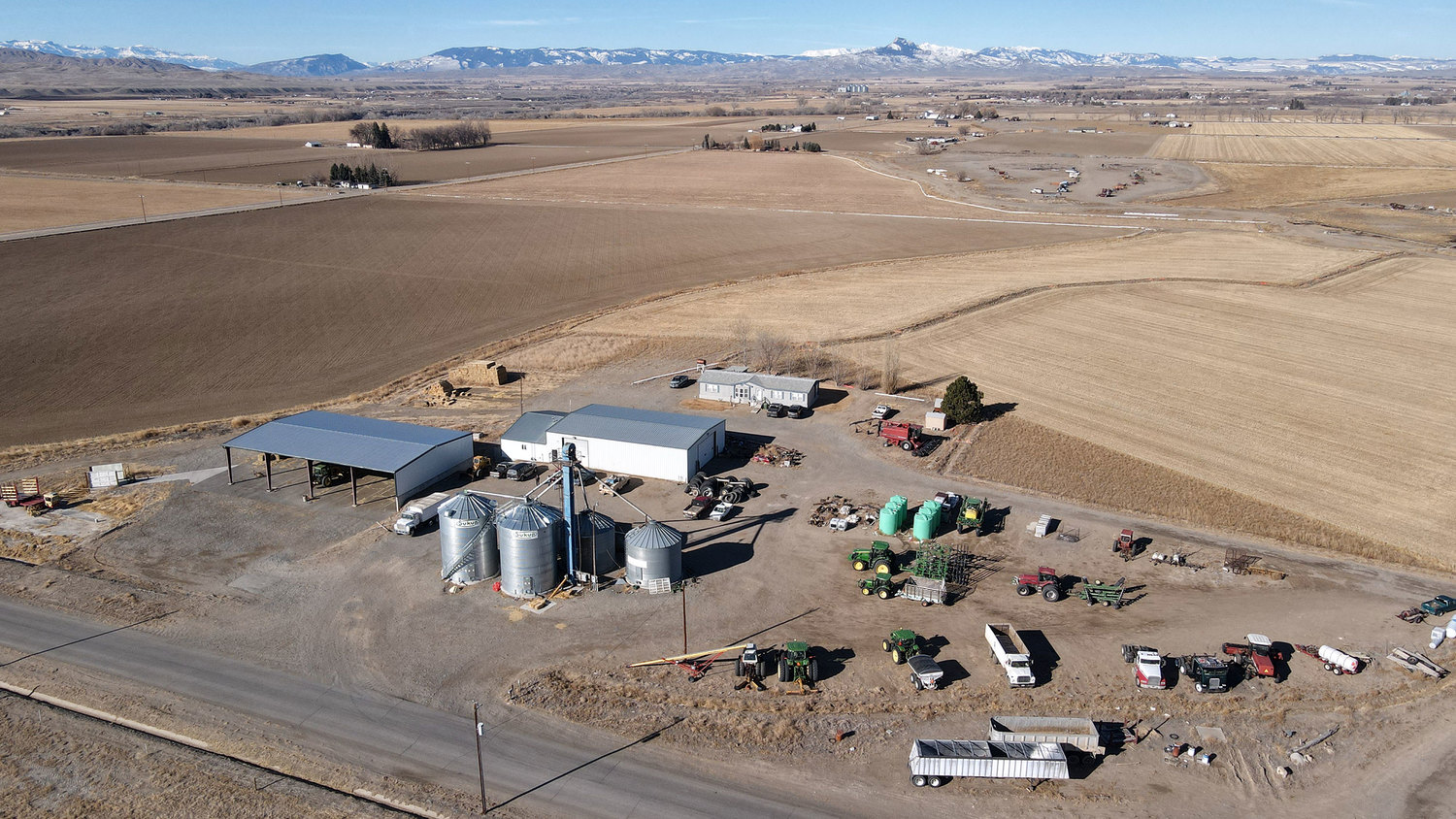 Cox & Fisher Farm
Powell, Wyoming | Park County | 473 Acres
Property Information
The Cox & Fisher Farm is a rare offering in northwest Wyoming to invest in a 3.76-deeded acre farm facility with an opportunity to lease adjoining 470-acre farm ground. The partners will be offering the farm facility for sale including a 5,000+ square foot shop, climate controlled basement for bee production, 31,000 bushels of grain storage, a 40' x 150' hay storage shed as well as liquid fertilizer storage and fuel storage. Along with the purchase of the farm facility comes a unique opportunity to cash lease 470+/- acres of prime farm ground on a 6-year term. The owners are retiring farmers that will be offering a farm lease below market value on a per acre basis. This offering provides outstanding infrastructure, excellent production and ease of access to great markets. This is a young farmers dream starter package right here!
The Cox and Fisher Farm Facility is located in a well-known area for feed production where the water supply has historically been plentiful, productive lands and mild open winters.
Close Details
LAND FEATURES
The farm facility sits on 3.76 acres in Park County, Wyoming just 98 miles south of Billings, MT. Mason & Morse Ranch Company is proud to offer this unique farm opportunity. The Big Horn Basin produces millions of tons of hay and grain and this farm is a large contributor of that production.
The Cox & Fisher Farm is a highly productive farm yielding significant amounts of crops each year. One of the major features to this farm is its available abundance of district water. The farm offers excellent irrigation from the Shoshone Irrigation District. Over the years the current owners have intensely improved and developed this farm to produce a highly productive farm with modern facilities and grain storage to maximize the farms production and efficiency.
IMPROVEMENTS
Centrally located on the farm are five grain storage bins that hold 31,000 bushels of grain storage with a 65' elevator. The main priority with the bins is a facility that is safe, keeps grain dry, and has air dryers on 16,000 bushels. These bins offer the farmer the option of selling the crop for later delivery at a price that sometimes exceeds the current markets. The farm's location offers the producer numerous grain elevators and livestock grow yards and feed lots to seek competitive bids on grain. Most livestock feed yards and grain elevators are a short drive from the farm's headquarters for ease of transportation of grain.
Additional improvements to the farm include a 60' x 100' steel hay shed with asphalt floor, 20' sidewalls for clean, dry hay storage. The farm facility also has a hay container shipping station.
The property has 18,000 gallons of fertilizer storage and 11,000 gallons fuel storage. The farm lease will also include 304 shares of Western Sugar Cooperative.
There is a double-wide house in good condition located on the property. Double-wide is owned by one of the farm employees and can be purchased separately.
Assets
• 5,010 sq. ft. insulated, natural gas heated shop and office space
• 1,300 sq. ft. climate-controlled basement
• 6,000 sq. ft. hay barn with loading dock
• Utilities for home including electric, water, natural gas and septic
• 31,000 grain storage
• 3 bins 15,000 and 2 Sukup bins 8,000
• 18,000 gallons liquid fertilizer storage
• 11,000 gallons fuel storage
• 304 beet shares
BUSINESS OPERATIONS
Farm lease will begin in the 2023 farm season for 470+/- acres of cropland. Owners will be offering lease on a cash basis for a 6-year term. Specific lease terms to be negotiated between landowner and tenant outside of real estate contract.
LOCATIONS
Powell, Wyoming (population 6,419) 4.6 miles
Cody, Wyoming (population 10,028) 21 miles
Red Lodge, MT (population 2,257) 55 miles
Billings, MT (population 117,116) 98 miles
Rapid City, SD (population 74,703) 376 miles
Salt Lake City, UT (population 199,723) 460 miles
COMMUNITY
Small town charm, old-fashioned values, excellent quality of life, and friendly residents are a way of life in the Powell community.
The City of Powell is a community located in the northwest corner of Wyoming, 75 miles east of Yellowstone National Park and 98 miles south of Billings, Montana. Lying between the Big Horn Mountains on the east and the Absaroka Range on the west, clear blue skies, clean air, a temperate climate, and loads of sunshine make the Powell Valley a wonderfully refreshing place to live. (source: www.cityofpowell.com)
REGION & CLIMATE
This region has an average growing season of 149 days, typically starting May 7 and ending October 2. Powell elevation is at 4,390 feet. Summers are warm, dry and mostly clear. Summer season has average daily high temperature above 76 degrees. Average rainfall is 7 inches and average snowfall is 18.5 inches.
SUMMARY
The Cox and Fisher Farm Facility is located in a well-known area for feed production where the water supply has historically been plentiful, productive lands and mild open winters. The principal crops grown in the region include alfalfa hay, malt barley, grain corn, edible beans and sugar beets. The farm ground is in an excellent state of cultivation and the farm improvements are ready for the next operator.
---