Sold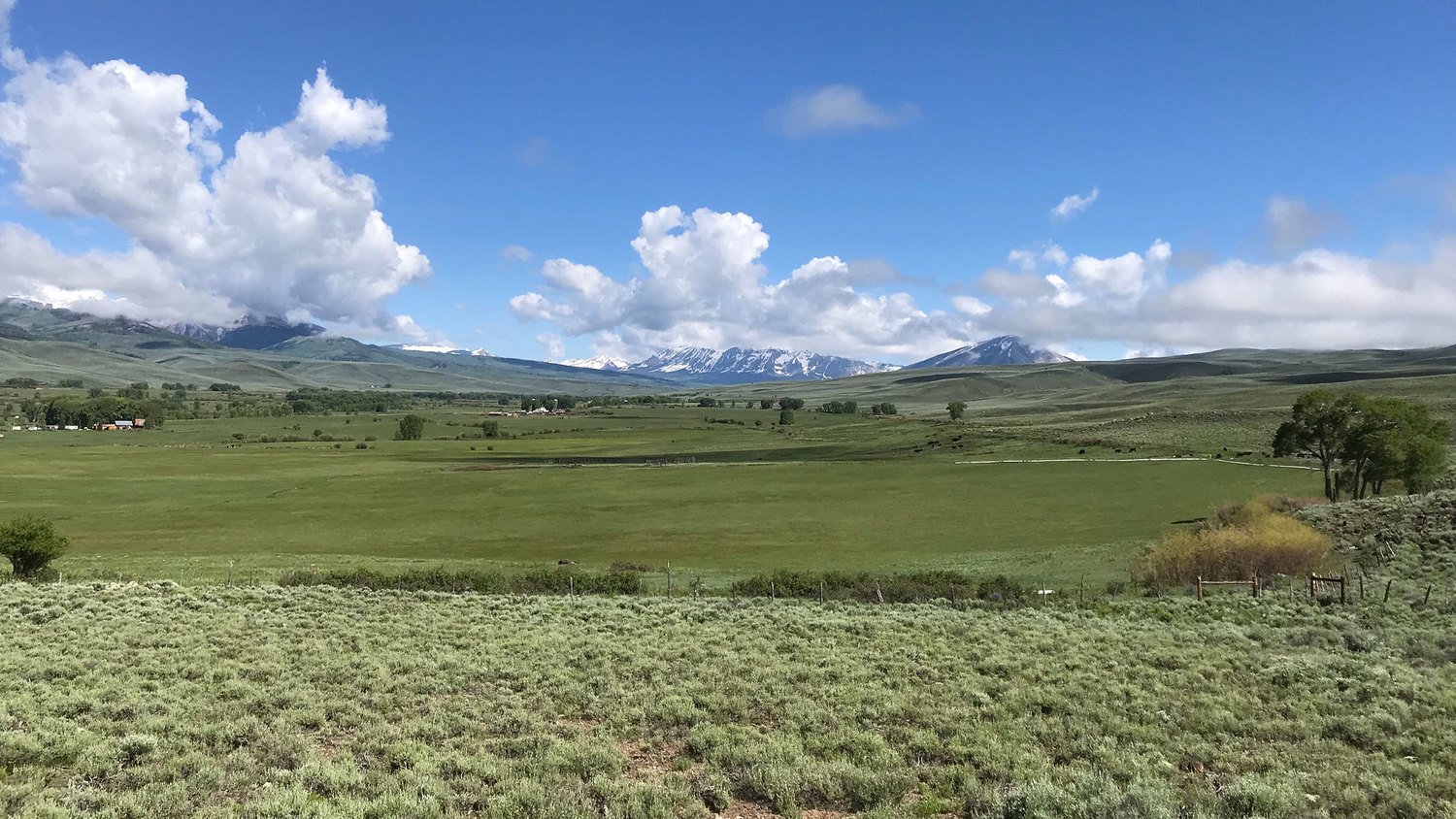 Redden Ranch
Gunnison , Colorado | Gunnison County | 987 Acres
Property Information
Redden Ranch is a sustainable mountain ranching operation with free water flowing from the mountains every year together with high mountain pasture to graze cattle on nature's nutritious grasses every summer. Redden Ranch consists of 987+/- acres and represents a 'drought proof' fourth-generation cattle ranching operation that has sustained the family for 70+ years. The home ranch consists of nearly 987 acres of deeded land located in the Ohio Creek Valley north of Gunnison. The ranch holds a 345 head grazing allotment at the headwaters of Carbon Creek. Livestock are trailed seasonally from the home ranch to the grazing allotment. During that time, the meadows are irrigated from excellent priority water rights and hay is harvested to sustain the herd during the winter. Cattle return from the mountain pasture to graze the aftermath in the hay meadows at which time the calves are weaned to complete the harvest of some of America's beef. Generations of ranch families still exist in Gunnison County and owning a ranch here allows one to be with nature year-round. Recreation abounds in this area with access to hunting, fishing, skiing, hiking, and horseback riding to name a few of the favored activities.
Redden Ranch offers a solid ranch operation with excellent water rights, hay production meadows, summer grazing capacity and solid operational improvements. It borders National Forest lands and holds a pristine allotment that allows one to ride all summer in a wildlife sanctuary watching the trophy class animals mature through the season.
Close Details
LOCATION
Redden Ranch is located about 8 miles from town at 5048 County Road 730, Gunnison, CO 81230. The ranch has nearly one mile of frontage along paved CR 730, providing excellent access.

LOCALE
Gunnison County lies in the heart of Colorado's "Western Slope." Properties sometimes become available generationally, as is the case of the Carbon Peak Ranch, parts of which have been family-owned for over 80 years. Ranching and western traditions run deep in Gunnison where "Cattleman's Days", the longest continuous running rodeo in the USA, has been a community tradition since 1900.

Gunnison County is a central hub for outdoor recreation with numerous opportunities for hunting, fishing, hiking, birding, camping, biking, skiing, boating and windsurfing, to name a few.

Gunnison is the county seat and home to Western State Colorado University, Gunnison Valley Health Hospital and Gunnison County Airport, with its 10,000-foot runway offering various flights to major airports. The nearby Blue Mesa Reservoir is the largest reservoir in Colorado offering a multitude of water recreation activities. Crested Butte also lies within the county and has acclaimed national status as a destination resort, both summer and winter. A good portion of West Elk Wilderness lies in Gunnison County and is accessible for world class hiking and camping. Ohio Creek remains relatively undisturbed from development due to many conservation protected ranch properties in the valley. The property lies in Game Unit 54 and over the counter tags are available for some of the seasons.

ACREAGE
With 987 acres of deeded land backing to thousands of acres of Gunnison National Forest grazing rights, the ranch represents a sustainable 350 animal unit operation. The lands include two parcels, the Headquarters parcel (507.87 acres) and the North Home Ranch parcel (480 acres). The Headquarters parcel includes about 280 acres of irrigated lands from which produces approximately 2 Tons per acre of Native mountain hay. The meadows produce timothy, clover, wheatgrass and fescues while the upland grazing consists of various wheatgrass, fescue and buffalo grass intermixed with sagebrush. The deeded lands are fenced into multiple pastures and are in excellent condition.

The Gunnison National Forest Allotment authorizes use from June 15 to October 7 and is known as the Castleton Allotment and permitted through 2027. The mountain forest permit produce Bluegrass, Wheatgrass, Fescue, Needlegrasses and other dryland species. The Castleton Allotment consists of 11 pastures and a reverse rotational use provides the successive use from year to year. The range improvements on the grazing allotment are extensive with about 20 miles of fence, 16 springs and 13 ponds.

CONSERVATION PROTECTED
The deeded lands are protected by an easement with the Cattlemen's Agricultural Land Trust. The easement prohibits development and subdivision but allows replacement of the ranch headquarters as well as one future building complex at one of three selected sites.

WATER RIGHTS
Redden Ranch is blessed with significant irrigation water rights from two primary ditches; Teachout Ditch and Mesa Ditch. In total the ranch owns 60.74 CFS of water rights in these two ditches of which 10.82 is senior water rights. The senior water rights for the Teachout Ditch amount to 6.735CFS with Appropriation dates ranging from 1880 to 1889 which insure the delivery of free water even in dry years. The Mesa Ditch offers 4.40 CFS with Appropriation dates from 1899 to 1901. The water rights have been used continuously for over a century and the head gates and conveyance ditches are in good condition having been properly maintained. The ranch has four wells, one for each home, one for the livestock corrals and one at the newer equipment shed.

IMPROVEMENTS
West Red Mountain Ranch is blessed with vintage mountain ranch improvements that provide the basis for operating a cattle operation in the Rocky Mountains. A description of the improvements is as follows:

MAIN RESIDENCE – Built in 1920, this 1.5 story, 2,582 square foot home with enclosed porch, is wood framed with a metal roof on a concrete foundation with hot water BB heat & wood stove. The large kitchen opens to the dining area and is the focal point in the house. It has its own private well and septic system

MANAGERS QUARTERS – This log home has one-bedroom, one-bath house built in 1891 has a recently added enclosed porch. It is 608 square feet with a metal roof with a functional floor plan. Other recent remodeling includes flooring, painting, windows & kitchen update.

EQUIPMENT BUILDING – Constructed of D-logs in 1966, has a concrete floor, electrical service and metal roof. Approximately 620 square feet.

GARAGE – Near the equipment/workshop building this slab log constructed garage with metal roof was built in 1948 with original concrete floor and electrical service.

BARN – Also built in 1948, a mix of chinked log and board siding, this old barn has a galvanized metal roof and lots of old barnwood.

BARREL/ROPING ARENA – 130' x 240' with pen, chutes and return alley, the outdoor arena is constructed of wooden posts/rail tie timbers and metal panels.

LIVESTOCK CORRAL FENCING – located east of the barn and down the alley to the calving and bull shed is post and pipe.

BULL AND CALVING SHED – Two livestock buildings for calving and bull sheds. The calving shed is cinderblock construction with a metal roof. The bull shed is wood framed with wood siding and a metal roof.

OUT BUILDINGS – There are a number of utility, livestock and accessory buildings with varying agesn, usefulness and contributory value.

EQUIPMENT SHOP – The newest of all buildings on the ranch, constructed in 2013, is located on the west side of County Road 730, has prefinished metal exterior walls and roof, multiple windows, an overhead and sliding door and a partial concrete slab. A well and electricity serves the building, however the building does not meet setbacks from CR 730 and is limited in its potential.

UTILIY STORAGE BUILDING – Also with electrical service, it is estimated at 936 sq ft and built in 1948, wood sided and galvanized metal roof, multiple sections are currently used for storage. The front two sections have concrete flooring and the middle section is wood flooring.

SUMMARY
A true intact mountain cattle ranch operation becomes rarer every day. Even more rare, the Redden Ranch is being offered to the public for the first time in over 70 years. Redden Ranch offers a solid ranch operation with excellent water rights, hay production meadows, summer grazing capacity and solid operational improvements. The Ohio Creek valley is largely conservation protected and therefore will retain its true Colorado ranching look and feel for generations ahead. The ranch borders National Forest lands and holds a pristine allotment that allows one to ride all summer in a wildlife sanctuary watching the trophy class animals mature through the season.


---