Sold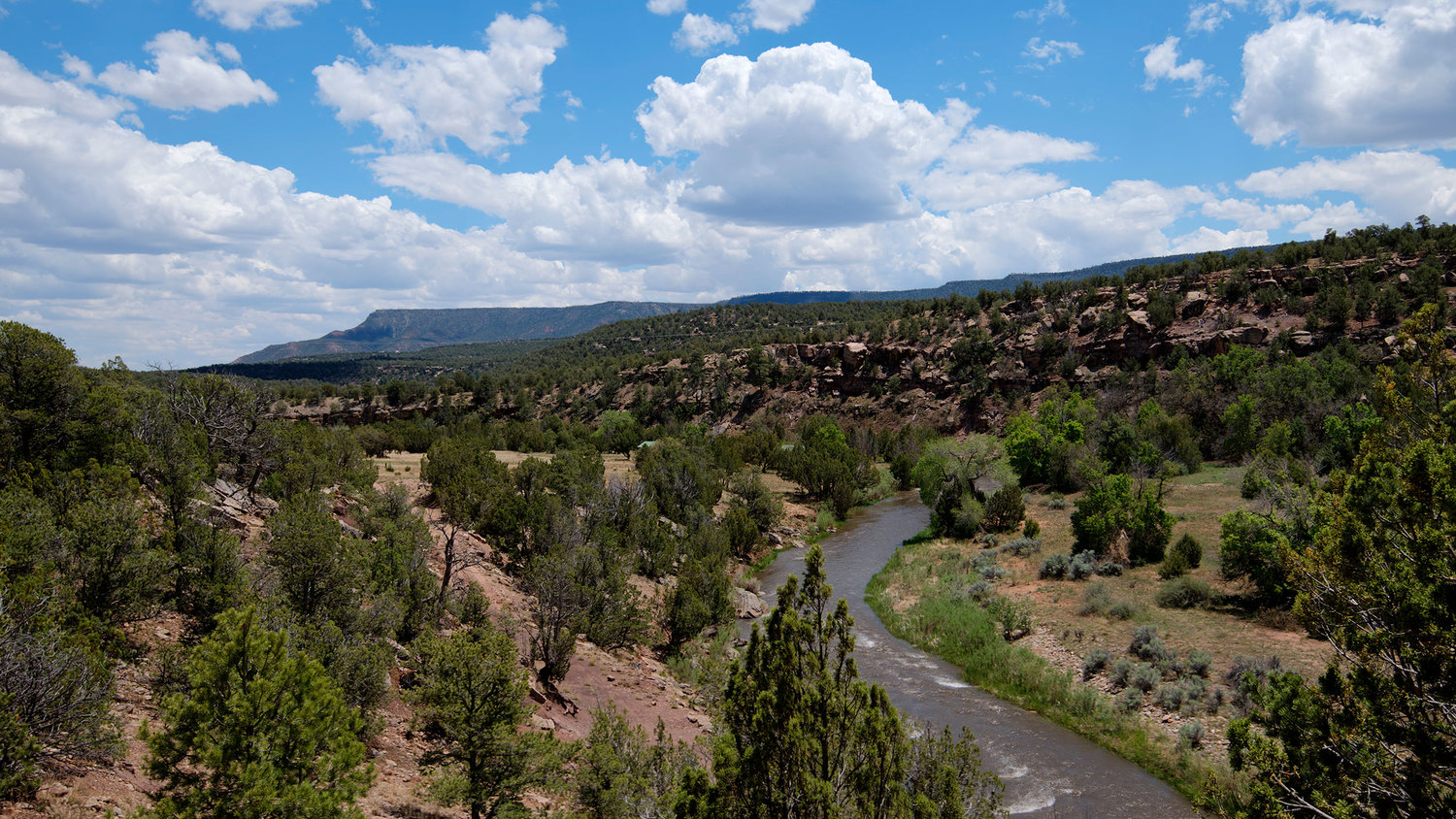 Pecos River Retreat - AUCTION
Ysidro , New Mexico | Sandoval County | 1616 Acres
Property Information
The Pecos River Ranch Retreat has over 1,616.34+/- acres of usable and scenic land featuring roughly a mile of the winding Pecos River and views of Rowe Mesa and the Pecos & Rowe Valley. The northeast portion of the property borders BLM and state land offering additional access to the Santa Fe National Forest. The land is gentle rolling with mature piñon and juniper trees, ponds, meandering cow creek, as well as flat grasslands and an arroyo running through the property. The property includes a diverse set of improvements and infrastructure, offering a total of 70,000+/- square feet of living and event space. The property is fully fenced, offers accessible roads, horse stables, adobe houses, casitas, swimming pool, tennis court, commercial kitchen & dining hall, five private wells, gravity fed water storage tanks, an air landing strip and storage/maintenance facilities. The entire property potentially offers many uses. It could be a sizable river ranch, or updated and used as a grand recreational retreat, educational facility, or other commercial venture.
The location is only 35 minutes from downtown Santa Fe, New Mexico and is tucked away in the expanse of New Mexico's scenic beauty. The possibilities are unique for a variety of buyers seeking a river ranch, fishing property, horse riding lands, recreational or commercial asset bordering BLM and state land with over a mile of Pecos River frontage
Close Details
HISTORY OF PECOS RIVER RANCH RETREAT

For a number of years in its most recent incarnation, the Pecos River Ranch Retreat served as the campus for the former Native American Preparatory School. The school sought to provide educational opportunities in a college preparatory environment for Native American students. Since the closure of the school, the property has been under the careful care of an onsite property manager.

PROPERTY LOCATION

The location is only 35 minutes from downtown Santa Fe, New Mexico and is tucked away in the expanse of New Mexico's scenic beauty. The possibilities are unique for a variety of buyers seeking a river ranch, fishing property, horse riding lands, recreational or commercial asset bordering BLM and state land with over a mile of Pecos River frontage.

AUCTION LOCATION

Hyatt Place Santa Fe
4320 Cerrillos Road Santa Fe, NM 87507

PECOS RIVER HISTORY

The Pecos River flows through New Mexico and Texas, emptying into the Rio Grande. The headwaters of the Pecos River are located north of Pecos, New Mexico, United States, at an elevation of over 12,000 feet on the western slope of the Sangre de Cristo mountain range in Mora County. The river flows for 926 miles through the eastern portion of New Mexico and the neighboring state of Texas before it empties into the Rio Grande near Del Rio. The river's drainage basin is approximately 44,300 square miles in size.

The river was named "Pecos" by the Spanish from the Keresan name of the Pecos Pueblo. The river played a large role in the exploration of southwest by the Spanish. In the latter half of the 19th century, "West of the Pecos" was a reference to the rugged frontiers of the Wild West.

New Mexico and Texas disputed water rights to the river until the federal government settled the dispute in 1949 with the Pecos River Compact. The Pecos River Settlement Agreement was signed between New Mexico and Texas in 2003.

On June 6, 1990, 20.5 miles of the Pecos River—from its headwaters to the town site of Tererro—received National Wild and Scenic River designation. It includes 13.5 miles designated "wild" and 7 miles designated "recreational."

Water conservation practices on the Pecos River are overseen by the United States Bureau of Reclamation, along with the state engineer of New Mexico, the Pecos Valley Artesian Conservancy District, and the Carlsbad Irrigation District in the upper river valley. The Red Bluff Water Power Control District, along with its seven water improvement districts, oversees water use in the lower valley and works to provide equitable distribution of water supplies.

IMPROVEMENTS

The main area is paved with ample parking, turnabouts, stone half-walls, area lighting and fencing, as well as walkways throughout for foot traffic. Six fire hydrants lie throughout the property.

Main River House
• Adobe three-bedroom, three-bathroom, multi-level passive solar home
• Incredible views of the Pecos River and valley from the large outdoor deck
• Walled, terraced, landscape front yard and entry area
• Two-car detached garage
• Vigas and latillas, skylights throughout
• Six wood burning fireplaces throughout the home
• At entry level is powder room and the two secondary bedrooms and attached bathrooms, with their own kiva fireplaces
• The next level is the library with built-in's and kiva fireplace, deck with views, gourmet kitchen, dining and living room with large open spaces and fireplace as well as an entertaining wet bar adjoining
• The kitchen has a full-size Sub Zero refrigerator/freezer, five-burner gas stone with Vent hood, GE double door ovens, storage in custom pine cabinetry and silestone countertops
• The next level holds the master bedroom and master bathroom suite with hot tub adjoining on the private river view deck. Master bath has double sinks, separate WC, jetted tub, separate shower, bank of custom cabinetry with additional closet space and sitting/dressing area.
Two Secondary Houses with Covered Patio
Interior of House I (Stone Front)
• Adobe three-bedroom, two-bath, multi-level passive solar home with laundry room
• Saltillo tile floors in living areas and brick floors in sleeping areas
• Radiant heat throughout
• Full kitchen, ample closet space and cabinetry, downstairs cellar with additional storage.
• Skylights and recessed lighting throughout
• Kiva fireplace in kitchen nook with a wood stove in the living room
• Beams and rough-cut plank ceiling, double paned windows
• Master suite on lower level separated from other rooms with kiva fireplace, jetted tub with separate shower and double sinks and walk-in closet.

Interior of House II
• Adobe one-bedroom, one-bathroom with garage conversion into large living space on slab
• Kitchenette
• Skylights, plank ceilings
• Wood floors in bedroom with closet shelving throughout
• Panel heat

Exterior of Staff Houses
• Both houses run on their own septic system
• Flagstone entryway with walled yards and courtyards
• Covered patio space for outdoor eating
• Exterior area lights

Casitas
• A total of 56 adobe casita structures
• Six clusters of buildings which house approximately eight or ten separate bedrooms/bathrooms per cluster for a total of 50 private rooms, each with a kiva fireplace and built-in desks and ample closets. Each room has radiant heat, a private patio, bathroom and separate WC.
• Within each cluster is a larger common room with its own kitchenette and bathroom, living area with storage and wood-burning fireplace. There are a total of six of these larger rooms.
• Each cluster has vigas and latillas, brick floors as well as covered portals with flagstone patios.

Caretakers' House
• Adobe three-bedroom, two-bathroom passive solar, multi-level home with laundry room and skylights throughout
• Radiant heat with separate propane tank
• Flagstone patio with enclosed walled back courtyard area with landscaping
• Sunny kitchen with bar and separate dining room
• Master bedroom is separated from guest bedrooms and secondary bathroom
• Master bathroom has double sinks and sunken jetted tub with separate shower, adjacent to the light of a bright atrium area near the entry
• Kiva fireplace in living/dining rooms
Admission Building "Oldest House on the Property"
• Adobe three-bedroom, two-bathroom mulit-level home with brick, tile and wood floors
• Four interior kiva fireplaces
• Kitchen area
• Vigas and latillas throughout, skylights and wood windows
• Large entry portal with flagstone patio

Recreational Facilities
• Two fenced tennis courts with bleacher seating
• Nine foot deep outdoor pools with flagstone patio surrounding the pool, completely walled
• Covered outdoor lounge area
• Adobe pool house consists of separate men/women bathrooms with shower and utility room

Conference Center
• Main area of the building serves a 50 foot x 40 foot soundproofed conference area
• Second smaller conference room
• Gym
• Adobe with framed interior walls
• Heating and A/C units throughout
• Approximately ten separate rooms are functional for desks, chairs, storage and materials, computer lab area, break room/kitchen area

Center Gallery Building
• Walled and fenced exterior courtyards
• Brick and flagstone floors, vigas and latillas
• Gallery room, office space with kiva fireplace, storage area with built-in cabinetry, four work rooms with center conference room area and bathroom

Maintenance/Security Building
• Two large separate work rooms, exterior covered portal for machinery with its own water heater, furnace and cabinetry.
• The back portion of this building once served as a clinic with medical facilities and equipment
• Separate from this building are two outlying structures
Commercial Kitchen with Dining Area
• Commercial grade kitchen with walk-in panties and freezers, stand-up refrigerator and freezer, commercial bake/cookware, dishware, mixers, sinks, and icemaker, sprayers, deep fryer, ovens, ranges, hoods, scales, meat cutters, pantries, work spaces, etc.
• Large, bricked dining area with separate public stalled bathrooms
• Commercial bath area with large basin and sprayer
• Separate bar area with bar seating
• Wet bar/coffee area
• Secondary bathroom for personal use
• Outdoor large BBQ and patio seating
• Two large wood burning fireplaces, vigas and latillas

Building with Laundry Facilities
• This building consists of several rooms each separated by interior walls
• Commercial laundry facility area with hookups for commercial washers/dryers, separate washer/dryer area for personal use.
• Several classroom type rooms with separate break room/kitchen area
• Science lab room with separate chemical holding tank
• Public type restrooms
• Large three-car garage with roll up doors

Storage Facility
• One metal storage building approximately 50 feet x 100 feet with roll up garage doors
• Two commercial grade heaters and swamp coolers
• Exterior wood deck overlooking the Pecos River

Secondary Structures/Stables
• Ten-stall stable with turn-outs constructed on slab with cinder block and a tin roof
• One bathroom with water heater, electricity and heating unit
• Three storage/tack rooms
• Circulating water units in turnouts
• Roll up garage door
• Nearby well house feeds stables only

BLM & STATE LANDS ACCESS

The northeast portion of the property borders BLM and state land offering additional access to the Santa Fe National Forest without cross private lands.

WATER & MINERAL RIGHTS

All associated water rights as listed with the New Mexico of the State Engineer. Seller is not aware of any mineral rights owned. Such rights, if any, will be transferred. Water rights data can be found in the online document download portal.

SCHEDULED TOURS SHOWINGS:

The following schedule is available for potential bidders to tour the property. Please contact our office through the online form on this page or call our office 877-207-9700 to schedule a time and date for your tour.
June 2014 Showing Schedule:
June 25th, 26th and 27th
Times: 9:30 a.m. to 12:30 p.m. & 2:00 pm to 5:00 pm
July 2014 Showing Schedule:
July 28th & 29th
Times: 9:30 am to 12:30 pm & 2:00pm to 5:00 pm
Additional times are available by appointment only for qualified purchasers.

AREA & LOCAL NEWS COMMENTS ALONG THE PECOS RIVER

Other notable properties bordering the Pecos River include the "Pecos River Ranch" previously owned by Val Kilmer. "The Santa Fe New Mexican previously reported that the actor sold most of his 5,328-acre Pecos River ranch in San Miguel County, N.M. to a Texas oil and gas executive and his wife. The deed transfer was recorded on Sept 30th, 2011."

According to the Santa Fe New Mexican, Kilmer had been asking for $33 million when he put the property up for sale in 2009, but reduced the price to $18.5 million. A San Miguel County Clerk told the publication that Kilmer kept 14 acres for himself. The Pecos River Ranch is about 22 miles northeast of Santa Fe, with wildlife, 10 natural springs, world-class fishing and more than 50 miles of hiking and biking on a beautiful trail system.

Recently Jane Fonda's 2,300 acre Forked Lightning Ranch along the Pecos River has been listed for sale. Listing price is $19,500,000. Fonda purchased the ranch, which is 25 minutes from Santa Fe's Historic Plaza and near the town of Pecos, NM, in 2000. The approximately 9,585 square foot home, recently featured in the March 2014 issue of Architectural Digest, incorporates Fonda's vision for an energy efficient, personal space that embodies the traditional adobe architecture renowned in the area. The Ranch also includes the Hacienda – a 2,125 square-foot guest home as well as a 3,409 square-foot Log House, a 12-stall Equestrian Facility and a gym.


TERMS OF AUCTION

Qualified participants will be able to attend live auction in person or via telephone. The auction will be held on July 30th, 2014 at the Hyatt Place Hotel in Santa Fe, NM with a start time of 1:30pm.

The bidding process will be handled as follows:
a. Bidder registration is required. To be eligible to bid a bidder must "verify bidder registration funds" the day of auction. To qualify to bid a bidder must bring a signed $20,000 cashier's check written and made payable to "Bidder" (IE...Bidder or Bidding Entity whom will hold title to property when closed)". Upon completion of the auction bidders who are not the winner may simply return their own cashier check to their bank as a deposit.
b. Funds written to seller or broker/auctioneer will not be acceptable bidder registration funds.
c. Each participant has the option to attend live auction or use telephone to submit bids.
d. The property will be offered "ABSOLUTE" solely in its entirety "AS IS WHERE IS"
e. Minimum bid increments will be set at the discretion of the auctioneer to keep the auction moving in an acceptable manner.
f. In the event of a two bids coming in at approximately the same time, the auctioneer will make the determination of which bid was received first and record it as the new high bid.
g. Upon completion of the bidding an announcement that the property has been sold will be made public, the auctioneer will thank all the participating bidders and formerly recognize the high bidder as the winner.
h. Winning bidder will be required to sign and execute the purchase & sales agreement and deposit non-refundable earnest funds of 10% of the total contract sales price immediately following the auction SUBJECT TO THE PURCHASE AND SALE AGREEMENT. (See purchase and sale agreement in information portal link below).
i. The winning bidder will be required to close on or before August 30th, 2014
j. Auctioneer/Broker/Seller reserves the right to make changes to auction bidding procedures.

The electronic information contained on this website & within the document portal has been obtained from the sellers and third party sources. The information is believed to be reliable and is believed to be correct, but the owners and brokers do not guarantee its complete and full accuracy. Bidders are advised to review all documents in their entirety. All distances, sizes, capacities, and similar measurements and figures are approximate. All information about property should be independently verified by interested purchasers/bidders. Seller and Broker reserve the right to make updates to the data periodically when new important information becomes available. It is advised user of this data should download the latest versions of these files and review them frequently. The auction of Pecos River Ranch Retreat is "as is where is". Due to the age, size and scope of some of the improvements and infrastructure some "unknowns may exist" not all structures, sewer sanitation, function of improvements or permitting by the state of New Mexico can be verified as in working order. All "known" material facts by the seller will be made available to the public.

---