Sold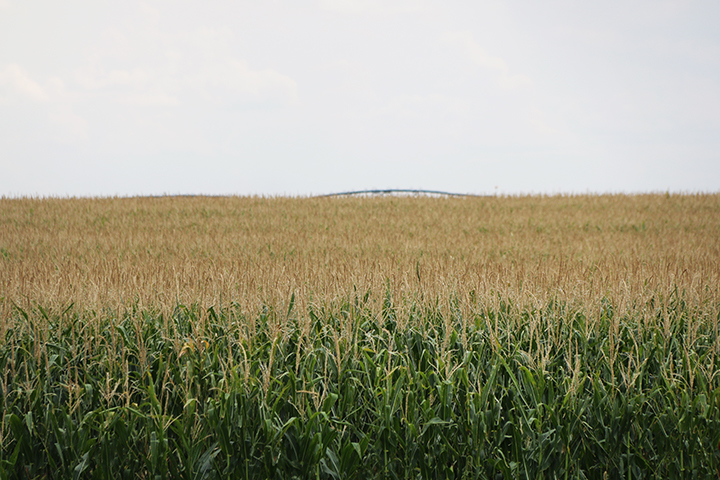 Sherman County Farm
Stratford , Texas | Sherman County | 3151 Acres
Property Information
Situated in the north central portion of Sherman County, in the northern Texas Panhandle is a very productive 3,156 +/- acre irrigated farm. This property combines corn, wheat and a cattle operation to give an owner a nice diversity of production. The farm is easily accessible by a paved road and county maintained caliche roads. It lays between two very progressive agricultural communities being Stratford, Texas and Texhoma, Oklahoma.
Close Details
LOCATION

Stratford, Texas, the county seat of Sherman County is located approximately 18 miles southwest of the the farm headquarters. Local grain elevators, banking, other related businesses and a great school system can be found in Stratford with a population of roughly 2,000. Other marketing options for grain include local feedyards as wells as the grain elevators.

Texhoma, Oklahoma, population 1,300, is a short nine miles straight east of the farm along FM 25 or state line highway. Like Stratford, this is a strong agricultural community. A long history of cattle, corn and wheat production help to provide a stable and growing economy. Local banking, grain elevators, a cattle auction, schools, and other businesses provide added benefits to the location of this farm. Being located between these two communities offer a new owner multiple avenues for decisions concerning the operation of the farm.

ACREAGE

The property consists of approximately 3,156 +/- acres. The majority of the property is in Sherman County, however being located on the state line, there is a small strip on the north end of the property that lays in Oklahoma. Roughly 1,320 acres are under center pivot irrigation utilizing 12 zimmatic sprinklers. All corners are planted to grass and the summer crops included 926 acres of corn and 186 acres of soybeans. There are several new pivot pads and drops that have been reworked for more efficient production. A total of seven wells across the farm produce over 4600 gpm. The most recent well that was drilled will produce approximately 1000 gallons per minute. In addition there is a generator set, motor and pump that push water across the farm as well as a water line and power laid to a future water well site. The wells are serviced by three Moline motors, three-454 Chevy's and one Caterpillar motor. There is also a submersible well that supplies the home, cattle pens, and 11 cattle watering tanks across the property. Two windmills are also located on the native grass.

Almost 1,400 acres of native grass allow an owner the ability to straighten out calves for a winter wheat grazing program or just run a few cows. A nice rolling terrain gives some cover from the weather.

IMPROVEMENTS

The cattle working facility includes a 30 x 100 foot covered work area with loading chute, hydraulic chute, crowding circle, and cattle scales. Also included at the main set of pipe pens at the headquarters is roughly 500 foot of bunk space with cement pads and three automatic water tanks. A second set of pipe pens is located on the west side of of the property. In addition, there are two-grain bins with augers that will hold about 8000 bu. of grain and some overhead storage for cattle supplement or cake that will store about 36 ton of feed.

There is a very well constructed new home consisting of approximately 2,680 square feet. The home boasts a great kitchen, two bedrooms and two baths, a large loft area, a cemented safe room and a two-car attached garage.

WATER RIGHTS

The farm is located in the North Plains Ground Water District based out of Dumas, Texas. All rules and regulations are filed and administered through this office. The water rights are available under all acres including the native pasture, which is a huge bonus for this farm!

TAXES: $17,500

SUMMARY

A perfect opportunity to own a very productive farm! With ample water out of only seven wells to raise 70% of the irrigated acres in corn, and more possible water on the horizon, there is not a property like this in the area today on the market. If you like a combination farm that utilizes cattle, corn, and wheat, this is the property to take a look at!!

---